Easter is a great time for getting crafty. There are so many different ways to decorate and create with a simple egg. We are always on the hunt for fun Easter crafts for tweens and now that I have two teens in our house…I'm on the hunt for cool Easter crafts for teens too.
These doodle Easter eggs are a perfect fit. Kids love doodling. Kids love working with permanent markers. These graphic designs put a modern, bright and cheery twist on classic dyed eggs.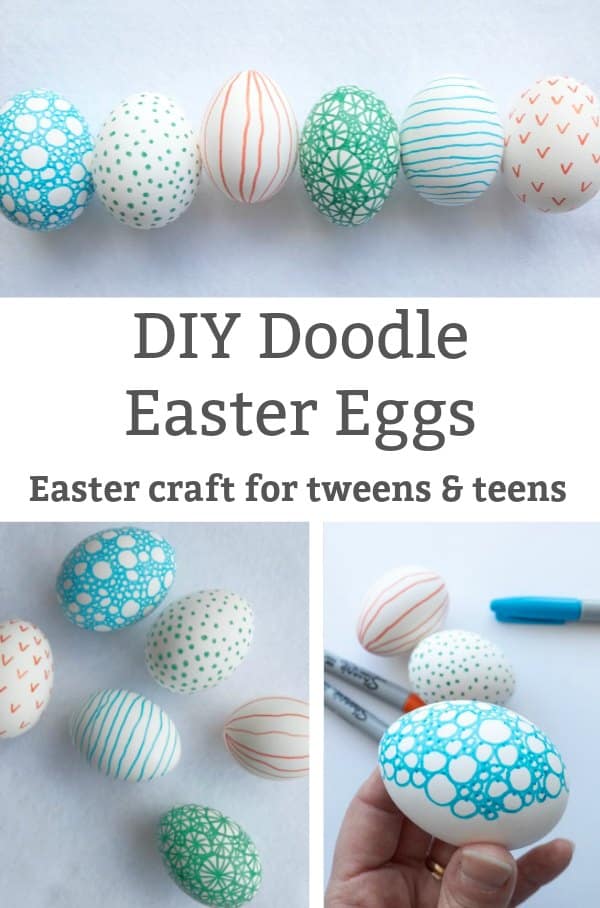 for your convenience, this post contains affiliate links
Are you a doodler? I am a doodler. My mom was a doodler. In fact, I've kept some of my mom's doodles and her doodles are very dear to me. My kids are doodlers too.
So, when I was thinking about how we could decorate our Easter eggs this year the idea of doodled Easter eggs popped into my head.
My youngest daughter has been accumulating quite the collection of Sharpie markers and has been working on a beautifully doodle filled bullet journal. I knew she would be keen to give this a try.
First stop was the grocery store to pick up some white, large eggs. You could totally use brown eggs too. I'm sure they would be quite lovely. Try and find eggs that don't have a stamp on them – a lot of eggs have the best before date stamped directly on them…which is kinda weird. Anyhow, once you have you're eggs, it's time to get to work.
DIY Sharpie Easter Eggs
eggs – hollow or hard boiled eggs
push pin
toothpick
Sharpie markers of various colours (or another permanent marker)
The first step is to prepare your eggs. So, I have always used hollowed out eggs for my Easter decorations. I love blown out eggs because they keep forever. Lots of people use hard boiled eggs…but those aren't going to last. If you have never blown out an egg before here is how to blow out an egg.
Start by using a push pin to poke a hole in each end of the egg. You have to push pretty hard to break the shell. You want to repeatedly poke the pin into the egg, to make a hole that is about 2 mm wide.
Then poke a toothpick in one end of the egg. Poke it in and swish it around…trying to pierce the yolk.
And now it's time to blow the egg out. You do not want to get the egg whites or yolks in your mouth. So blow into one end of the egg only. DONT'T SUCK!! The filling will start to flow out. If it gets stuck, poke the toothpick into the egg again. Just keep blowing. It's kinda like blowing up a balloon. Tight as first and then all of a sudden everything will come flowing out. If you don't want to put your mouth directly on the egg, some people place a straw over the hole. I've never tried this, but I'm sure it would work. It might not be quite as easy as using your mouth. This is not an activity for young kids to do.
When the egg is empty, run the egg under some water and blow out the water. Set them aside to dry before decorating.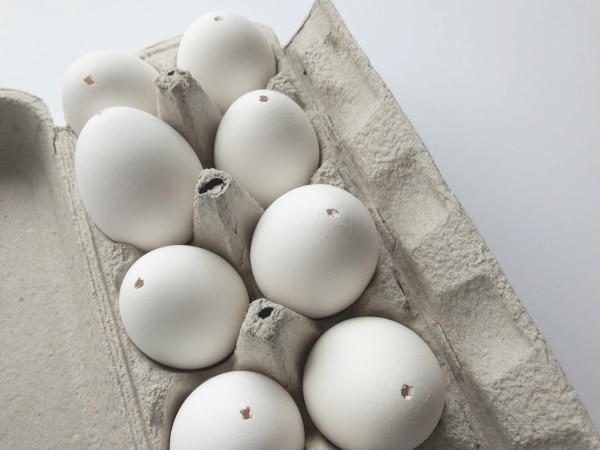 When the eggs are dry it is time to pull out the permanent markers…we love our Sharpies. Use whatever colours you like. I thought we were going to use only black and then we changed our minds. We decided to embrace the colours of Easter.
These egg reminded me of our zentangles and our Yayoi Kusama artwork projects. If you aren't familiar with Kusama's polk dot art, you should really have a look at our art projects…more polka dotty fun.
Take your time and let yours and your kids creativity lead you.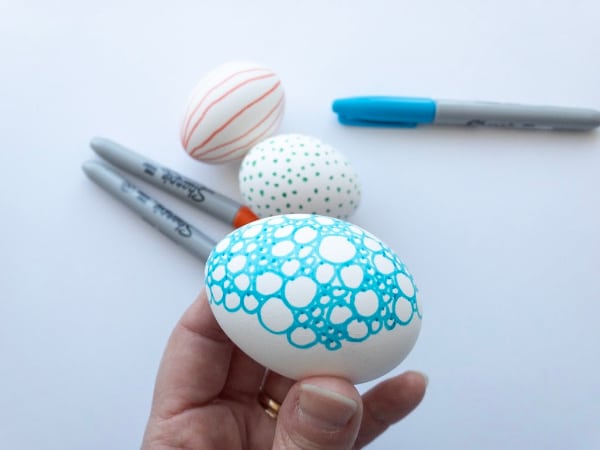 As you work around the egg, be aware of where you are placing your fingers. Let the marker dry as you go along. This way you won't smudge your marker lines. These eggs look best when the lines are clean and crisp.
The best part about these eggs is that you aren't trying to achieve perfection. Squiggly lines and bumps along the way add to their beauty. When your doodling is all done, you are going to love these Easter eggs.
What will you and your kids doodle on your Easter eggs?
---
Pin this Easter craft for later…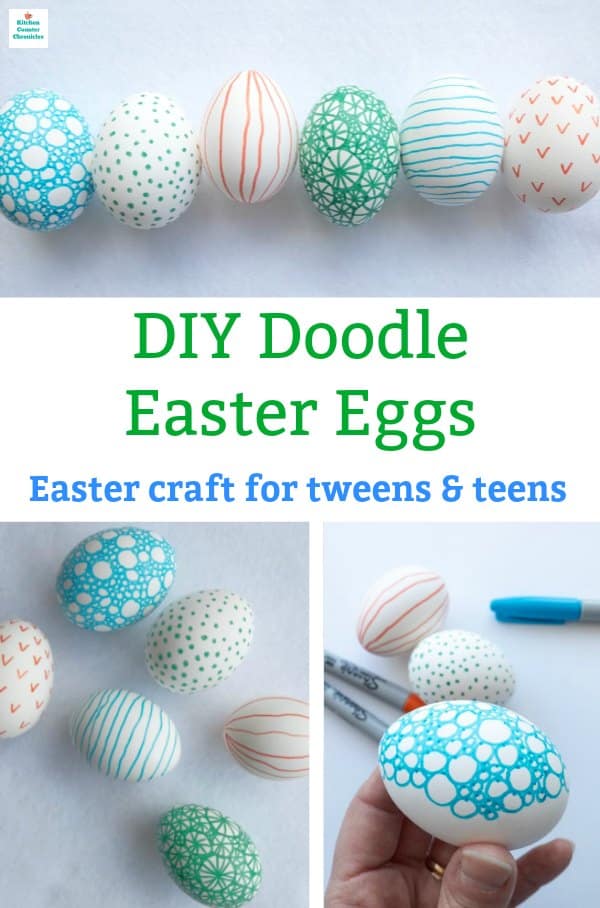 ---
Looking for more Easter crafts for teens and tweens…
Print off our Easter would you rather questions and have a fun time playing the game as a family this Easter.
All it takes is a little bit of felt to make these adorable Easter Bunny necklaces
Check out all of our creative art projects for tweens
---
Make sure you are following along…
SUBSCRIBE TO KITCHEN COUNTER CHRONICLES TO HAVE OUR DELICIOUS RECIPES, FUN CRAFTS & ACTIVITIES DELIVERED DIRECTLY TO YOUR INBOX.
FOLLOW KITCHEN COUNTER CHRONICLES ON
---