I came across the incredible art of Yayoi Kusama a few years ago and I knew that someday I was going to revisit her artwork, with my children. I instantly fell in love with the joyful spirit of Kusama's art and I had a pretty good feeling my girls would love her artwork too. We were incredibly excited to take in the Infinity Mirrors exhibit at the Art Gallery of Ontario, in Toronto. Be sure to check out all of our amazing art projects for kids.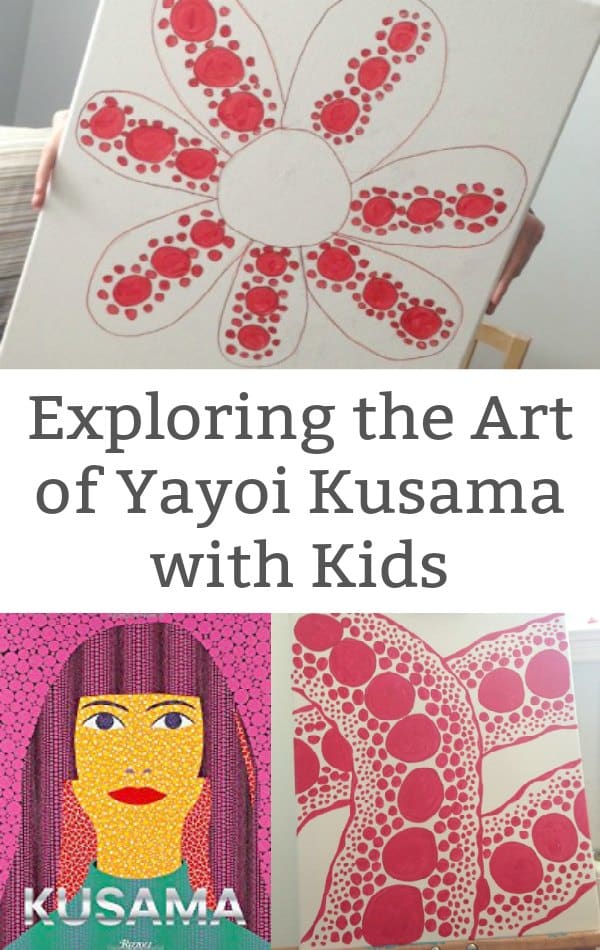 Disclosure: There are Amazon Affiliate links in this article which means, at no additional cost to you, we could receive compensation for our recommendations. You can read our full disclosure policy on our Disclosure Page for more details.
I suppose what I love most about Kusama's art is how equally simple and complex her pieces are. We started our exploration by watching a brief biography video that we found on London's Tate Modern Museum's website. Kusama exhibited her art at the Tate Modern back in 2012. The video gave us a great overview of Yayoi Kusama's life story, her progression as an artist and how she is living her life now.
I want to lift my heart toward the future.
I have chosen art as the means of accomplishing this.
It is a task that will last a whole lifetime.
– Yayoi Kusama
Yayoi Kusama has been called the "Queen of Polka Dots." Her art is absolutely filled with polka dots. In fact, most of the time she is covered in polka dots. Patterns, polka dots, bold colours and interactive installation pieces – this is the art of Yayoi Kusama. A fabulous artist to explore with kids.
So, after watching the video and after looking at Yayoi Kusama's artwork, my girls and I were pretty sure we knew what we wanted to do. We wanted to make our own Kusama-inspired polka dot art.
Yayoi Kusama Art Project for Kids
artist canvas
pencil
acrylic paint
paintbrushes
permanent makers
First, my daughter and I sketched out our designs on our canvases. I chose a "river" of polka dots, while my daughter drew a graphic flower with a pencil. Then she filled the petals with circles – large and small. I filled my "river" with circles of varying sizes.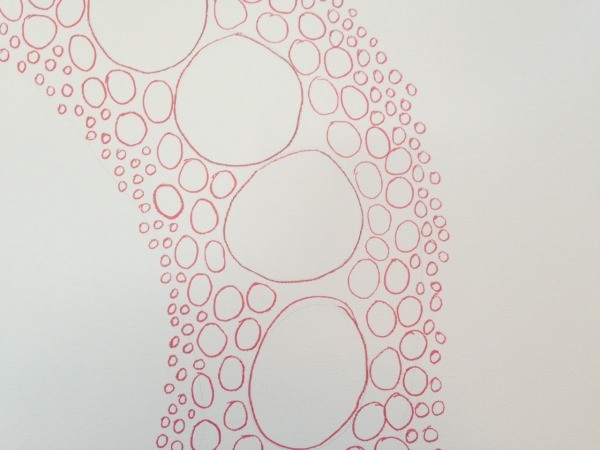 Once the drawings were done, it was time to trace the circles with a permanent marker. The reason we traced the circles with a marker was to help make the lines of the circles crisp…it is easier than painting a crisp line…which can be frustrating.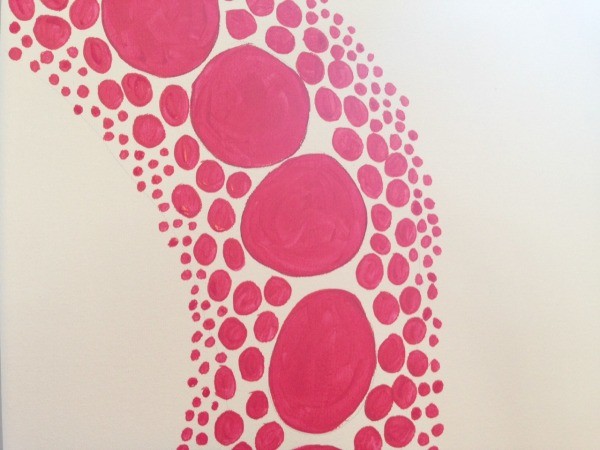 After the tracing, it was time to paint the circles. My daughter chose orange and I chose red. The paint brought our drawings to life.
My daughter was happy with only painting the polka dots. I decided to add a strip of red to edge my river of circles. I then added a couple of other rivers of circles to my painting.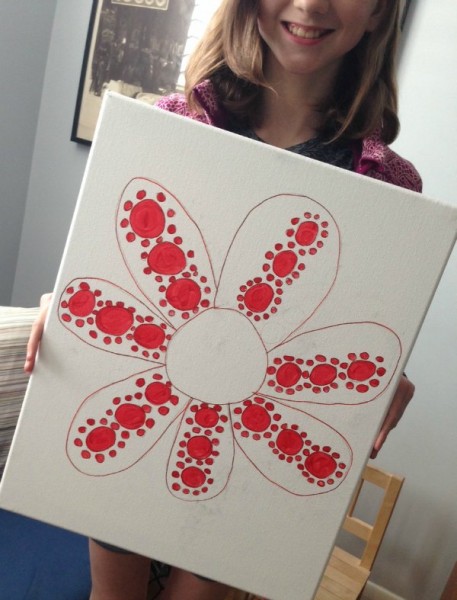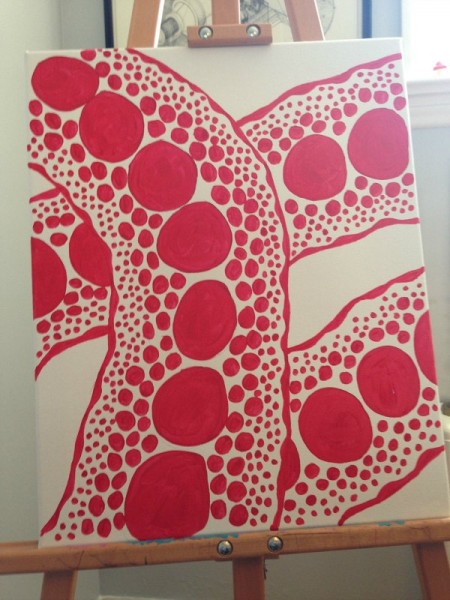 I think our finished pieces look pretty awesome. It was amazing how easily our designs came together. While painting we felt how addictive painting dots could be. Yayoi Kusama is a remarkable artist who has made an incredible impression on my kids. I think we are going to be creating many polka dot paintings in the future.
Want to introduce your children to Yayoi Kusama? Check out the colourful book "Hi, Konnichiwa: Yayoi Kusama Art Book" by Yayoi Kusama.
---
Multicultural Kid Blogs is excited to announce our second annual Asian-Pacific American Heritage Month Blog Series.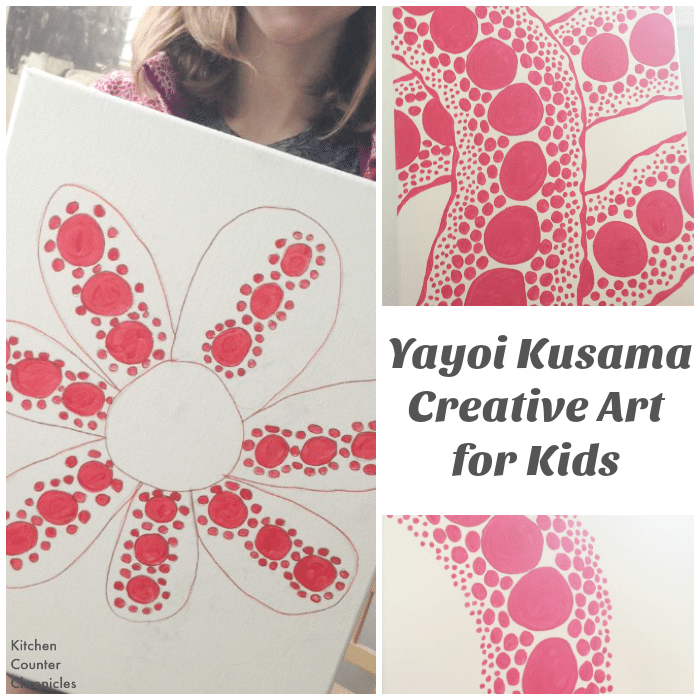 ---
Related Posts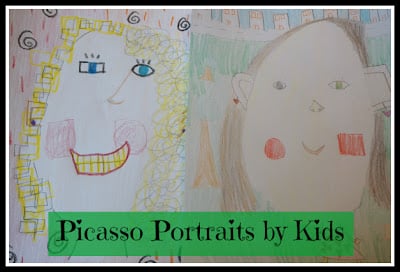 Explore the work of Pablo Picasso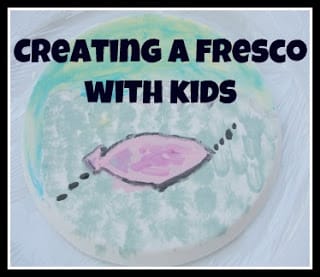 Create a Da Vinci fresco painting
---
Make sure you are following along…
SUBSCRIBE TO KITCHEN COUNTER CHRONICLES TO HAVE OUR DELICIOUS RECIPES, FUN CRAFTS & ACTIVITIES DELIVERED DIRECTLY TO YOUR INBOX.
FOLLOW KITCHEN COUNTER CHRONICLES ON
FACEBOOK:: PINTEREST:: TWITTER::INSTAGRAM