Have you tried to zentangle yet? It's not a new dance craze. It's a relaxing, almost meditative drawing activity. We have shared easy zentangle patterns in the past and a good introduction to zentangle for beginners. I was inspired to take zentangle a little further and will be exploring seasonal zentangle patterns. These fall zentangle patterns and templates were fun to create and share.
Disclosure: There are Amazon Affiliate links in this article which means, at no additional cost to you, we could receive compensation for our recommendations. You can read our full disclosure policy on our Disclosure Page for more details.
What is zentangle?
It's important to acknowledge the origins of zentangle. I had originally thought that a zentangle was just a doodle…I was wrong. The zentangle method is a trademarked process based on a theory developed by founders Rick Roberts and Maria Thomas. "ZEN" means calm and "TANGLE" means a collection of overlapping patterns. ZENTANGLE is the bringing together of the calm and the pattern. It was originally based on using a 3 1/2 inch square of heavy stock paper and a black fine marker and various patterns that turn into a creative piece of art.
Why do I love to zentangle? It is relaxing and freeing. I put on music and sit down with my paper and pen. Draw my tangle and get to the designs. No pencils. No mistakes. Just free flowing drawing. In the end, the result is always something amazing.
Fall Zentangle Patterns and Templates
cardstock
ultra-fine tipped black marker
our fall zentangle template printables – maple leaf zentangle template, acorn and oak leaf zentangle template, zentangle squirrel template, zentangle pear and apple template and zentangle pumpkin template
I designed a series of fall zentangle templates. These are familiar fall shapes that you print and zentangle on. Now, might I recommend that you put some fall music on while you zentangle. I found a fall playlist on Spotify. The addition of music helps remove any distractions so you can focus on the drawing.
First, you will want to print our zentangle fall shapes – we have a large maple leaf, pear and apple, a tall pumpkin, an acorn and oak leaf and a cute squirrel. I prefer to print on cardstock. A lighter, regular printer paper will not be able to take the marker. The marker will bleed and the lines you are drawing will blur too much. While there are specialty zentangle papers, I find cardstock works well.
Once you have your fall shape printed, it's time to add your tangle. Place your marker down on an inner edge of the shape and glide your marker around the shape, making a tangle of lines. The spaces between the lines is where your zentangle patterns will be drawn. Those spaces may be large or small. Let the tangle flow.
When the tangle is complete, it's time to fill in all the patterns. We have shared a series of easy zentangle patterns, step-by-step instructions. However, you can simply do whatever patterns come to you.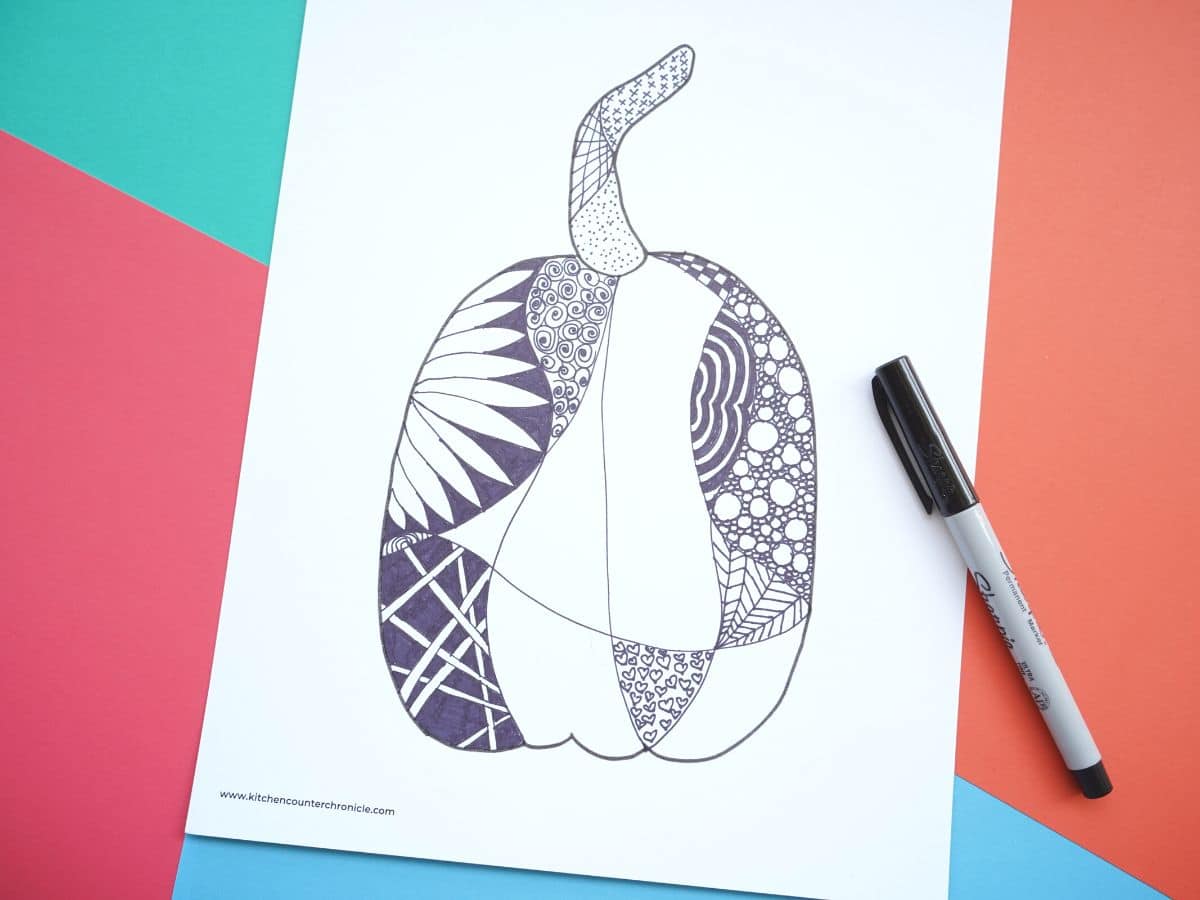 Fall Zentangle Patterns
In this case, I liked the idea of using simple fall zentangle patterns. The fall leaf zentangle pattern was inspired by autumn. A random scattering of leaves. I rotated the page around so the leaves would truly look random. It would look just as cool if the leaves were evenly spaced and in rows.
In the fall, my garden is filled with black-eyed susan flowers. So, another fall zentangle pattern was the repetition of black-eyed susan flowers zentangle pattern, filling one of the spaces. I love how the little flowers adorn the squirrel's face.
Finally, when I look out my window I can see the vine that has worked so hard all summer long, to cover my backyard fence. This inspired me to draw the vine zentangle pattern. You will notice how for the squirrel I have kept the leaves of the vines all facing the same direction, while the leaves on the pumpkin's vines are alternating.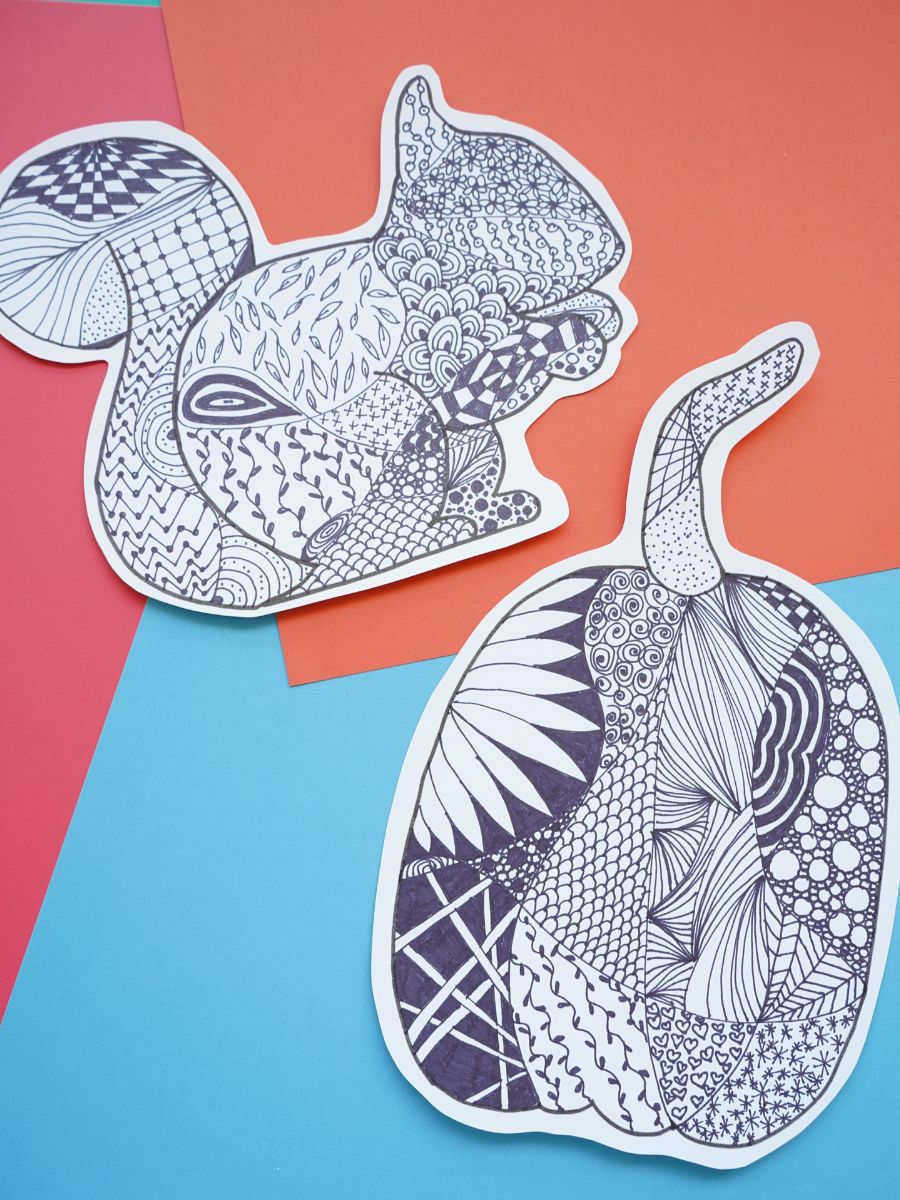 Once you have filled your fall shapes with your designs you can cut them out and add them to your fall decor. I will be hanging these at my front entrance, to welcome guests into our home.
Zentangle is a fantastic classroom activity for kids of all ages. The patterns and designs can be as easy or intricate and challenging as the kids choose to make them. I know my teens love sitting and zentangling. It's so relaxing and the end result is always so unique.
More Zentangle Art
Start at the beginning and learn the basics of zentangle
Learn how to draw a collection of easy zentangle patterns
Check out our Halloween zentangle patterns and Halloween zentangle templates
Our easy Christmas zentangle patterns and Christmas zentangle shapes
And, learn how to make zentangle Christmas ornaments
---
Make sure you are following along…
FOLLOW KITCHEN COUNTER CHRONICLES ON
SUBSCRIBE TO KITCHEN COUNTER CHRONICLES TO HAVE OUR DELICIOUS RECIPES, FUN CRAFTS & ACTIVITIES DELIVERED DIRECTLY TO YOUR INBOX.