We love zentangle art, also known as doodle art. We have shared a fantastic beginner's guide to zentangle art and many different zentangle patterns to draw. We've been having fun coming up with festive and seasonal inspiration for your zentangle art.
Disclosure: There are Amazon Affiliate links in this article which means, at no additional cost to you, we could receive compensation for our recommendations. You can read our full disclosure policy on our Disclosure Page for more details.
What is Zentangle art?
I start every zentangle post with the story of the origin of zentangle art.  I had originally thought that a zentangle was just a doodle…I was wrong. The zentangle method is a trademarked process based on a theory developed by founders Rick Roberts and Maria Thomas. "ZEN" means calm and "TANGLE" means a collection of overlapping patterns. ZENTANGLE is the bringing together of the calm and the pattern. It was originally based on using a 3 1/2 inch square of heavy stock paper and a black fine marker and various patterns that turn into a creative piece of art.
I've discovered that I can apply the principles of zentangle art to various surfaces and shapes. While traditionally you draw on a square of paper, these zentangle Christmas tree ornaments are much more creative.
Zentangle Christmas Ornaments
a variety of wooden Christmas tree ornaments – with a smooth surface
sandpaper
white acrylic paint
paintbrush
black sharpie marker
black ultra-fine tip markers
Christmas string
Begin by sourcing wooden Christmas ornaments. These are readily available online, in your local dollar store, or in a craft store. I prefer decorations that have a hole in the top, to feed the ribbon through. I grabbed a tree shape, and 2 ornament shapes – small and large. The best shapes for this project would have large open spaces, where you will draw.
If your ornaments have any rough or scratchy spots, use fine sandpaper to smooth the edges and surfaces. When I removed the price tag I had to use the sandpaper to remove the sticky residue it left behind. You really want the surface to be as smooth as possible, so your marker can glide nicely.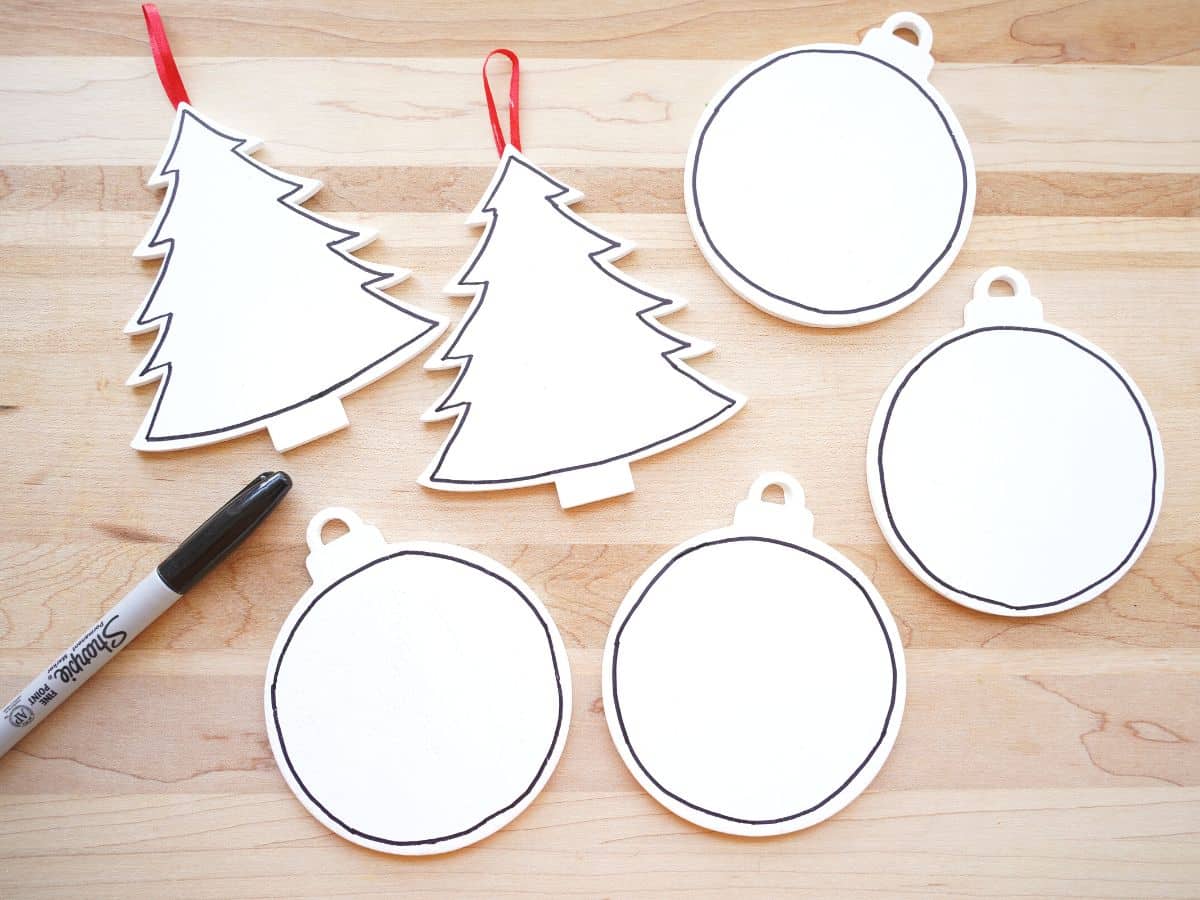 I was able to find wooden ornaments that already had a coat of white paint on them and the larger ornament was bare wood. The first step is to apply at least 1 or 2 coats of white acrylic paint to the ornament. You shouldn't be able to see the wood. Set them aside to dry completely.
Once the ornaments are dry, it's time to start your zentangle. I used the thicker marker to draw a border around the ornament. I liked the look of having a small white edge around the design. Then, place your ultra-fine tip marker somewhere on the ornament and start gliding it around the ornament…creating a beautifully tangled line where your patterns will go.
When the tangle is complete start filling in the blank spaces with patterns you like. I've created 2 downloadable pages of 8 Christmas specific patterns that you will find in our Christmas zentangle pattern post. I take you step-by-step through a Christmas candy cane pattern, a Christmas tree design, Christmas lights and Christmas bauble designs, a Christmas holly pattern, a simple plaid pattern, a pile of gift boxes pattern, and finally a Christmas ornament pattern. You can see them all in the ornaments I've created, but be sure to go and check out the full instructions.
When I zentangle I always turn on the music. For these zentangle Christmas tree ornaments, I put on a Christmas playlist, with all my favourite songs. I find listening to music helps me block out all other distractions and just create. One of the main reasons I love zentangle art is because it is so meditative.
Once all the tangles are filled with designs and patterns simply add the string to hang the ornaments. You could add a coating of clear craft sealer (like Modge Podge). But I liked the look of the ornaments without any coating.
These would make fantastic gift tags and would be beautiful teacher gifts. What do you think? Do you love these zentangle Christmas ornaments as much as I do? I love how they combine Christmas motifs with other zentangle patterns.
---
Discover more zentangle ideas
Check out our full Christmas zentangle patterns
Start from the beginning with our beginner's guide to zentangle
Explore our fall zentangle patterns and our cool Halloween zentangle patterns too
---
Make sure you are following along…
FOLLOW KITCHEN COUNTER CHRONICLES ON
SUBSCRIBE TO KITCHEN COUNTER CHRONICLES TO HAVE OUR DELICIOUS RECIPES, FUN CRAFTS & ACTIVITIES DELIVERED DIRECTLY TO YOUR INBOX.