Once I discovered zentangle art and began appreciating its meditative and relaxing qualities haven't been able to stop encouraging others to give it a go. We have shared a fantastic introduction to zentangle post, we've shared some beginner pattern how-tos and a collection of fall templates and designs. Here we go with another set of cool zentangle patterns. This time I've created printable Halloween zentangle templates and Halloween zentangle designs to inspire you.
Disclosure: There are Amazon Affiliate links in this article which means, at no additional cost to you, we could receive compensation for our recommendations. You can read our full disclosure policy on our Disclosure Page for more details.
What is Zentangle art?
I always like to start all of my zentangle art posts with a little history and explanation. It's important to acknowledge the origins of zentangle. I had originally thought that a zentangle was just a doodle…I was wrong. The zentangle method is a trademarked process based on a theory developed by founders Rick Roberts and Maria Thomas. "ZEN" means calm and "TANGLE" means a collection of overlapping patterns. ZENTANGLE is the bringing together of the calm and the pattern. It was originally based on using a 3 1/2 inch square of heavy stock paper and a black fine marker and various patterns that turn into a creative piece of art.
It's important to note that there are no "wrong" or "right" patterns. This really is all about moving and grooving at your own pace and doing whatever your mind and pen want to do. Seriously. The patterns I'm sharing are simply meant to inspire you.
Halloween Zentangle Patterns
white cardstock
ultra-fine tipped black marker
our Halloween Zentangle template pumpkin, zentangle black cat, zentangle skull, zentangle spider web
and our Halloween zentangle patterns to draw
Begin by printing our Halloween zentangle shapes. I've designed 4 different Halloween designs – a pumpkin, a black cat, a skull and a spider web. It is best to print these on white cardstock. The thicker paper means the marker will glide more smoothly and is the lines are more likely to be crisp, which is what you want. So, print the templates and then it's time to set the mood.
Okay, you can totally zentangle anywhere and at any time, but for these Halloween patterns I turned on a Halloween playlist and dimmed the lights, lit a candle and set down to draw. I find that once I start my zentangle art pieces I enter a zone where my creativity is flowing and setting the mood really helps with this.
The first step in making zentangle art is drawing the initial tangled line. Glide your marker around the shape, looping and tangling it as you go. Then it's time to fill all the voids with different patterns.
Easy Halloween Zentangle Patterns to Draw
I've created 4 zentangle patterns inspired by Halloween. I've created printable step-by-step instructions for how to bring these patterns to life.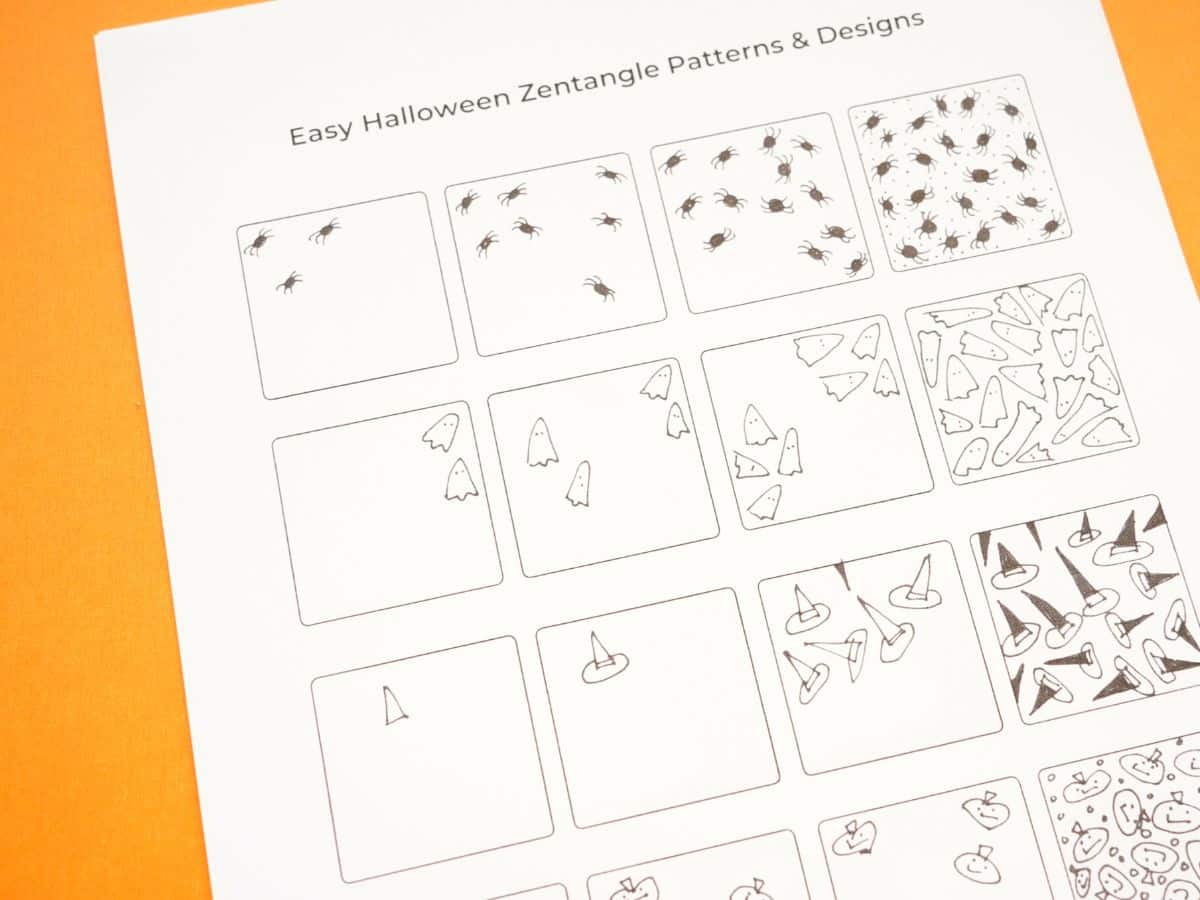 First up is the spider design. The key to this pattern is turning the page. By turning the page and changing the position of the spiders the pattern looks more like a swarm of spiders. And, finish with tiny dots in the white spaces. Are these little spider footprints? Are these little baby spiders? Who knows!?
Next up is the ghost zentangle pattern. I love a short and squat little ghost. For this one, you need to turn the page too. I love how they float around the space. Start with the short ghosts and then fill in all the long, drapey ghosts.
Then we have a witch's hat pattern. I wasn't sure about this one at first, but in the end, I really like it. Start with the triangular points of the hats. Then add the oval of the hat brim. And don't forget the little band wrapped around the triangle. I finished the hats by colouring in the triangles. Have fun with this one, colour it however you like. I even considered adding a little purple to the hat's band.
Finally, there is the jack o'lantern pattern. You can't have a Halloween collection of zentangle patterns without some jack o'lanterns…right? Keep those little pumpkins short and squat, or they will look like apples…or, maybe apples are a good pattern?! Twist and turn the page to get the scattered design. Finish with some little bubbles to fill in the white spaces.
I love how all of these patterns turned out. Don't they look cool on our skull template? What Halloween zentangle pattern would you draw? Be sure to check out our fall zentangle patterns and our Christmas zentangle patterns and learn how to make zentangle Christmas ornaments too.
---
More Halloween Printables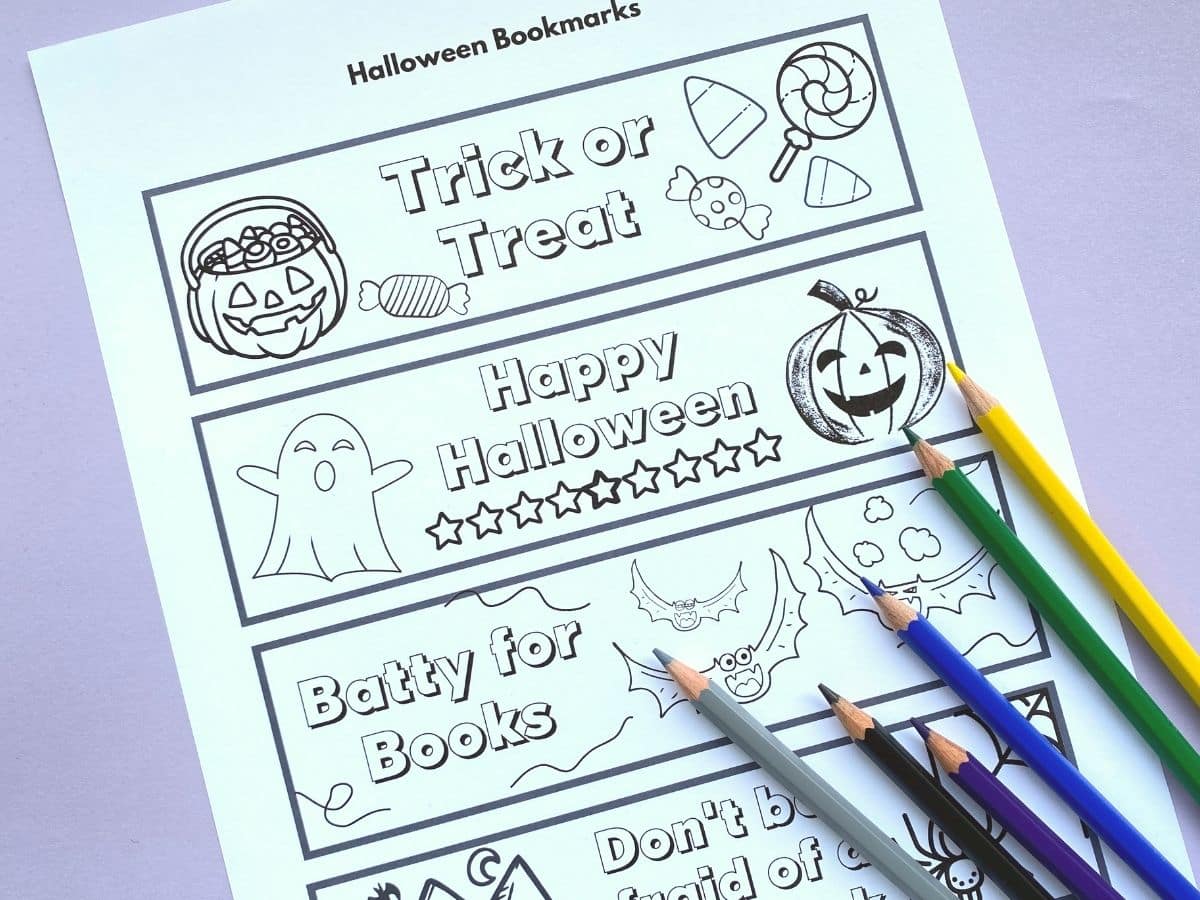 Print and colour our Halloween bookmarks
Have fun with our Halloween Would You Rather Questions for Kids
---
Make sure you are following along…
FOLLOW KITCHEN COUNTER CHRONICLES ON
SUBSCRIBE TO KITCHEN COUNTER CHRONICLES TO HAVE OUR DELICIOUS RECIPES, FUN CRAFTS & ACTIVITIES DELIVERED DIRECTLY TO YOUR INBOX.