We have a giant box filled with little containers of beads. Doesn't every home have an overwhelming supply of beads? I've been planning on making so many different things to make with these beads. And yet, here I sit with a big bin of little beads. Seems like a great time to make a cool craft with my tween.
Disclosure: There are Amazon Affiliate links in this article which means, at no additional cost to you, we could receive compensation for our recommendations. You can read our full disclosure policy on our Disclosure Page for more details.
Then I remembered friendship pins. Do you remember making friendship pins for the kids in your class, way back in the 80s? Safety pins with colourful beads that you would share with your friends and pin to your shoe laces. I know, so 80's.  Well, I got to thinking about beads, friendship pins, fine motor skills and patterning…turning this simple craft into a creative learning opportunity. These friendship pins are another super cool summer craft for tweens to make.
How to Make Friendship Pins with Beads
an assortment of beads
an assortment of safety pins
graph paper
Our first step was sorting our beads and sorting our safety pins. That – took – a – long – time. How many safety pins you need will depend on how many safety pin friendship pins you are planning on making. When we were done with our sorting, I had my girls determine how many beads would fit on each different sized pin. With that knowledge, we started creating our friendship pin patterns on graph paper.
Now, you could simply freestyle make friendship safety pins. Choose a set of colours that you will make all of your pins with – so that when you hand out your pins to your friends you all have the same colour pins. However, we wanted to kick up the learning for this craft and kick up the technical skills.
By using graph paper, my daughters were able to plan out the pattern they wanted to create. The number of boxes down is the number of beads on a single pin. The number of boxes across is the number of pins being used. Once they created their pattern on paper and chose the colour of beads they wanted to use, it was time to get beading.
The patterns came to life right before their eyes. My youngest daughter remarked, "Putting these beads on the pins is really making me use my fingers." Yep, fine motor skill development is important for older kids too…not just toddlers.
When the beading was all done, the pins were complete. My daughters had so much fun they kept piling on beads – even making a beautiful patterned necklace.
Friendship beads aren't complete until they are shared with friends…right?
These safety pin friendship pins are going to be put on shoe laces, so you can just line them up on the laces. If you want to hang the pins on one large safety pin and still keep the pattern together you will need to take an extra step. Using pliers, unwind the loop at the end of the large safety pin. Slip the smaller beaded pins onto the large pin. Slide them over to the side that doesn't open. Once all the patterned pins are in place, recoil the end of the safety pin and close it. Now the beaded pins are secure on the side of the large safety pin that doesn't open. The friendship pin can be attached to a shirt, hat, scarf or your favourite 80's inspired jean jacket.
Beading Tip: When you are working with beads it is a good idea to work on top of a towel. Using a towel will keep the beads from rolling all right off your work surface. The little beads will be caught in the towel loops…so make sure it isn't a smooth towel. This really helps when you're working on pattern designs – it keeps your patterns in order.
---
Pin this cool craft idea for later…
---
We even made a groovy little video to go along with this super fun craft.
---
Looking for more cool crafts for your tweens and teens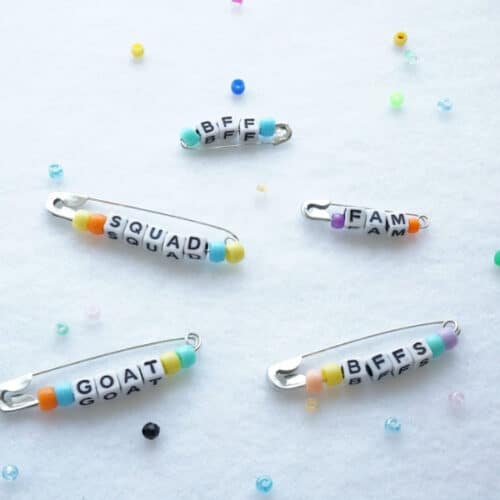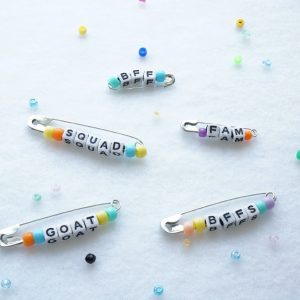 Check out our modern version of the friendship pin…a friendship pin with a funny or sweet message for your BFF and everyone in your SQUAD
Check out our collection of creative summer camp crafts for tweens
Let us help you plan your spring break or summer vacation with your tweens and teens
---
Make sure you are following along…
FOLLOW KITCHEN COUNTER CHRONICLES ON
SUBSCRIBE TO KITCHEN COUNTER CHRONICLES TO HAVE OUR DELICIOUS RECIPES, FUN CRAFTS & ACTIVITIES DELIVERED DIRECTLY TO YOUR INBOX.