We have shared plenty of awesomely creative crafts for tweens and older kids and specifically plenty of epic Valentine's Day craft for tweens to make over the years. This year we have taken a little inspiration from our fun Halloween friendship bracelets to make these cool Valentine friendship bracelets. After all, Valentine's Day is totally all about loving your best buds!
Disclosure: There are Amazon Affiliate links in this article which means, at no additional cost to you, we could receive compensation for our recommendations. You can read our full disclosure policy on our Disclosure Page for more details.
Not only did we take inspiration from our crafty Halloween bracelets, we also took inspiration from one of our favourite friendships – Joey and Chandler's! Any fans of the television series Friends out there? Who can forget the episode when Joey gifted Chandler with a heavy, gold bracelet with the words "Best Buds" engraved on it. Hilarity ensued. When Chandler thought he had lost his bracelet and bought a replacement bracelet, they became "bracelet buddies" after Chandler gave Joey his spare bracelet. Wouldn't it be fun to be bracelet buddies with your friends?
I loved the idea of making a Best Buds bracelet to share with friends. We skipped the bulky gold chain and went with our favourite letter beads for this bracelet. How great would this be to make and share with your best buds?!
DIY Friendship Bracelet with Letter Beads
red and pink square wooden beads
square letter beads
elastic thread – Stretch Magic 5mm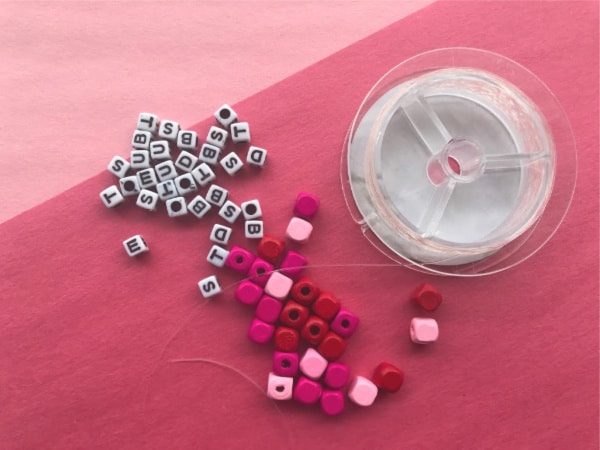 So, the first step in making a friendship bracelet is deciding what the letter beads will say. We went with "best buds", but you could go with another message. Maybe something more Valentiney (is that a word), like "be mine", "me and you" or "girl squad". Whatever message you decide on, sort out the letters and lay the letters out on a flat surface.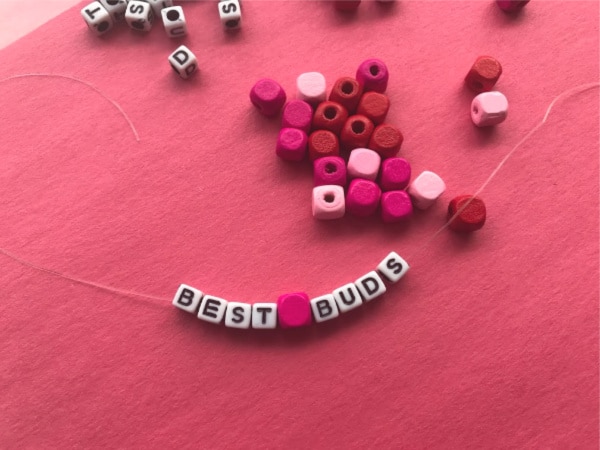 The next step is to cut the length of string you want to use. We used an elastic string, so that the bracelet doesn't need a clasp. An elastic bracelet an easily be taken on and off. We used a piece of string that was about 8 inches long. You want the string wrap around your wrist, but then be 2 inches longer – so that you have enough extra string to tie your knot.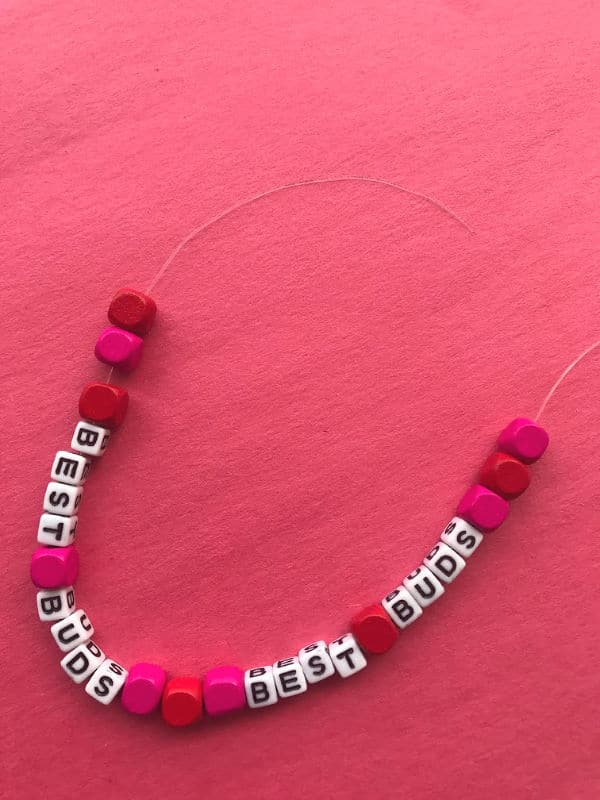 Once you have the string cut out, it's time to plan out the beads that you want to add to the bracelet. I loved using the pink, red and dark pink beads. I happen to love working with wooden beads for bracelets. However, feel free to use whatever beads you have on hand. Red and pink beads are fun for Valentine's Day bracelets, but if you are making these for another occasion then choose whichever colour you like.
Feed the beads onto the string. Remember to make sure all the letters are facing the right direction. Fill up the string.
When the beading is done, it's time to tie up the bracelet. Okay, you want to make sure the the knot is very tight – so you will want to use a "surgeons knot". For a surgeon knot, loop the right end of the string over the left and then loop it over again. Bringing the two ends together in more of a twist. Then loop the two ends right over left.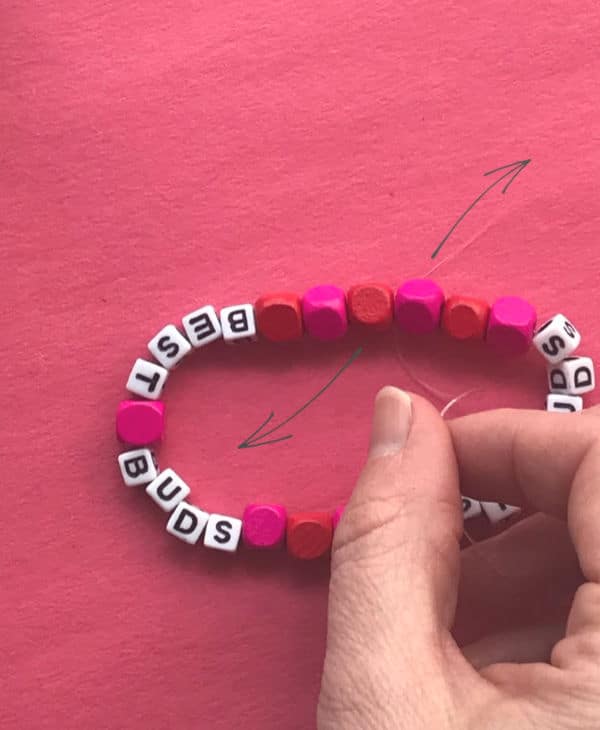 Pull the knot tightly together. That's your surgeon knot. I added another simple knot. If you want you could also add a dot of superglue directly onto the knot. I tend to glue my fingers together whenever I work with superglue…so I skipped that step.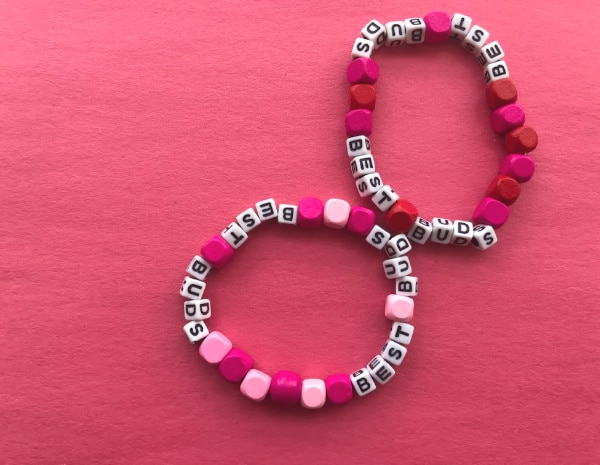 That's it! You now now how to make a friendship bracelet with letter beads. Now it is time to make one for all of your friends – all of your best buds!
---
Related Posts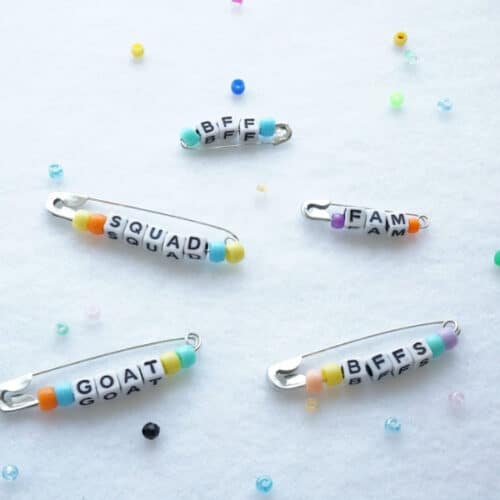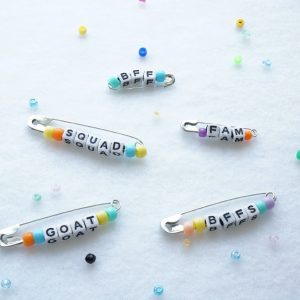 Learn how to make friendship pins to share with your besties
Check out our EPIC collection of 40+ Valentine's Day crafts for older kids to make
---
Make sure you are following along…
SUBSCRIBE TO KITCHEN COUNTER CHRONICLES TO HAVE OUR DELICIOUS RECIPES, FUN CRAFTS & ACTIVITIES DELIVERED DIRECTLY TO YOUR INBOX.
FOLLOW KITCHEN COUNTER CHRONICLES ON