Okay, let's have some fun. It's the first day of fall and that means it's time to ditch the shorts and t-shirts and climb into big fluffy sweaters and cozy blankets. Bring on all the flannel. It's a great time to switch up the jewelry with this fun fall craft for tweens to make.
Disclosure: There are Amazon Affiliate links in this article which means, at no additional cost to you, we could receive compensation for our recommendations. You can read our full disclosure policy on our Disclosure Page for more details.
While this fall craft is great fun for the kids…I love my bracelets…and I'm definitely not a tween anymore. Fall is our favourite season. You absolutely cannot beat a hike in the colourful woods, wearing a comfy sweater. With all the restrictions that have been piled on us since March, with no end in sight, this fall it is going to be extra important to get outside and soak up as much fresh air as possible.
We love making cute letter bracelets. We can't wait to bust out our Halloween collection – but for now, it's time to have fun with sweater weather and pumpkin spice everything! While these bracelets are great to wear they are even better when they are shared with friends. Which is why creating fun bracelet messages, that totally suit your best friends, are great to share.
Fall Friendship Bracelets Craft
alphabet letter beads
fall coloured wooden beads
stretch cording 0.7mm (0.028inch)
scissors
The first step is deciding which fall message you'd like to share on your bracelet. We went with "sweater weather" and "pumpkin spice everything", those spoke to us. But, you could opt for "it's fall y'all", "I love fall most of all", "meet you at the pumpkin patch", or simply "pumpkins and apples". Whatever you choose, your bracelets will delight whoever you are sharing them with.
Next, it is time to arrange all the letters you are going to need for your fall message. It's important to make sure you have all the letters you need. You can wrap all the words into one bracelet, or spread the message across more bracelets, as we did. Don't forget some fall coloured accent beads. We chose wooden beads for these bracelets. Wood beads seemed to suit the fall vibe we are going for.
Next cut a length of stretch cording about 8 inches long. You want the cording to be long enough to fit around your wrist and have enough extra to easily tie your knot. Better too long than too short.
Feed the beads onto the cord. Make sure all the letters are pointing in the same direction…I speak from experience.
Now, it's time to tie the knot. Add enough beads to the string so that they wrap all the way around your wrist and you'll be able to get it on and off over your hand. I have wide hands, so I like to test the length a couple of times before tying the knot.
You want to make sure the knot is very tight – so you will want to use a "surgeons knot". For a surgeon knot, loop the right end of the string over the left and then loop it over again. Bringing the two ends together in more of a twist. Then loop the two ends right over left. If you want to be extra secure, you could add a dot of superglue to your knot.
Your bracelet is done. Throw on your flannel shirt, grab your pumpkin spice latte and spend some time enjoying all the beauty that fall has to offer. Wrap up a bracelet for your friends and share the fall-love around. If you aren't sure what to do first this fall, check out our awesome family fall to-do list…we share a whole bunch of great inspiring ideas.
---
Related Posts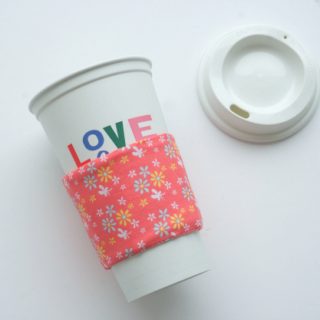 What is your pumpkin spice latte missing? A coffee cup cozy!
Sew your own with our simple pattern and instructions
---
Make sure you are following along…
SUBSCRIBE TO KITCHEN COUNTER CHRONICLES TO HAVE OUR DELICIOUS RECIPES, FUN CRAFTS & ACTIVITIES DELIVERED DIRECTLY TO YOUR INBOX.
FOLLOW KITCHEN COUNTER CHRONICLES ON