We have had a lot of fun making various friendship bracelets. We've made them for Valentine's Day, for the fall and Halloween. Don't forget our fun friendship safety pins…the kind you pin to your shoelaces. This time around we are embracing the cold weather and making this cool winter craft for tweens.
Disclosure: There are Amazon Affiliate links in this article which means, at no additional cost to you, we could receive compensation for our recommendations. You can read our full disclosure policy on our Disclosure Page for more details.
Since this year our many kids are attending school online, these bracelets are a lovely way to stay connected with friends. What a cute surprise it would be to receive a friendship bracelet in the mail from a friend.
Winter Friendship Bracelet Craft for Tweens
letter beads
assorted wooden beads
stretchy jewelry string – 0.7mm
Bead Bugs
piece of felt to work on
The first step in making these friendship bracelets is deciding on a wintry phrase to use. We landed on a few of our favourite winter things…
hot chocolate marshmallows
do you want to build a snowman
cold hands warm heart
I am legendary for my hands getting cold and I repeatedly say "cold hands, warm heart" during the winter. And, you can't beat hot chocolate and marshmallows on a chilly winter day…right? Of course, every time we have a snowfall the inevitable question is asked "do you want to build a snowman?" We also liked the idea of a bracelet with "snow day" or "chilly nose chilly toes." Maybe there is a favourite thing that you and your friends like to say during the winter.
When we made our Halloween bracelets, we carried our phrase across 3 bracelets. Don't be afraid to use a long sentence that can spread across multiple bracelets.
Okay, once you have your phrase or words, it's time to plan out the bracelets. We like to make our bracelets on a piece of felt. The surface of the felt stops the beads from rolling away. Lay the letters out and then add in some wooden beads to space the words out. The design choices are totally up to you. Have fun planning.
To determine the length of the string you need you can either simply wrap the string around your wrist and add 2 inches to the length. You need the string to be able to comfortably stretch over the widest part of your hand, the base of your palm. The last thing you want is for your bracelet to snap and beads to fly everywhere. We cut out the string at 10″ to be on the safe side.
Once the planning is done and you have your string, it's time to start beading. I discovered this super-smart beading tool, a Bead Bug, that you clip onto the end of your string and it stops the beads from all sliding off as you are beading. I seriously love this little thing…it is life-changing. If you don't have a bead bug you could clip a bullnose clip to the end of your string.
When the beading is done, it's time to tie the knot. We always use a surgeon's knot. This knot involved a triple loop of the knot. Be sure to pull the knot tightly closed. Some people use a dot of super glue on the knot, we just rely on a couple of surgeon knots to close our bracelets securely.
Now the bracelets are done and it's time to share them with your friends. Write a note and pop one in an envelope that you can deliver to your friend's house. Just because we can't be with our friends in person, doesn't mean that we can't show them that we care.
What will your winter friendship bracelet message say?
---
Related Posts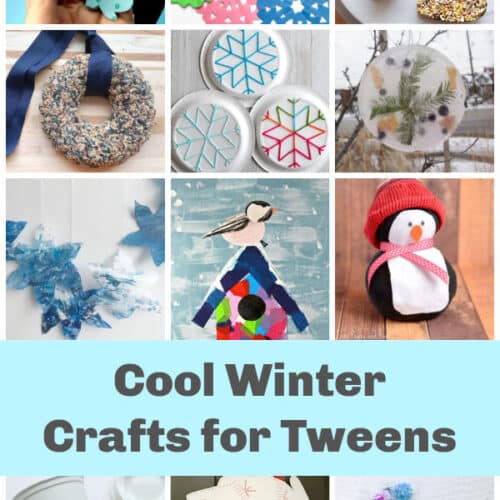 Check out all of these creative winter crafts for tweens to make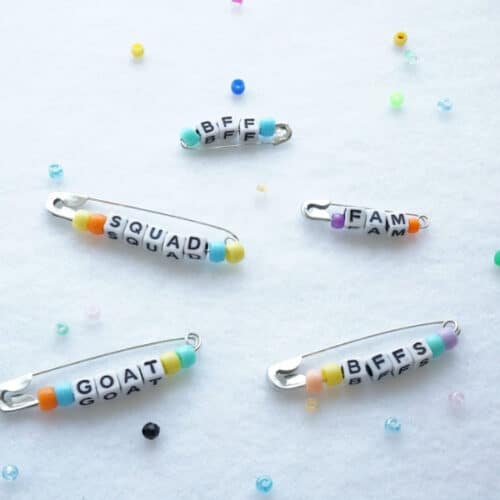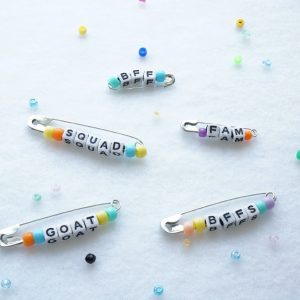 Have fun making our friendship pins for your shoes
---
Make sure you are following along…
SUBSCRIBE TO KITCHEN COUNTER CHRONICLES TO HAVE OUR FUN CRAFTS & ACTIVITIES & RECIPES DELIVERED DIRECTLY TO YOUR INBOX.
FOLLOW KITCHEN COUNTER CHRONICLES ON