The girls and I are knee-deep in snowflake research. Our newfound interest in snowflakes has been enlightening. We have been fun exploring all kinds of cool winter STEM activities for kids (science, tech, engineering and math) and our investigation of snowflakes fit right in.
Disclosure: There are Amazon Affiliate links in this article which means, at no additional cost to you, we could receive compensation for our recommendations. You can read our full disclosure policy on our Disclosure Page for more details.
I picked up a few books and we have been learning all about how snowflakes form. Contrary to popular belief, snowflakes are not simply frozen raindrops. I don't know about you, but that is what I always assumed. That as the rain fell and if it was cold enough, then it turned into snow. Nope. That isn't what is happening at all.
The science is quite interesting which is why we put together this simple winter science activity to reinforce what we had learned about how snowflakes form.
How Do Snowflakes Form? Hands-on Activity for Kids
white paper
print our how do snowflakes form printable
scissors
blue and black foam sheets or construction paper
Snowflakes start out as round or spherical, water droplets in the clouds. When the temperature is cold enough, the water droplets freeze, they now take a hexagonal shape. Start by printing our How Do Snowflakes Form printable and cutting out the hexagons.
In geometry, we know that a hexagon is a simple 6-sided shape – like a stop sign. The hexagons are our starting point for making our snowflakes.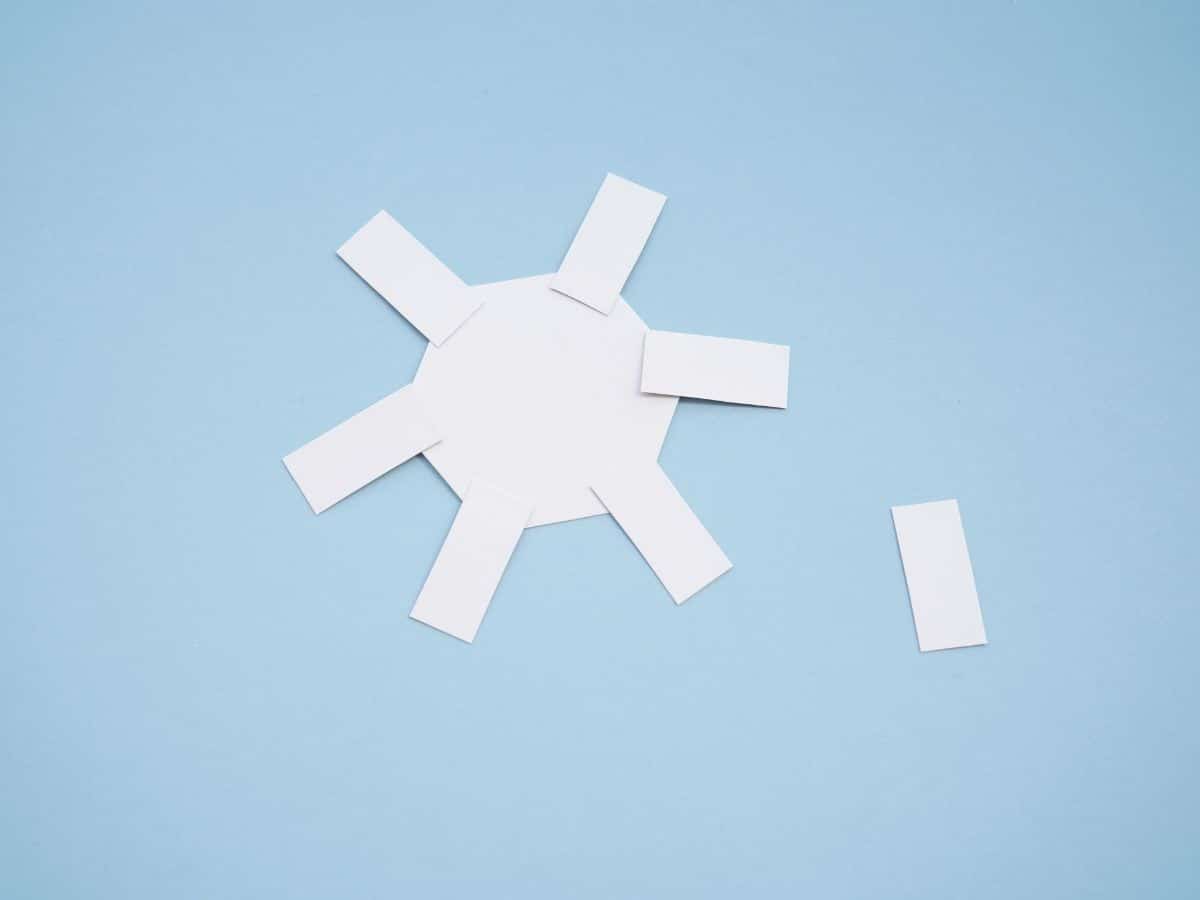 As the crystallized water droplet falls through the freezing cold air, it attracts water vapour. The vapour attaches to each of the 6 sides of the hexagon…creating the branches or little arms, we see on snowflakes. Now, cut all of the small rectangular pieces from the printable. Depending on the size of your snowflakes, you may need to cut out more rectangles. These will be the water droplets that attach themselves to the hexagon.
As the snowflake falls to the ground and picks up more water vapour, it grows. Creating a snowflake is as simple as adding more and more water vapour to create a symmetrical pattern. My daughter cut pieces of paper even smaller so that she could vary the shape of the snowflake. The reason no two snowflakes are ever alike is that each snowflake takes a different path through the air, spinning and bumping into different numbers of water vapour branches…pretty cool, right?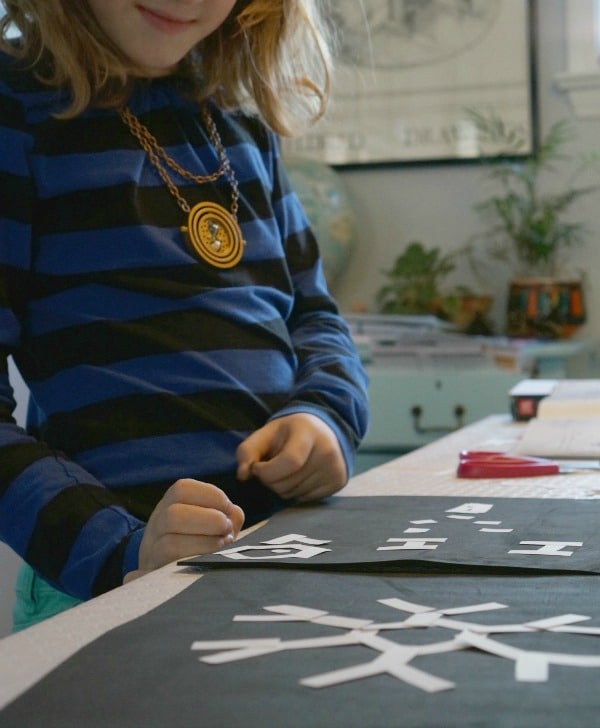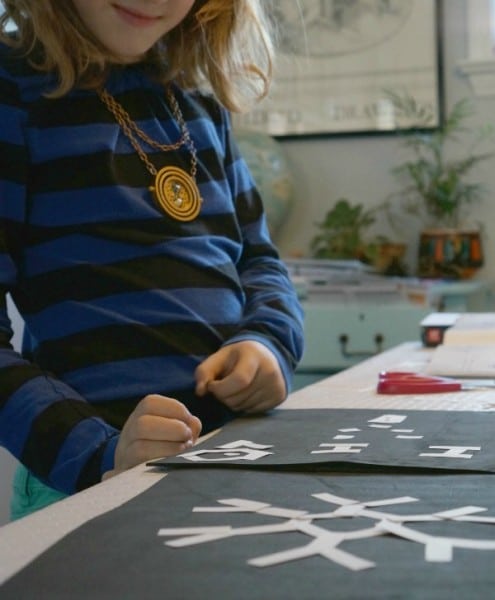 Once you have created the snowflakes they can be glued in place on the foam sheet. We chose not to glue ours. That way my daughter could make more snowflakes. After all, a real snowflake doesn't last forever…it melts and starts the water cycle all over again.
But, why are snowflakes symmetrical?
Okay, this is a question that my daughter asked and I'm sure you're wondering too. Again, through research, we learned that the symmetry of a snowflake comes down to a whole lot of science. It has to do with crystallization – the process where solids are formed into a highly structured and organized crystal. Put simply it seems like the shape and size of the initial hexagon that formed from the water droplet will determine the branch formation of the snowflake. The formation of the snowflake is crystallization. As the water molecules form the growing branch structures, they take up the amount of space that is provided by the hexagon. Think of reaching out your fingers beside someone else. You don't want to hit their fingers, or you might break a finger. So you reach out your fingers to just the right distance to take up the space. Now imagine your arm was attached to a hexagon base and your arms reached out from the points of the hexagon. Science can be quite organized and orderly – this is the case of snowflake formation (or crystallization).
When do snowflakes form?
Here's another common question about snowflakes. This one seems pretty easy to answer. Snowflakes can only form when the temperature reaches 0°C – the freezing point of water molecules. That doesn't mean that it will snow at that point, there are other atmospheric conditions that have to be met – humidity, moisture, wind, etc. When my daughter and I observe snowfall we've noticed that sometimes snowflakes can be small and other times they can be big and fluffy – depending on the temperature outside. When it is a super cold day, it is too cold for the snow to fall at all. So, there are many factors that combine to make the conditions perfect for snowflakes to form.
---
Books About How Snowflakes Form
We learned all of this awesome information from a few books we have been reading;
Kenneth Libbrecht's book The Secret Life of A Snowflake
Snowflakes in Photograph by W.A. Bently – filled with amazing photographs of snowflakes.
Snowflake Bently by Jaqueline Briggs Martin.
FYI – I am not a professional scientist and this information is intended to get kids interested in learning more about snowflakes. I encourage you to read the books I've shared to learn more about the science behind snowflake formation.
---
More Winter STEM Activities
Check out our snow STEM activities for kids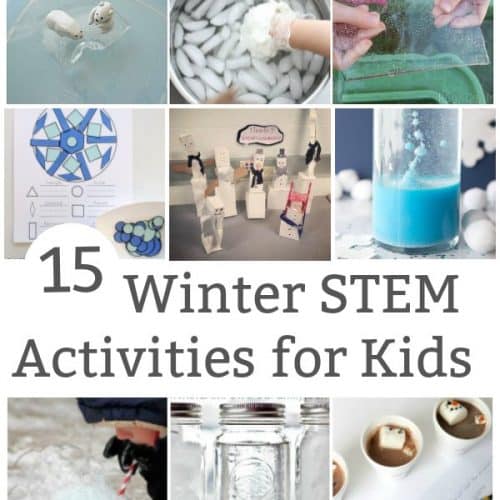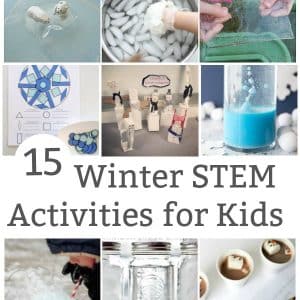 Explore all kinds of cool winter STEM activities we have in this EPIC collection
---
Make sure you are following along…
FOLLOW KITCHEN COUNTER CHRONICLES ON
SUBSCRIBE TO KITCHEN COUNTER CHRONICLES TO HAVE OUR DELICIOUS RECIPES, FUN CRAFTS & ACTIVITIES DELIVERED DIRECTLY TO YOUR INBOX.