I am having so much fun creating holiday and seasonal this or that questions and templates. While I have shared many, many would you rather questions for kids over the years, I love how quick and simple "this or that" questions are.
Our Halloween would you rather questions are one of our most popular Halloween activities. So, I thought it would be a good idea to expand the quizzical fun. What do you think? Do you like to circle your way through this or that questions on Instagram?
This or That Halloween Edition
The first thing you're going to want to do is to decide if you will be printing off our Halloween this or that quiz or sharing it on Instagram. If you are a teacher or are wanting to print off the physical copy of the quiz then you'll want to print off our This or That Halloween Edition printable. I printed our copy on heavier card stock, framed it in a simple frame and it has become part of our Halloween decor.
Add our this or that quiz to your child's lunch box or add it to your Halloween party goodie bags. This quiz is perfect for a classroom Halloween party.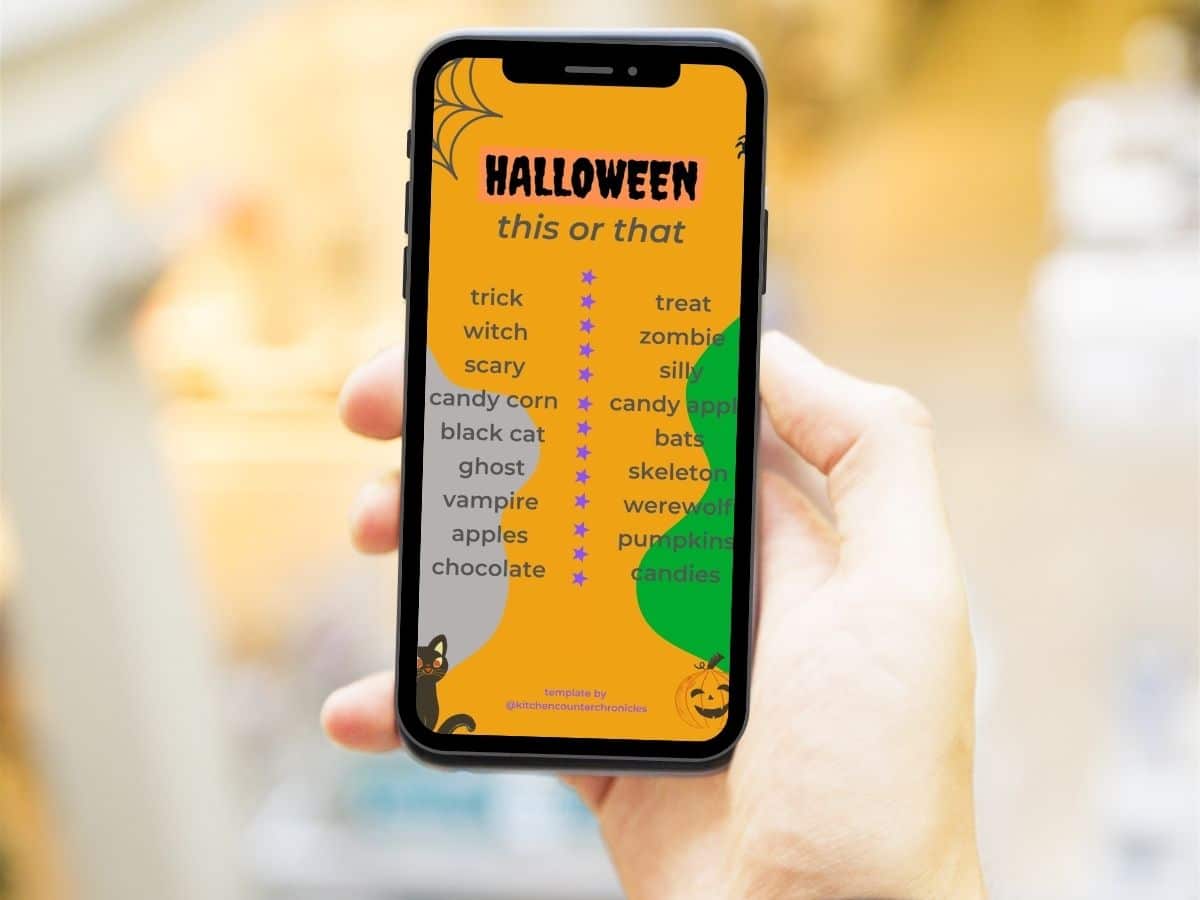 If you would like to share our this or that Halloween edition on social media, we've created a file that is the exact size of an Instagram story. Simply download the Halloween this or that instagram story template and then upload it from your camera roll into your Instagram stories. Once the image is an Instagram story you can use the pen to circle your answers. Be sure to tag your friends and see if they want to play along. Feel free to tag me @kitchencounterchronicles so I can check out your answers.
No matter how you choose to play, this is a simple and fun Halloween game to play.
---
Other Halloween Games for Kids
Check out our Halloween pumpkin bowling game with printable Halloween characters you can use as bowling pins
You can play a game of Build a Jack O'Lantern with our printable Halloween game
---
Make sure you are following along…
SUBSCRIBE TO KITCHEN COUNTER CHRONICLES TO HAVE OUR DELICIOUS RECIPES, FUN CRAFTS & ACTIVITIES DELIVERED DIRECTLY TO YOUR INBOX.
FOLLOW KITCHEN COUNTER CHRONICLES ON