Okay, this one was super fun to make. I've shared plenty of fun Halloween crafts and activities for kids to make over the years. I've even shared an awesome Charlie Brown Great Pumpkin bowling game for kids and this Halloween Bowling Game for kids is one of my newest faves!
Disclosure: There are Amazon Affiliate links in this article which means, at no additional cost to you, we could receive compensation for our recommendations. You can read our full disclosure policy on our Disclosure Page for more details.
Everyone has toilet paper rolls…I know you do! Don't recycle them, give them a new life. I've created 6 printable Halloween characters to use as bowling pins. All you need to add is the little pumpkin bowling ball.
Halloween Pumpkin Bowling Game
6 empty toilet paper rolls
our Halloween Pumpkin Bowling Game printable
clear tape
craft scissors
small pumpkin
The first step is to gather up the toilet paper rolls. In our house, empty toilet paper rolls are stored in the craft room – they're one of my favourite craft supplies. You can also purchase cardboard rolls if you prefer. Or cut down any cardboard tube – paper towel roll or wrapping paper roll.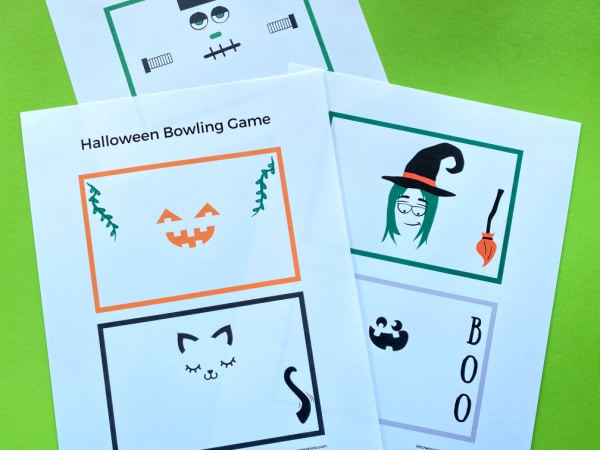 Once you have your rolls, it's time to print off the characters for your bowling pins. We printed ours on heavier card stock, but you could totally use regular printer paper. Use the scissors to cut out each character. This is a great job for the kids.
Wrap the characters around the toilet paper roll and then tape the ends in place. You will see that each character has a distinct front and back. Aren't they super cute!?
Feel free to colour the Halloween characters. You could totally add more details to each monster, ghost, witch and jack o'lantern. Have fun with them!
When the Halloween pins are ready, it's time to play. Set up the pin in a traditional 1-2-3 pattern and grab your little pumpkin bowling ball. If you don't have a little pumpkin or gourd, a tennis ball will totally do the trick. How far you roll your pumpkin will determine how challenging the game is. The further back will be a whole lot harder!
Feeling a little more adventurous? Try stacking the rolls and seeing how many you can knockdown. Maybe you could even create a totally different way to play. I know kids love using these little characters in imaginary play, outside of the bowling game.
However, you play this Halloween bowling game will be great for home, the classroom or a Halloween party. Have fun!
---
Related Posts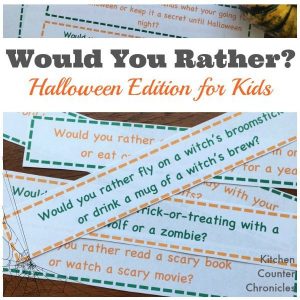 Check out our Halloween Would You Rather Questions for kids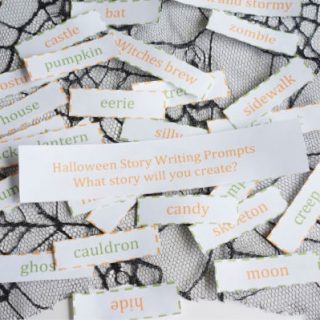 What about writing a spooky Halloween story with our Halloween story writing prompts
---
Make sure you are following along…
SUBSCRIBE TO KITCHEN COUNTER CHRONICLES TO HAVE OUR DELICIOUS RECIPES, FUN CRAFTS & ACTIVITIES DELIVERED DIRECTLY TO YOUR INBOX.
FOLLOW KITCHEN COUNTER CHRONICLES ON