You know the old story about giving a child a new toy and they only want to play with the box. The same can often be said of outdoor play. Children don't need a lot of bells and whistles…they just need a little time to explore the outdoors. Their imaginations are sparked by the birds in the trees and the rocks on the ground. That is one of the most beautiful things about outdoor play – it is free and available to everyone. I've been thinking about the changing of the seasons and the simple fall outdoor play ideas we embrace every year. Sometimes it is nice to keep things simple…no supplies required.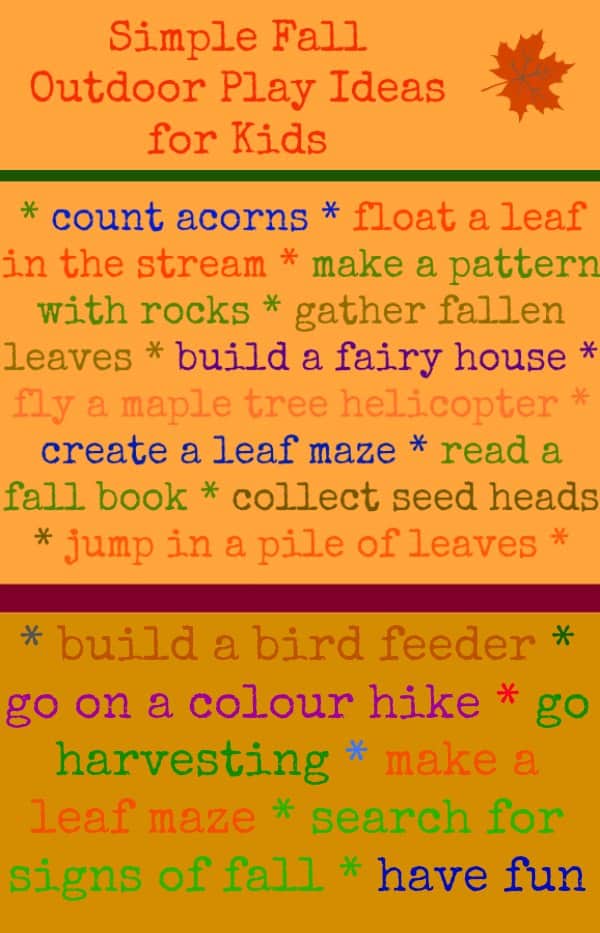 Simple Fall Outdoor Play Ideas for Kids
Collect and count acorns – bring a little container along on your next walk and gather as many acorn as you can fit in your container. Kids love making patterns with acorns. Or, use the acorns to make a nature family.
Float a leaf in a stream – Is there anything more simple than tossing a fallen leaf in a stream and following along the shoreline to see where it goes?
Make a rock pattern – Patterning is a simple math concept that nature is happy to provide the supplies for. Leave a rock design at the beach and leave it for the next visitors to enjoy.
Build a fairy house – Have you ever happened upon a fairy house in a park? What a magical discovery. Let the kids build a fairy house from simple sticks and leaves, for everyone to enjoy.
Read a fall book – Take a bag of fall books on your next outing. Reading outside is truly joyful. If you read at a park, you might be surprised by how many other kids (and squirrels) want to listen in.
Collect seed heads – Did you know that you can make art with seed heads. Yep, they make beautiful stamps. Collecting seeds is also a traditional way of propagating native plants. Plant the seeds you collect in the spring.
Go on a colour hunt – Is there a better time of year to go on a colour hunt?
Search for signs of fall – Print off this little booklet and search for all the beautiful signs of fall. Will you find them all?
It's harvest time – Head to a farm and take part in the harvesting of fruits and vegetables. Fall is a bountiful time of the year – what will you pick?
Football season – It's time to head to the playing field and toss around the ball. Whether it's American football, baseball or soccer – the fall is the perfect time to get out and play with your friends.
Build a birdhouse – As the cooler weather arrives, birds will be stocking up for the winter months. Make a simple bird feeder for your backyard.
Go birdwatching – Speaking of birds, migratory birds and butterflies are taking flight to their warmer winter homes, which means fall is a great time to go bird watching with the kids.
How will you and your family play outside this fall? What are your favourite fall activities?
---