One of the things I love about outdoor play is how simple it can be. You don't need any fancy equipment to get kids enjoying their time outside. This week the girls and I were out doing a few errands, as we set off for our walk home we decided to turn our ordinary walk home into a colour hunt. A colour hunt is a fun activity for spring, summer, fall or winter.
What is a colour hunt? A colour hunt is a fun way to educate and engage children outdoors. As we set out on our colour hunt I asked each of my daughters to choose a colour. They chose blue and orange. Once the colour was chosen we went searching for anything and everything blue and orange on our walk home.
Since I had my phone/camera with me it was easy to click pictures of all the blue and orange things we found along the way. If you don't have a camera kids can draw the items they find or even collect colourful items. Whatever works.
It is amazing how this simple activity made our mundane trip a little more exciting. My girls and I had fun searching and even debating along the way…"I don't think that's blue?" "I think that looks more yellow than orange."
What colours will your kids search for?
Looking for more fun ideas for your next walk with the kids? Head outside on a listening walk? Let your kids' ears guide them and discover the sounds in your neighbourhood. Turn your next walk into a fun scavenger hunt with this free printable scavenger hunt.
---
Related Posts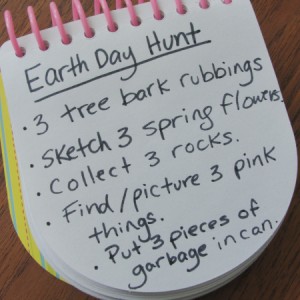 Celebrate Earth Day with an Earth Day scavenger hunt
Have you ever tried walking meditation?
---
BE SURE TO SUBSCRIBE TO KITCHEN COUNTER CHRONICLES TO HAVE OUR DELICIOUS RECIPES, FUN CRAFTS & ACTIVITIES DELIVERED DIRECTLY TO YOUR INBOX.
---