As you know, I am all about getting the kids excited to play outside. I'm also always looking for easy outdoor play ideas…playing outdoors doesn't have to be complicated, but it can still be exciting and educational. A surefire, fun way to engage kids outdoors is to take them on a scavenger hunt. Kids LOVE scavenger hunts. A while ago I shared a simple search for spring booklet, I've made a few changes and created a simple search for autumn booklet.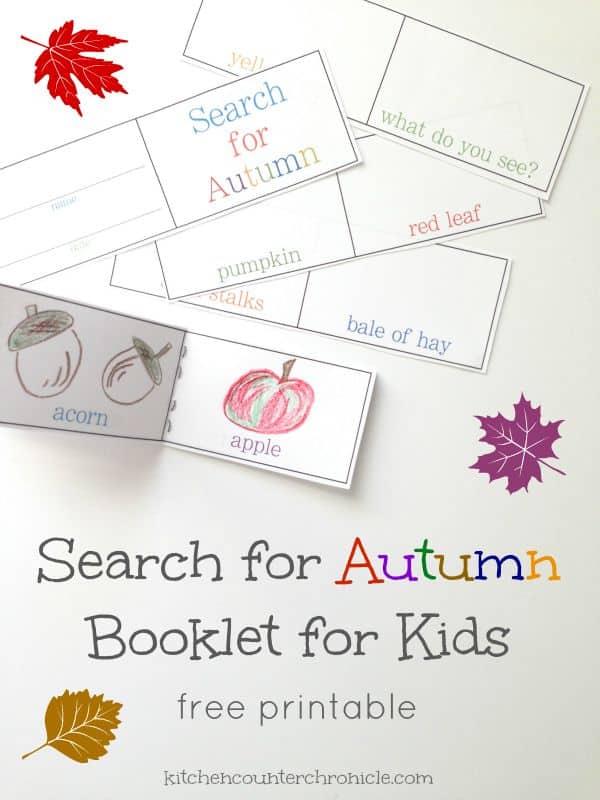 Gather up your supplies before heading outside. Bring a pencil, crayons, markers, whatever you like. Print off the search for autumn booklet (click the link) and assemble. To make the booklet, cut out each strip that contains 2 searchable objects. Pile up the pages and staple the booklet together. It's pretty easy to do.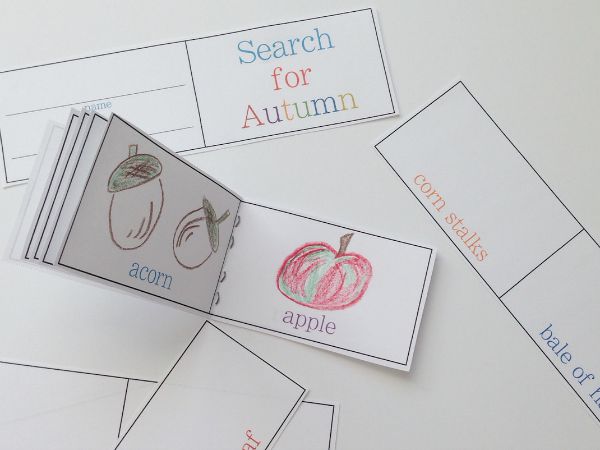 Let the kids write their name and the date…after all they are the authors of this book. Head outside and start searching.
Have kids look for each object in the book. Preschoolers can check off the object when they find it, or draw a picture of what they find. Older kids might want to take a moment to sit and sketch the object into the book. Bring along a small bag and collect the items so that they can be examined and played with at home. Don't forget to fill in the blank page…what else did you find?
This basic booklet will make a great addition to your next walk with the kids this autumn.
If you like scavenger hunts, then you will love these…
Summer Scavenger Hunt for Kids
ABC's Scavenger Hunt
Search for Autumn Printable Booklet
Earth Day Scavenger Hunt
Search for Spring Printable Booklet
Be sure to subscribe to Kitchen Counter Chronicles to have our delicious recipes, fun crafts & activities delivered directly to your inbox. You may also follow along Facebook and Twitter.
Looking for more fun activities that celebrate autumn? Check out our Halloween and Fall Fun board on Pinterest. We have a fabulous collection of activities for kids of all ages.
Follow Jen at KitchenCounterChronicle's board Halloween and Fall Fun on Pinterest.