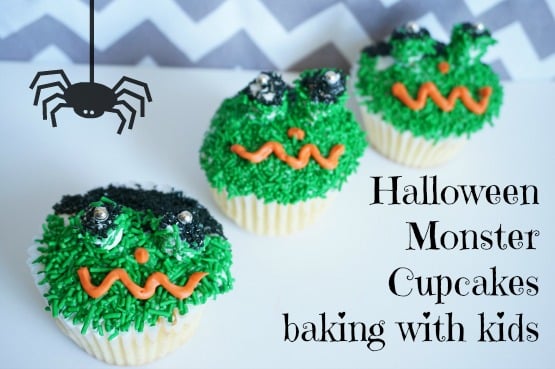 Boo! Are you ready for Halloween yet? We've been having some fun creating spooky and silly cupcakes. These Halloween monster cupcakes were hilarious to make. My youngest daughter and I had a fabulous time figuring how to make the funny eyes on top. Making these cupcakes with my daughter was all about making a tasty treat and a beautiful memory. Baking in the kitchen with kids can be this much fun.
Halloween Monster Cupcakes
vanilla or chocolate cup cake recipe…I prefer the Joy of Baking's Vanilla Cupcake Recipe
store bought vanilla icing
green cake decorating jimmies
black cake decorating sugar
orange icing colour
mini marshmallows
silver dragees
toothpicks
1. Bake the cupcakes according to the recipe and set aside to completely cool, before decorating.

2. Spread store bought icing over the top of the cupcake…you could use chocolate or vanilla.
3. Dip the top of the head/cupcake into the black sugar…making the hair.
4. Dip the rest of the cupcake in the green jimmies…making the face.
5. For the eyes: Break a toothpick in half and poke it into the mini marshmallow. Roll the mini marshmallow in the icing, coating it completely. Roll the sides of the mini marshmallow in the green jimmies. Press the top of the mini marshmallow in the black sugar. Place one silver dragee in the middle of the eye. Poke the eye in place on the monster face.

6. Mix a small portion of orange icing and transfer to a small resealable bag, snip a small hole in the corner and pipe a smile and a nose onto the monster's face.
Bring these scary (or are they silly?) cupcakes along to the kid's Halloween party. Or, enjoy them on Halloween night. They were so much fun to make, I don't think the kids even cared what they taste like…but they were delicious too!
Please come on over and join Kitchen Counter Chronicles on Facebook and Pinterest.