Silly or scary? We try so hard to find the balance between the scary parts of Halloween and the silly parts. With kids it can be most challenging game of trick-or-treat ever. For our girls, we lean toward silly Halloween…they aren't ready for the scary stuff yet. So, as we get ready to head into the weekend before Halloween we are making our plans for some fun Halloween movie watching and treat eating. For Halloween you can't beat our delicious Vampire chocolate sugar cookies.
We are kicking off our weekend with the always hilarious Andy Samberg in Hotel Transylvania, on Netflix. If you haven't watched this one, it revolves around a hotel resort where Halloween type characters can stay to get away from the drama of living in a world with regular humans. All of their ghostly and monster needs are met by their vampire host, Dracula. It is only when unsuspecting Jonathan (Samberg) stumbles across the hotel things get a little crazy and super silly. Of course, there is a little romance thrown in as well.
We love Hotel Transylvania and it inspired us to make vampire chocolate sugar cookies. How silly are these vampires…complete with their pointy hair styles and fangs. These are super fun to make with (or without) the kids.
Vampire Chocolate Sugar Cookies
1 batch of chocolate sugar cookie dough from FoodNetwork.com
1/2 cup icing sugar
2 heaped tsp meringue powder
at least 2 tsp water
red and black food colouring, I prefer gel over liquid
3 small resealable plastic bags
Begin by making a batch of chocolate sugar cookie dough. I really like the recipe on Food Network.com, so why reinvent the wheel? Roll out one half of the dough on a lightly floured surface. Roll the dough to 1/4 inch thickness. Use a standard gingerbread man cookie cutter. Be sure to flour the cookie cutter very well. I find that the narrow arms and legs can break easily, unless you flour the cookie cutter well.
Bake the gingerbread men on a parchment paper lined baking sheet, in a 350°F oven. Bake until they are no longer shiny…about 10-12 minutes. Transfer the cookies to a rack to cool completely.
Make the royal icing. Mix together the icing sugar, meringue powder and 2 tsp of water, add one tsp of water at a time until the icing reaches the desired thickness. You want the icing to be thick because you are going to be making lines with it.
Scoop a third of the icing into a separate bowl and mix in the red food colouring. Once fully mixed, transfer to a resealable bag. Repeat to make a black icing and fill one bag with a uncoloured, white icing. Use scissors to cut a small hole in one corner of the bag. Make the hole very small…you can always cut it larger, if need be.
Now that the cookies have cooled it is time to transform the gingerbread men into vampires. Use the black to make the signature vampire hair style. The white and black for the eyes and the teeth. I added a tiny dot of red to some of the vampire's teeth…they must have had a snack. Compete the vampire outfits however you like. I added some buttons, shirt and pant cuffs and red cufflinks.
Let the vampires dry and enjoy while watching Hotel Transylvania with the kids. These cookies are also perfect for classroom Halloween parties.
If you looking for some other fun silly and scary shows to watch, check out the Halloween line up on Netflix. From Stranger Things to Power Rangers…there is a Halloween episode or movie out there that you and your family will enjoy.
DISCLOSURE:  I AM PART OF THE NETFLIX STREAM TEAM AND HAVE BEEN COMPENSATED FOR THIS ARTICLE, HOWEVER THE OPINIONS ARE MY OWN.
---
Related Posts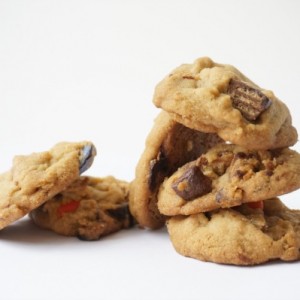 Bake Halloween candy bar cookies
Bake up silly spider cookies
---
BE SURE TO SUBSCRIBE TO KITCHEN COUNTER CHRONICLES TO HAVE OUR DELICIOUS RECIPES, FUN CRAFTS & ACTIVITIES DELIVERED DIRECTLY TO YOUR INBOX.
YOU MAY ALSO LIKE TO FOLLOW ALONG ON FACEBOOKAND TWITTER
---