Here we go, it's time to get down to another important Father's Day post…father's day crafts for kids to make. Every year we are faced with this question. We have tackled the question of the best Father's Day desserts and now we are thinking about the best Father's Day crafts. Be sure to check out all of our other amazing Father's Day ideas for kids too.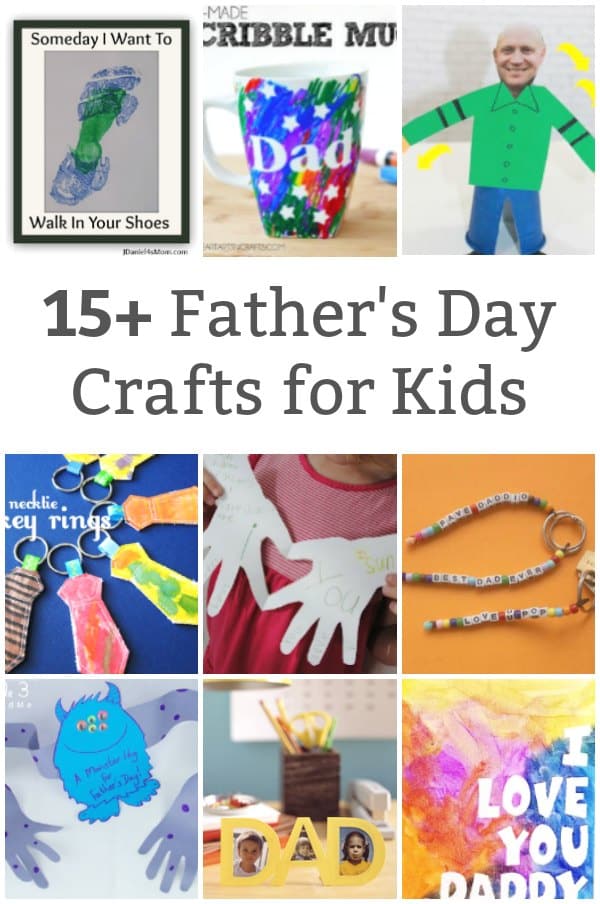 What will the kids make for Dad? Let's face it, the best "gift" is a homemade gift…right? So, I've searched around and pulled together a collection of cool Father's Day crafts for kids. These craft projects are great for both young and older kids to make. Year after year the most loved "gifts" are those that were made by hand…especially little hands.
Awesome Kid Made Father's Day Crafts for Kids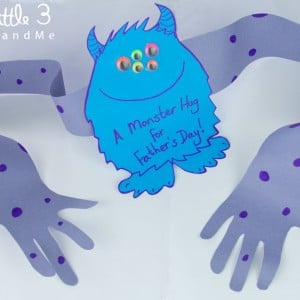 Who wouldn't want a big 'ol furry hug? Love this Father's Day card, that happens to be a monster hug from My Little 3 and Me.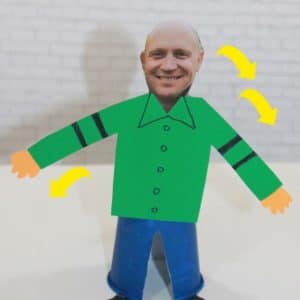 This Father's Day bobblehead craft from The Pinterested Parent totally cracked us up! What a funny Father's Day craft for the kids to make.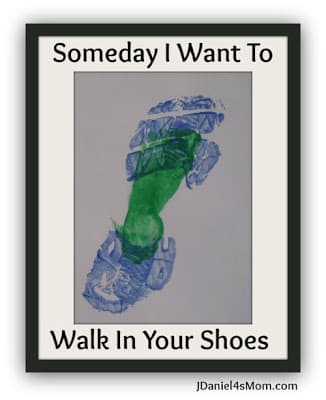 Footprint crafts are always a wonderful to celebrate and remember a special moment in time. I love this Father's Day footprint craft. JDaniel4's Mom created this very sweet child and father footprint craft.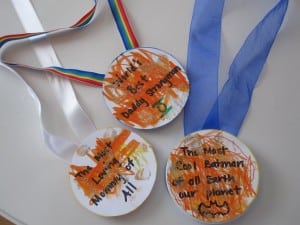 Is your Dad the absolute best Dad? Is he the best at something in particular? Why not make a Father's Day medal inspired by No Time For Flash Cards. He's a gold medal Dad.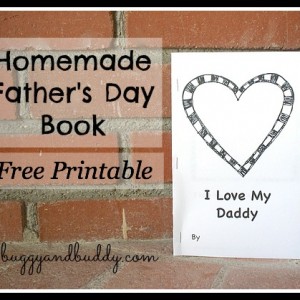 Everyone loves a good book gift. Fill the pages of this custom Father's Day book for dad with Buggy and Buddy's. A free printable booklet filled with love for Dad.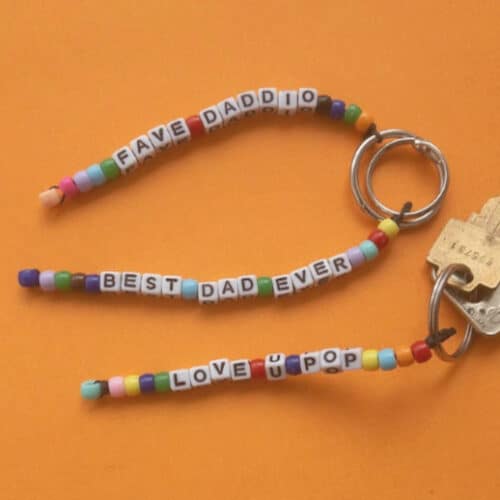 Here's a classic Father's Day craft – a keychain. Share a special, funny message with Dad this year with our Father's Day keychain. A great Father's Day craft for tweens to make.
Whether it is for his desk at work or the bookshelf at home, Dad will love this Father's Day picture frame. This Dad picture frame is on our to-do list, from Martha Stewart.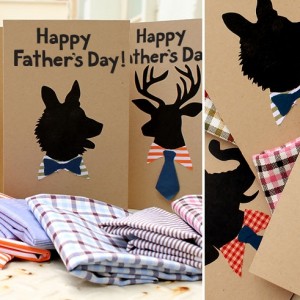 Another fabulous Father's Day card for the kids to make. We LOVE these animal cards from MOOHMAH…unfortunately the site doesn't seem to exist anymore…but the idea is solid. What kind of animal is your Dad? What colour tie will he wear?
Here's another Father's Day craft for tweens to create. Transform a piece of leather into a beautiful Father's Day leather bracelet for Dad from Lil Blue Boo.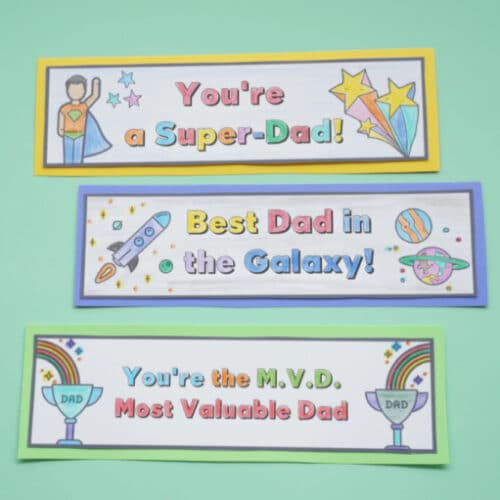 Dad is going to love flipping through a new book and discovering his new kid-coloured Father's Day bookmark. Check out our printable Father's Day bookmark craft.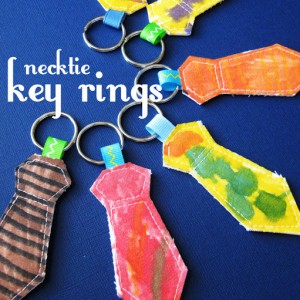 Does Dad wear a tie? Why give him yet another tie, when you can make him a Father's Day tie keychain. These necktie key chains, from Positively Splendid, are so much fun. What colour or pattern with your kids make?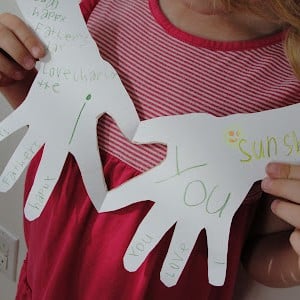 A simple and sweet Father's Day card…made with love…from us, Kitchen Counter Chronicles. You can't beat a Father's Day handprint craft. When you open the card you'll find the heart surprise inside.
This piece of art is totally worth hanging on the wall. Love this tape resist Father's Day art project from Whiskey Tango Foxtrot…another site that no longer exists.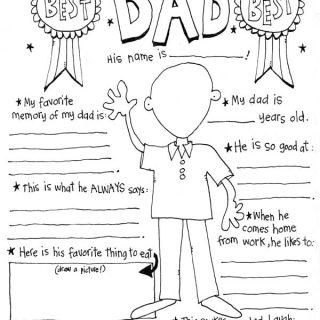 Let the kids fill in this Father's Day colouring page from Skip to My Lou. You know the kids are going to have some pretty funny answers for dad.
Dad loves movie night. Host a Father's Day movie night and be sure to have lots of popcorn in your Father's Day popcorn box! How simple and delicious is this treat for Pop, from Designs by Miss Mandee.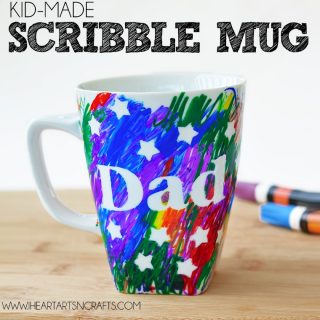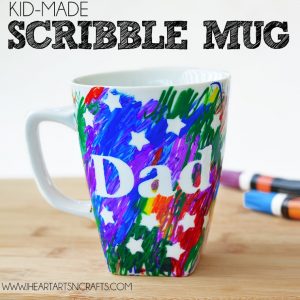 I Heart Arts and Crafts shares on of my favourite Father's Day mugs. The perfect addition to Dad's office – whether he drinks coffee from it or uses it as a pencil cup.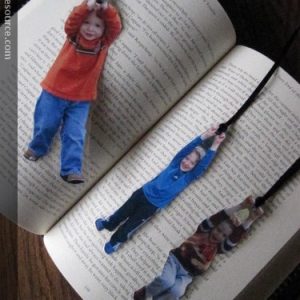 Do your kids jump for joy when they see Dad? What a hilarious bookmark to make for Dad, from Eyes on the Source.
Now the only question is, what Father's Day craft will your kids make for Dad this year?
---
---
Related Posts
So many fun things to do with Dad on Father's Day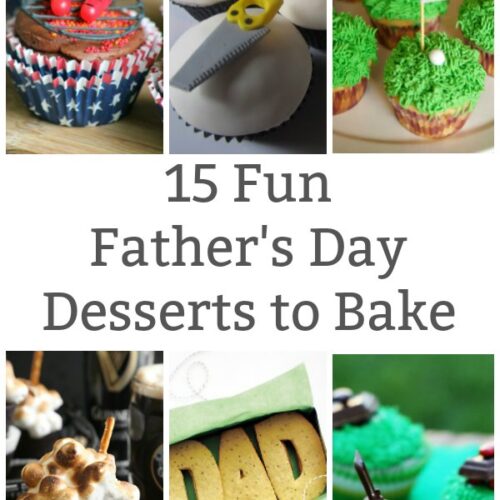 Make dad something delicious this Father's Day
---
Make sure you are following along…
SUBSCRIBE TO KITCHEN COUNTER CHRONICLES TO HAVE OUR DELICIOUS RECIPES, FUN CRAFTS & ACTIVITIES DELIVERED DIRECTLY TO YOUR INBOX.
FOLLOW KITCHEN COUNTER CHRONICLES ON