It can be hard to come up with a creative gift for Dad. My kids have made all kinds of amazing Father's Day crafts over the years. When we were trying to think of a fun gift for Dad, this year, we thought we'd go with something my husband likes…reading books. A printable Father's Day bookmark that the kids could colour was the idea we went with. Be sure to check out all of our amazing Father's Day ideas for kids.
Disclosure: There are Amazon Affiliate links in this article which means, at no additional cost to you, we could receive compensation for our recommendations. You can read our full disclosure policy on our Disclosure Page for more details.
We've been having fun making printable coloring bookmarks for kids. We've been creating and sharing bookmarks for all kinds of occasions. They make a lovely addition to any gift. Everyone loves bookmarks. Whether they use them in novels or in a cookbook, bookmarks are super useful. We also found that this Father's Day bookmark craft makes a fun Father's Day cake topper.
Printable Father's Day Bookmark for Kids to Colour
printable Father's Day bookmarks
pencil crayons, crayons or markers
white cardstock, colourful cardstock
scissors
double-sided tape
The first step is to print off a copy of our printable Father's Day bookmarks. We printed ours on white cardstock. You could totally use regular printer paper, whatever you have on hand will do the trick. I liked the thicker paper because the colour of the pencil crayons is a little brighter on the cardstock.
Once you have the bookmarks printed off it's time to get creative. There are 4 different bookmarks in our printable. Which one suits your Dad the best? Maybe all of them would be perfect for your Dad. Colour your bookmarks with pencil crayons, crayons, markers, or whatever you like. You can make them as personalized as you like. We left the chest of the superhero Dad blank, so you can add your Dad's first initial to the chest…if you want.
When all the colouring is done, cut out the bookmarks. We added a second layer of paper. I like to make the bookmarks sturdy enough to last being used. We found cardstock in fun colours and cut the cardstock a little larger than the bookmarks…giving the bookmark a nice colourful border detail.
Use the double-sided tape to adhere the two layers together. Be sure to sign the back of your bookmark.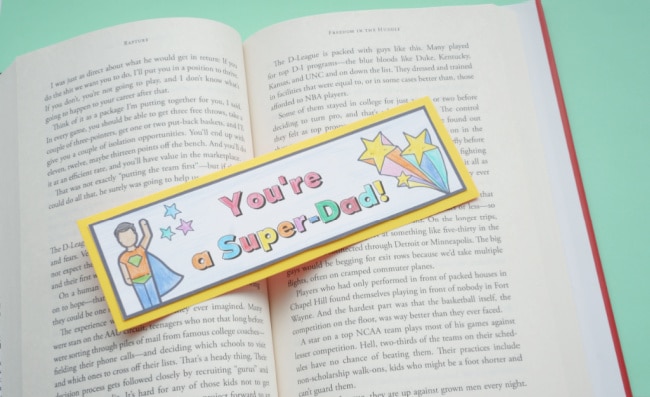 Now you have a creative Father's Day bookmark ready to go for Dad. What will you gift with it? What is your Dad interested in? Find a book or magazine that you think your Dad will enjoy. Pop the bookmark inside and he will enjoy it for years to come.
To turn your Father's Day bookmark into a Father's Day cake topper simply tape 2 long wooden skewers to the back of the bookmark. Now, poke the skewers into the top of the cake and ta-da you have a simple Father's Day cake topper extraordinaire!
---
Related Posts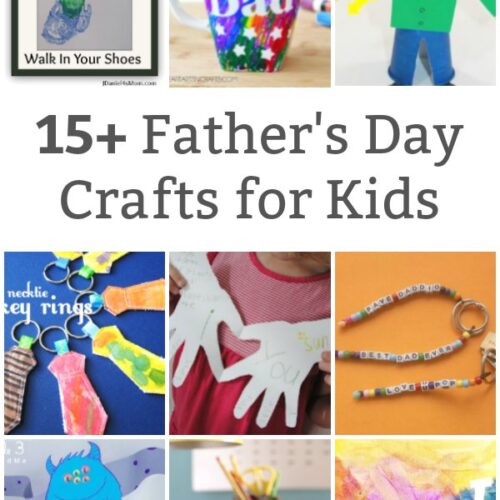 Check out all of these fun Father's Day crafts for kids to make
Not sure what to make for Father's Day dessert? We've got an awesome collection of Father's Day cupcakes, cakes and cookies
---
Make sure you are following along…
SUBSCRIBE TO KITCHEN COUNTER CHRONICLES TO HAVE OUR DELICIOUS RECIPES, FUN CRAFTS & ACTIVITIES DELIVERED DIRECTLY TO YOUR INBOX.
FOLLOW KITCHEN COUNTER CHRONICLES ON