We have shared so many fun ways to celebrate Father's Day over the years. We are always looking for creative ways to celebrate the Dads in our lives. If you have or know the Best Dad Ever, then this Father's Day medal craft is perfect for you!
Disclosure: There are Amazon Affiliate links in this article which means, at no additional cost to you, we could receive compensation for our recommendations. You can read our full disclosure policy on our Disclosure Page for more details.
It's time to reward the Dad in your life for all of their hard work, hugs, and dedication. What could be more perfect than a kid-made Father's Day medal to wear proudly around his neck?
Father's Day Medal Craft
our printable Father's Day medal template
2 sheets of felt
white cardstock
markers
scissors
glue gun
ribbon
The first step in making this Father's Day craft is deciding if you want to make it from felt or cardstock. I love working with felt. This is a super simple, no-sew felt craft. But, if you feel more comfortable working with paper, that will totally work too. I would choose 2 fun, bright colors of cardstock to make this medal from. In our case, we chose green and blue – my husband's favorite colors. What colors does your Dad like?
Once you have your materials chosen, it's time to print out Father's Day medal template. We printed ours on cardstock, but regular printer paper will do the trick. Print it and cut out the circles.
If you are working with felt, cut 2 circles of felt with the large circle. You could totally cut more circles for your medal. I'm sure 3 layers would look great too. Then cut a fringe around the edge of the circle. This is totally random, cut snip away and create a fringe.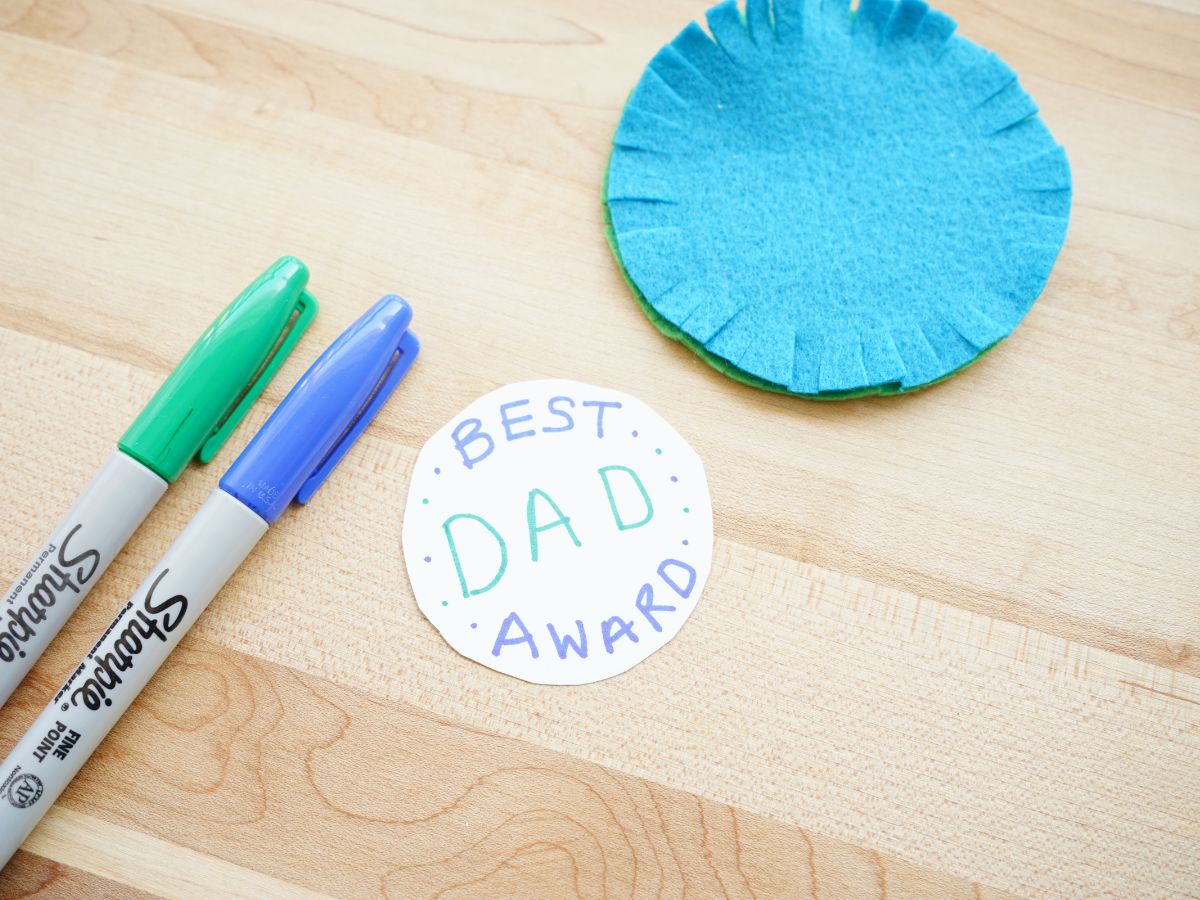 Next up, use the smaller circle template to cut out a circle of cardstock. With the cardstock circle, write your award message on the circle. We went with the simple "Best Dad Award".
Fun Father's Day medal messages might be…
Best Dad in the World
Best Dad Ever
Superstar Dad Award
Dad of the Year
#1 DAD
With your medal drawn, it's time to cut the ribbon tails for the award. Cut 2 strips of felt, one from each color, that is 1 1/2 inches wide and at least 5 inches long. Then cut the classic ribbon tip, by cutting from the bottom outer corner into the center of the "ribbon". This will give you the ribbon look.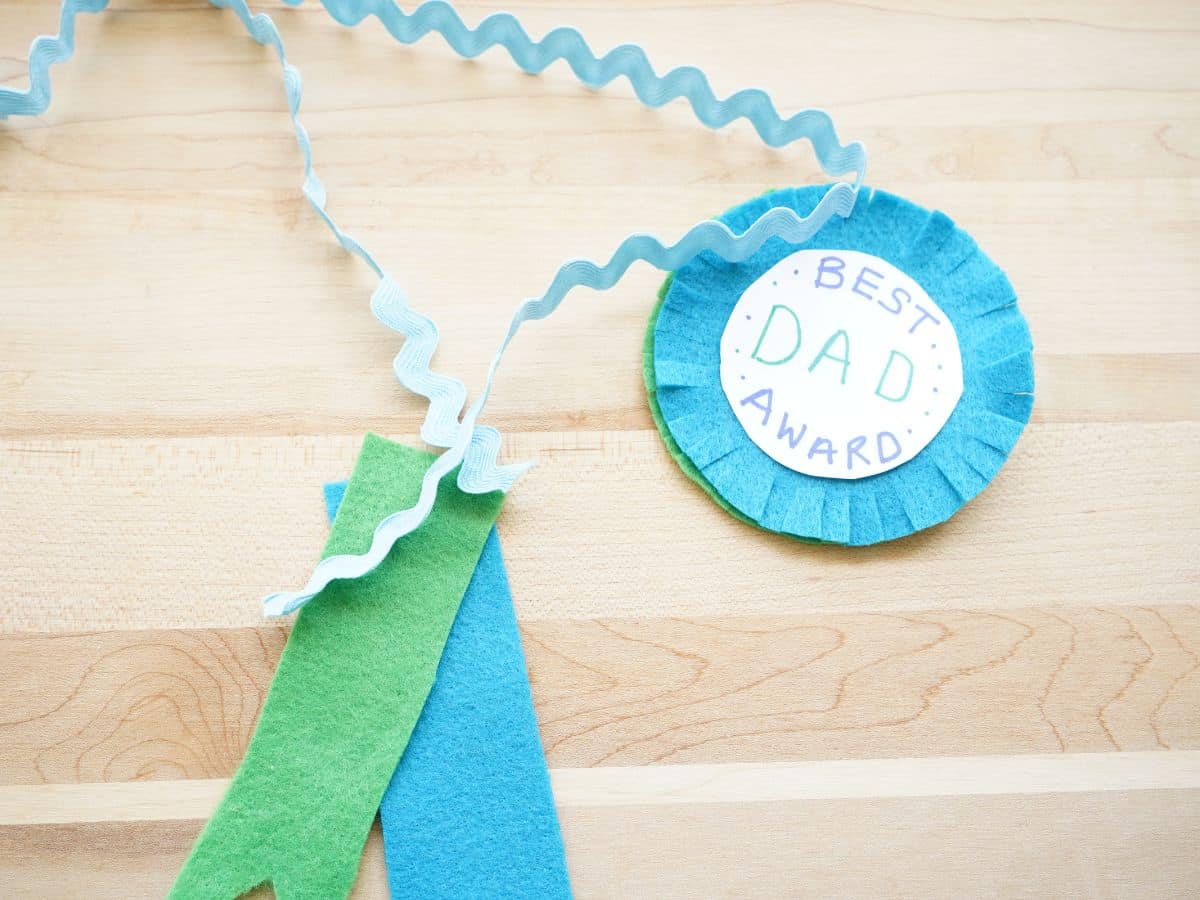 Next up, you will need to cut the long strip of ribbon for the medal to hang. I cut an 18-inch piece of rickrack for our medal. If you happen to have a taller Dad, you may want to cut your strip a little longer. Give it a test run around your neck and see what length you like.
Now it's time to assemble the pieces. Use the glue gun to adhere the cardstock center to one piece of felt. Glue the 2 felt circles together. Then glue the 2 ribbon tail pieces of felt to the back of the fringed felt circle. And, glue the ends of the length of the rickrack to this piece of felt too. Now everything is glued together. You could add an additional small circle of felt to the back of the medal, to cover everything that is glued there…but that's totally optional.
Once everything has cooled your medal is ready to go! What a cute Father's Day craft for the kids to make.
How to Personalize the Father's Day Medal
This project can be made to suit your child's age. Younger kids could draw a picture of Dad in the middle of the medal…how cute would that be?! Or, you could print a picture of Dad and the kids, to glue in the center of the medal. Tweens kids can personalize the message, try out creative calligraphy fonts, and add more felt layers or ribbon to personalize the medal. The template gives you the sizes and the freedom to personalize this gift how you like.
What will your Father's Day medal say?!
---
Check out all of our fun ways to celebrate Father's Day
---
Make sure you are following along…
FOLLOW KITCHEN COUNTER CHRONICLES ON
SUBSCRIBE TO KITCHEN COUNTER CHRONICLES TO HAVE OUR DELICIOUS RECIPES, FUN CRAFTS & ACTIVITIES DELIVERED DIRECTLY TO YOUR INBOX.