We have shared all kinds of awesome reindeer crafts and reindeer games. There is something about those loveable reindeer that I cannot resist during the holidays. So, while I've made reindeer from toilet paper rolls, felt, from egg cartons, and many printable reindeer activities I wanted to make a cute hanging reindeer ornament this time around.
Disclosure: There are Amazon Affiliate links in this article which means, at no additional cost to you, we could receive compensation for our recommendations. You can read our full disclosure policy on our Disclosure Page for more details.
I'm sure you have seen those clear plastic ornaments at the craft store. There are all kinds of cool things to do with them. I've seen so many fun ideas on the web. But, the idea I really love is when they are painted from the inside. The shiny ornaments really glitter in the light. So, I wanted to make my own shiny reindeer ornament. Let's go!
Cute Hanging Reindeer Ornament Craft
clear fillable ornament balls
toilet paper roll
brown pipe cleaners (30cm)
brown paints – splendid gold and honey brown
red pompom and black pompom
hot glue gun
googly eyes
black permanent marker
Don't skip this step: Since you are working with a ball you are going to want to make a simple little stand to place the ornament on, while you work on it. Cut a toilet paper roll in half and you have a steady place to sit your ornament while you create.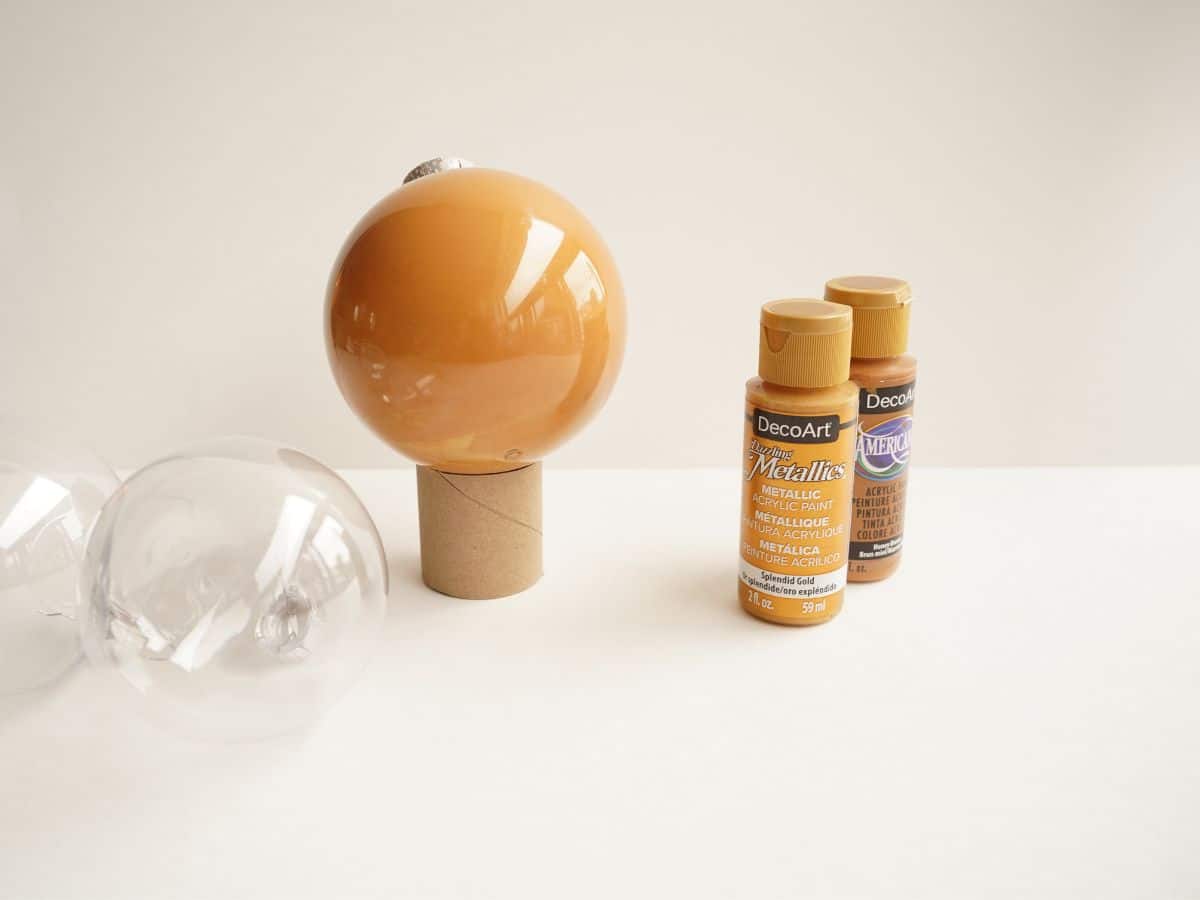 The first step is painting the ornament. This may seem tricky, but it really isn't tricky at all. To give this reindeer some dimension I decided to use 2 different brown paints. I chose a metallic brown and a basic brown. I liked the metallic and festive brown. It is most important to use good quality acrylic paint for this craft. A poorer quality paint won't coat the ornament as well and you will become frustrated…trust me.
Take the little metal topper off the ornament and squirt a few dollops of each brown paint into the ornament. Aim for the sides of the ball…honestly try and squirt it all over. Alternate back and forth between the two paints. You will end up using about half a bottle of each paint. When the paint is in the ornament you need to put the lid back on (firmly) and shake the ornament. Shake it all around. Splashing and spreading the paint around the inside of the ornament. Depending on the size of your ornament, you need to use more or less of the paint. If there is a spot that the paint isn't reaching place the ornament down on the paper roll stand, with that bare spot on the bottom, and let the paint slide along and coat the spot. Your reindeer is done when you are happy with the coating of paint.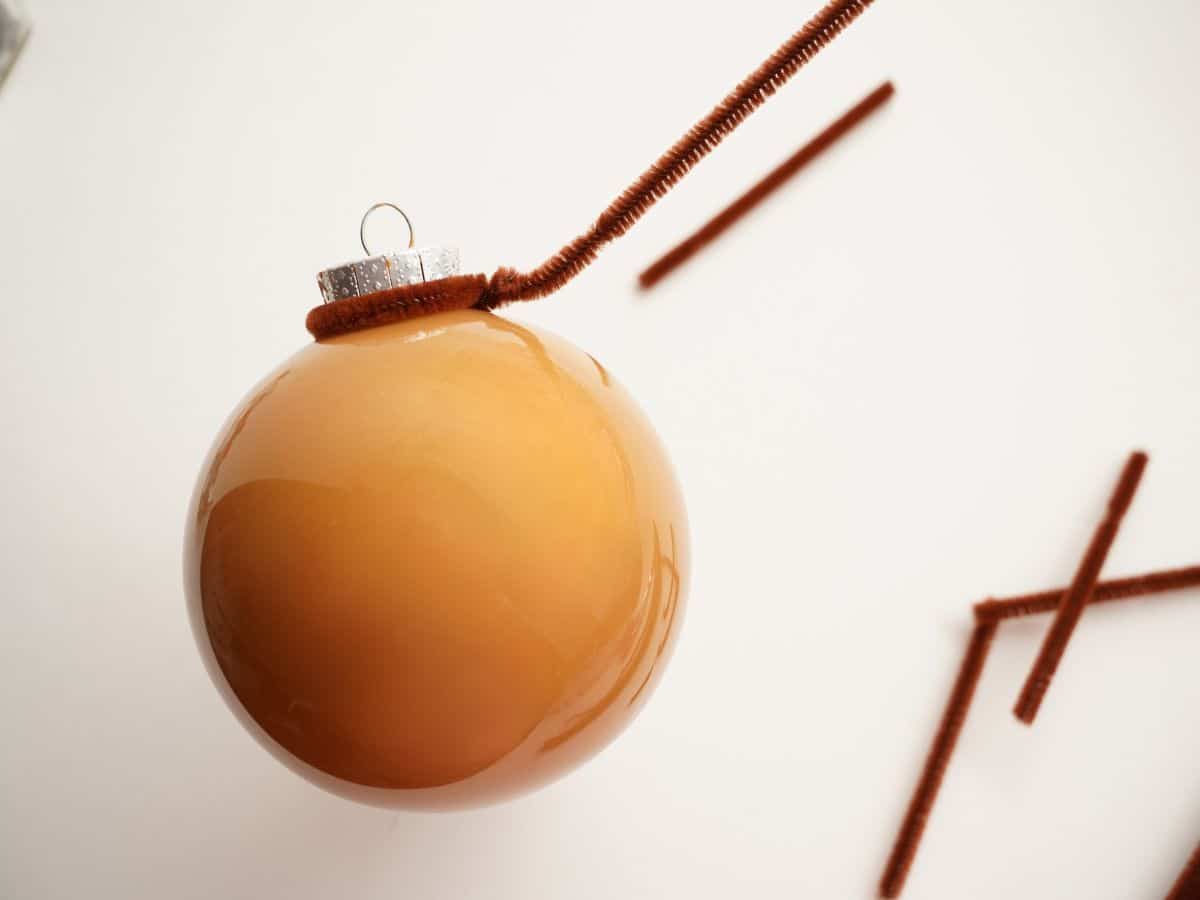 Let's start by making the pipe cleaner antlers for our reindeer. Cut one pipe cleaner into 5-inch pieces. Wrap one end of a full-length brown pipe cleaner around the top of the ornament, make sure to wrap it tightly. The shape and size of your reindeer antlers is totally up to you. For our reindeer, we bent an "elbow" in the antler and then wrapped the smaller pieces of pipe cleaner around the main pipe cleaner – making the details of the antlers. We trimmed our antlers because we didn't want them to get tangled in the tree branches. The antlers could have more smaller pieces wrapped around or maybe simply curl the pipe cleaner to make the antlers. This is up to you.
Now, it's time to make the reindeer's face. Use a glue gun to adhere a large red pom pom for the nose of Rudolph or a black pom pom for the rest of Santa's reindeer. Don't place this nose too high on the ornament, remember it will be hanging on the tree.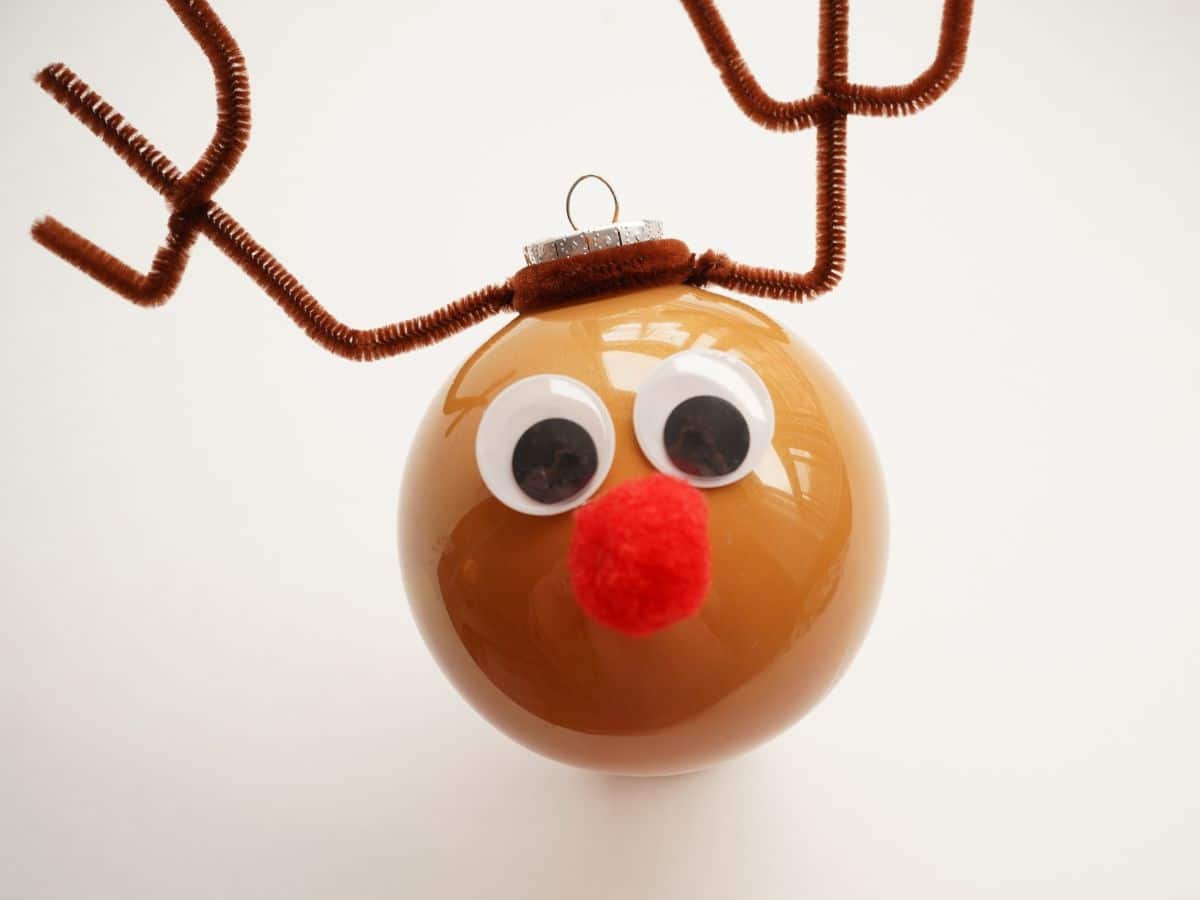 Add some googly eyes. I like great big eyes. But choose whatever size you like. Finally, finish by adding a sweet smile, using a permanent marker. What will your reindeer's smile look like?
When the reindeer's face is complete it is time to add a loop of ribbon to the top. I used a red velvet ribbon, to coordinate with Rudolph's nose. Tie a simple knot and it is ready to hang on your tree.
The kids can make a whole herd of reindeer and gift them to family and friends. This also makes a relatively mess-free Christmas craft to make in a classroom. Since the paint is on the inside…the mess is minimal… assuming everyone puts the lids on the ornaments before they start shaking!
How will you share your super cute reindeer ornament?
---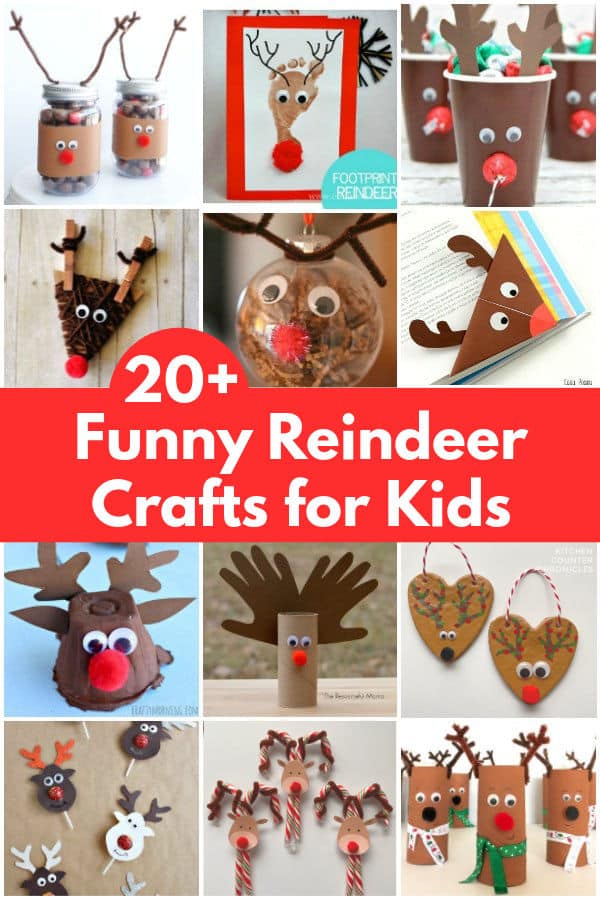 Check out all of the creative reindeer crafts we've created
---
Make sure you are following along…
FOLLOW KITCHEN COUNTER CHRONICLES ON
SUBSCRIBE TO KITCHEN COUNTER CHRONICLES TO HAVE OUR DELICIOUS RECIPES, FUN CRAFTS & ACTIVITIES DELIVERED DIRECTLY TO YOUR INBOX.