I don't know about you, but reindeer games sound like they would be a lot of fun. Right? We love sharing silly reindeer craft ideas, but I thought it would be awesome to pull together a totally EPIC collection of reindeer games. These are reindeer games for the classroom, reindeer games for adults, and reindeer games for the kids to play at home.
Disclosure: There are Amazon Affiliate links in this article which means, at no additional cost to you, we could receive compensation for our recommendations. You can read our full disclosure policy on our Disclosure Page for more details.
When I think of reindeer games I don't think of the Olympic Games…I think of silly reindeer running around doing silly things. So, let's start the fun…
10 Christmas Reindeer Games to Play
What's your reindeer name? The first thing is first before you can play reindeer games you need to have a reindeer name. Print off our What's Your Reindeer Name Game and figure out what your reindeer name is. If you're playing these games with a crowd go ahead and make a name tag with your name on it. For the rest of the Christmas party, everyone has to use your new reindeer name!
Roll A Reindeer Game Grab the dice and play our Roll a Reindeer Game. Print off all of the pieces of a reindeer and the scorecard and see who can make their reindeer in the fewest rolls. You'll find all the instructions for how to play and our free printable reindeer game in our Roll A Reindeer post.
Don't Step In It! Reindeer Edition – Oh my goodness, this one is silly. Wear a blindfold and collect the snowflakes…while avoiding the reindeer poop! This game will have the kids and adults giggling.
Make a Reindeer Game This game is for all the creative folks. Provide each player with a few simple craft supplies – a ball of clay (could be playdough), a brown pipe cleaner, twigs, red pompoms, googly eyes, ribbon, beads, or whatever you have on hand. Make sure you have the same supplies for each player (or team). The players 3 minutes to create their very best reindeer from the craft supplies you've provided. On your mark, get set…make a reindeer! Don't give them any guidance and see what they create.
Reindeer Stocking Game Intelligent Domestications shares a hilarious reindeer game that involves many balloons and a pair of stockings. We will definitely be playing this silly reindeer game over the holidays this year. What do you think?
Reindeer Hide and Seek – We play this game at birthday parties and on Easter, so why turn it into a simple reindeer game for kids to play? All you have to do is print our reindeer hide and seek printable, cut out the reindeer, and use some painter's tape, or low tack tape, to stick them all around your house. You could designate a particular room for this Christmas party game. Whoever brings back the most little reindeer wins the game!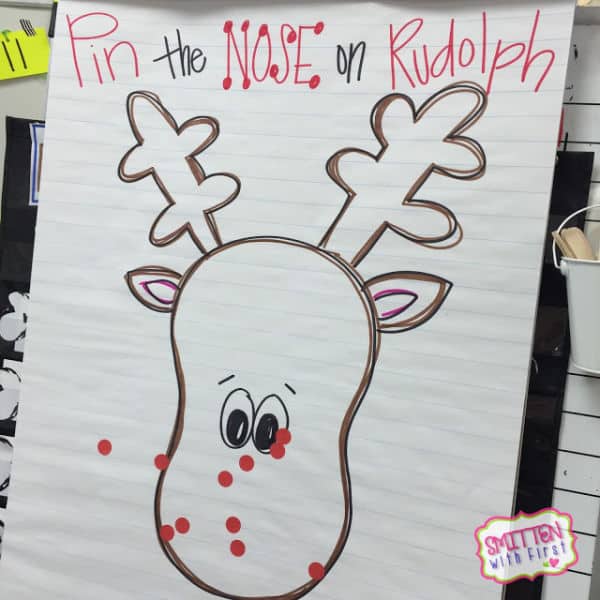 Pin the Nose on Rudolph – Smitten with First shares how to play a fun game of pin the nose on the reindeer. With a few simple supplies, you can play this game in the classroom or at a Christmas party.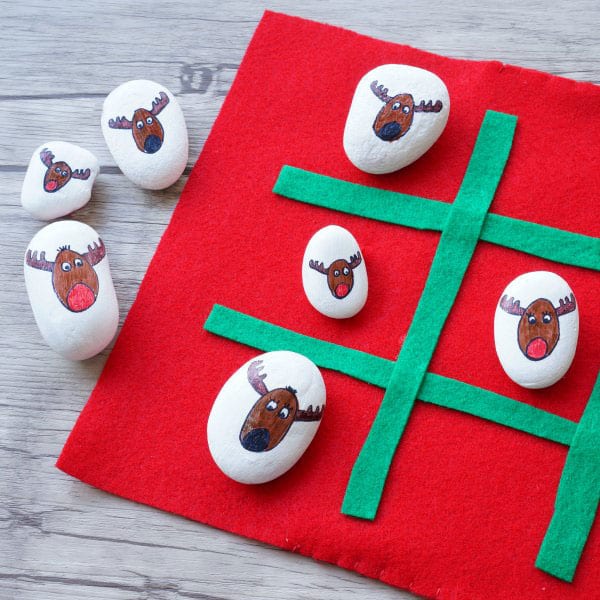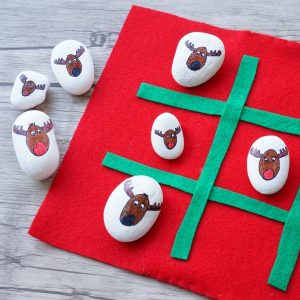 Reindeer Tic Tac Toe Here's another creative and crafty reindeer game. Gather up a pile of rocks and some felt. Rainy Day Mum shares how to make your very own reindeer tic tac toe game.
Inflatable Reindeer Antler Game – I've been sharing this inflatable reindeer game, from Amazon, for years. It's such a fun and simple super kid or adult-friendly Christmas party game.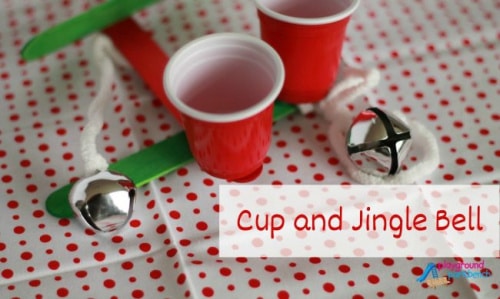 Reindeer Jingle Bell Toss Game – Yes, reindeer wear jingle bells and this jingle bell toss game from Playground Park Bench is a fun reindeer game to play with reindeer of all ages.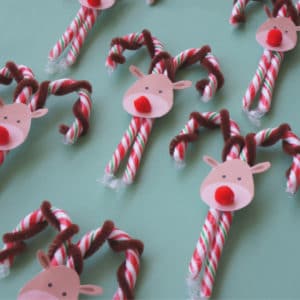 Candy Cane Reindeer – You can't have a reindeer games party without some prizes for the winners. Aside from the glory of winning, everyone will love eating these super cute candy cane reindeer treats. Check out our instructions (and free printable) to make Rudolph and all of his friends.
Which reindeer game with you play with your family this Christmas?
---
Related Posts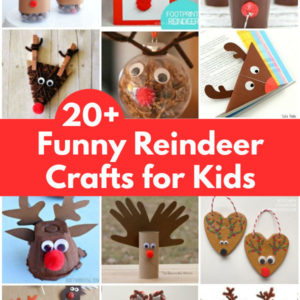 Check out all of these awesome reindeer crafts that you can make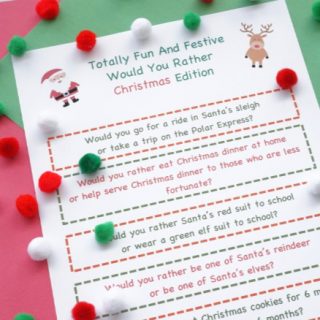 Play our Christmas Would You Rather Questions Game
---
Make sure you are following along…
FOLLOW KITCHEN COUNTER CHRONICLES ON
SUBSCRIBE TO KITCHEN COUNTER CHRONICLES TO HAVE OUR DELICIOUS RECIPES, FUN CRAFTS & ACTIVITIES DELIVERED DIRECTLY TO YOUR INBOX.