In our continuing quest to find all the most creative summer crafts for tweens and teens, I thought it would be fun to dive back into the 1980s for some craft inspiration. Learn how to make summer friendship bracelets with letter beads.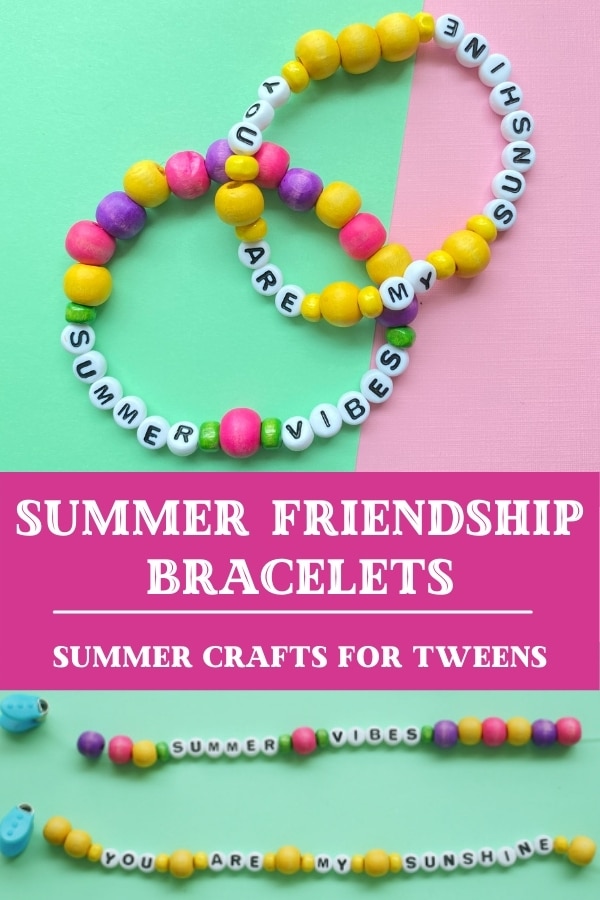 Disclosure: There are Amazon Affiliate links in this article which means, at no additional cost to you, we could receive compensation for our recommendations. You can read our full disclosure policy on our Disclosure Page for more details.
I clearly remember making these bracelets when I was a tween. Making them in the summer, with my friends and then swapping them. Such a fun and simple friendship craft project.
This tutorial has a new step, that I've started to add to the bracelets that we make. I've started using glue to secure the knots! While I've never had a bracelet come apart before, I decided to make the change so that I'm extra certain the bracelets will last.
Summer Friendship Bracelets with Letter Beads
What You Will Need to Make Friendship Bracelets
stretch magic thread
bead stringing glue
rounded letter beads
wooden beads – summery colours
bead bugs
How to make friendship bracelets with letter beads
Step 1. The first step in making a friendship bracelet is deciding what message you want the bracelet to have. Fo our summertime bracelets we wanted to come up with particularly sunshiny messages. We landed on You Are My Sunshine and Summer Vibes. Once you have your message, layout the letters in the proper order.
Step 2. Next, you will want to cut a 12-inch strip of the thread. This length works well for pretty much everyone. Remember you need plenty of room at the end of the thread to tie your knot. So, 12-inches will not be the final length of your bracelet, just the jumping-off point. I also like to secure a bead bug to one end of the thread. The bead bug stops the beads from sliding straight off the string…which is super frustrating.
Step 3. You also need to decide on the other beads that will be on your bracelet. What colours and sizes you want to use are totally up to you. We liked the idea of a yellow for the sunshine bracelet and a rainbow of colours for summer vibes. We also liked the look of the smaller beads beside the letter beads. Experiment and play around with colour combinations and bead sizes. This little bit of planning will help when you start stringing the beads. Remember to leave at least an inch of thread free at each end…for the knot.
Step 4. And, it's time to start adding the beads to the thread. Now, sometimes the hole of the bead can be narrow especially when you are using wooden beads. I keep a safety pin handy and poke it into the holes to open them up, as needed.
Step 5. Once you have the beads in place it's time to tie up the bracelet. I like to use a surgeon's knot. A surgeon's knot is a double loop, instead of a single loop. Tie a few knots in place. Then it's time to dot on some glue. If you are using glue that is specifically designed for beading, it should have a long, pointed end on it. This helps you be super precise with the application. Follow the glue bottle's instructions for proper ventilation and clean-up.
Step 6. Dot on the glue and then I like to feed the ends of the thread into one bead. clip the thread and see the bracelet aside to dry.
Step 7. Once the glue is dry your bracelet is done. How cute are these?! I love how they turned out. I love sharing messages on friendship bracelets. We've shared many crafts for tweens over the years, but I always love our summer craft ideas. What summer message will you share on your bracelet?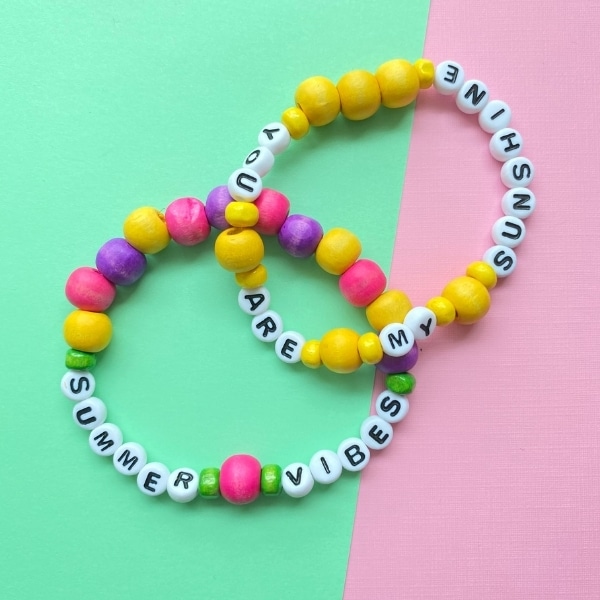 ---
Related Posts
Check out all of these fun friendship crafts to make
And, if you love the 80's take a look at our 1980's inspired friendship pins
---
Make sure you are following along…
SUBSCRIBE TO KITCHEN COUNTER CHRONICLES TO HAVE OUR DELICIOUS RECIPES, FUN CRAFTS & ACTIVITIES DELIVERED DIRECTLY TO YOUR INBOX.
FOLLOW KITCHEN COUNTER CHRONICLES ON