I totally think that the 1980's was like a decade ago and then I realize that the 80's was 40 years ago!!! I was a kid in the 80's and it was a colourful, creative decade. We have shared all kinds of creative crafts for tweens to make, and we can add this roundup of popular crafts from the 80's to our collection.
Disclosure: There are Amazon Affiliate links in this article which means, at no additional cost to you, we could receive compensation for our recommendations. You can read our full disclosure policy on our Disclosure Page for more details.
Funnily enough when I look at what teenagers are wearing these day, it looks an awful lot like what I was wearing when I was a kid. Scrunchies, stacks of bracelets, colourful hair clips and running shoes. Yep, we did it all in the 80's.
So, this round up of 80's craft ideas will have you getting all nostalgic and will inspire creative tweens and teenagers to have a blast making these rad crafts.
Cool 80's Craft Ideas
If you grew up in the 80's then you probably had a pair of slatted sunglasses. They didn't actually keep the sunlight out of your eyes, but they looked cool. I love these DIY 80's shades from Barley and Birch.
You might have winced every time that you slapped this bracelet on your wrist (no, just me?). Bring back that snappy jewelry and learn how to make a slap bracelet with Our Kid Things.
Why put up your hair with a simple elastic when you can add a colourful scrunchie to your ponytail. Check out how to make a scrunchie tutorial from Red Ted Art.

What was up with the painter inspired fashion of the 80's? Did you have a painter's hat? Well, now you can make your own splatter jeans with help from Damask Love.
Safety pins were are major part of 80's fashion. Pinned on jackets, pants, shirts and even in our ears! We've rounded up a fun collection of safety pin crafts that will give you plenty of project to make with those safety pins.
I'm pretty sure that every kid who went to camp in the 80's made a braided friendship bracelet. It was a right of passage for kids in the summer. We would stack them up and wear them until they fell off. The Stripe shares a variety of tutorials for making braided friendship bracelets.
Remember the safety pin obsession? Well, we updated those OG friendship pins with a modern twist – using text lingo. Check out our safety pin friendship pins and pin them to your shoes.
If you have your hair pulled up in a scrunchie you might need a colourful hair clip or two for the flyaways. Oh Happy Day shared a super cute tutorial for making clay barrettes that looks like treats and animals and more.
Now that your hair is all in order, what about the rest of your outfit? What about the all important leg warmers. The Gunny Sack shares how to transform an old sweater into leg warmers.
Okay, now that you have made all of this cool DIY 80's jewelry you need somewhere to put it all. Take some inspiration from the 80's with the updated and still totally useful Caboodle. Caboodles are fun storage for your craft supplies and your makeup too.
---
Related Posts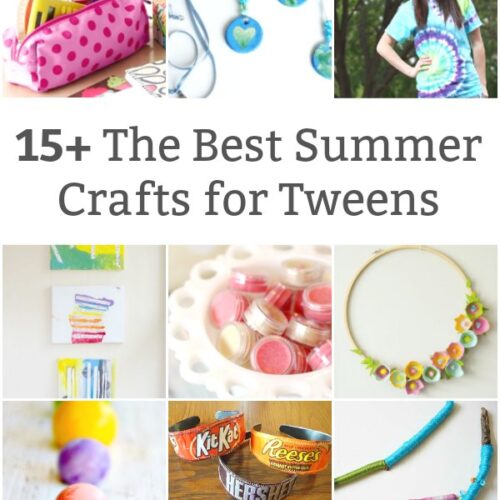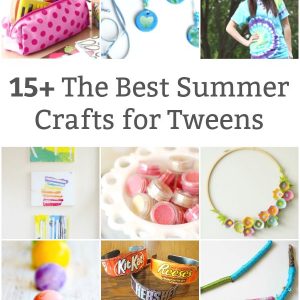 How cool are all of these summer crafts for older kids to make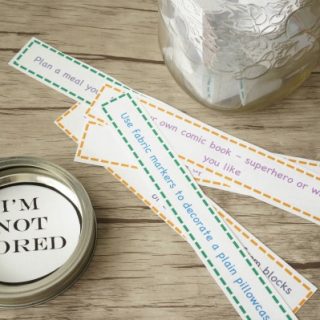 Just when you thought your teen was bored! Pull out the "I'm not bored" jar filled with things for older kids to do.
---
Make sure you are following along…
SUBSCRIBE TO KITCHEN COUNTER CHRONICLES TO HAVE OUR DELICIOUS RECIPES, FUN CRAFTS & ACTIVITIES DELIVERED DIRECTLY TO YOUR INBOX.
FOLLOW KITCHEN COUNTER CHRONICLES ON
---