Have you ever worked with puff pastry before? I don't mean the homemade kind, I mean the kind that is readily available in the freezer section of your local grocery store. It is pretty amazing how easy it is to work with and how many amazing puff pastry recipes there are. Especially cool Halloween puff pastry recipe!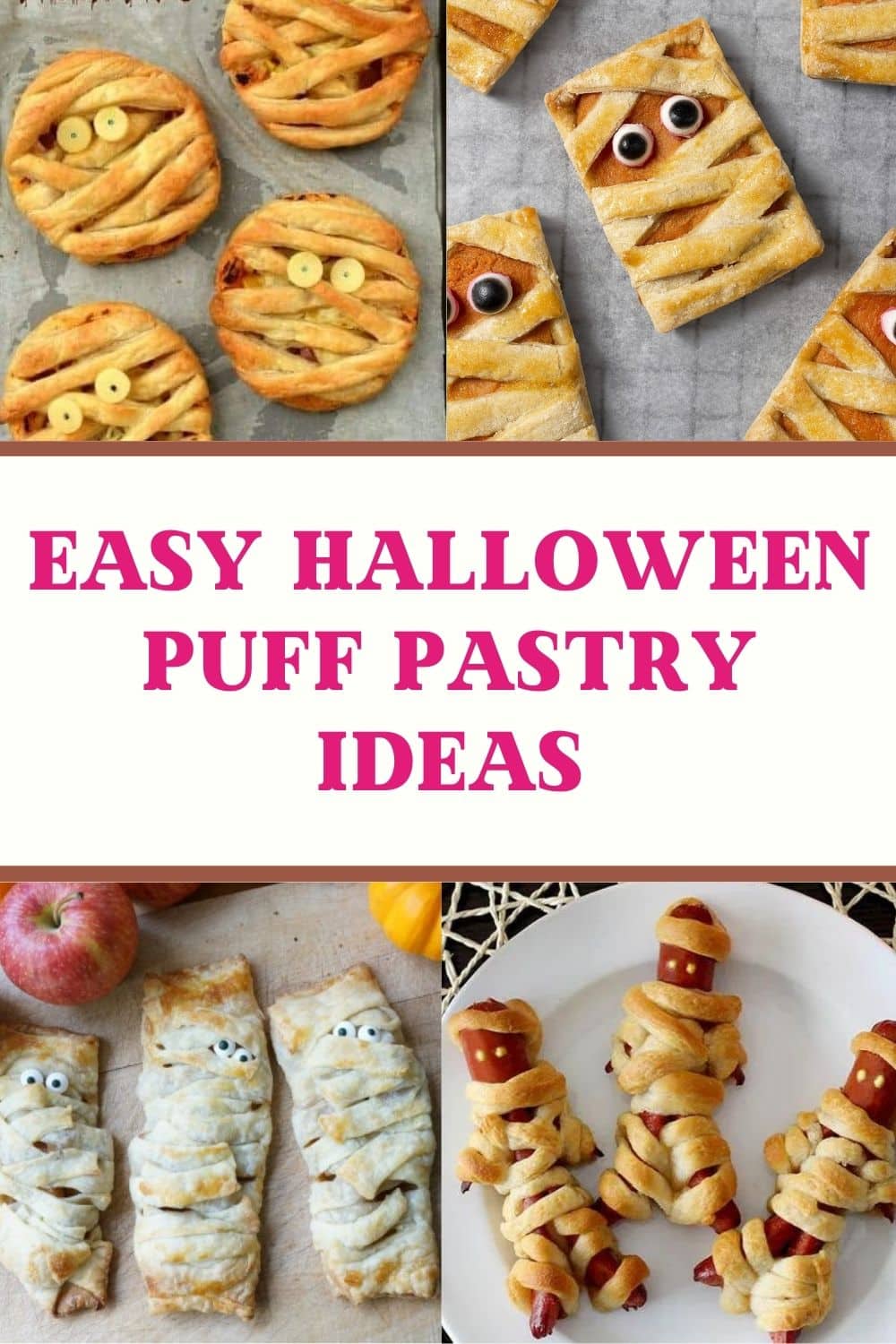 I started looking around for Halloween recipe ideas and I noticed there were a whole bunch of easy recipes using puff pastry. So, I decided to pull together an entire collection of ideas to share with all of you. How much fun are all of these easy puff pastry Halloween Recipes?
Halloween Recipes with Puff Pastry
puff pastry pumpkins – I love how simple these little puff pastry jack o'lanterns are. Weelicious shares how easy it is to make these pumpkins with your kids…for the kids who don't like things too scary.
puff pastry apple turnover mummies – Our apple turnover mummies are delicious and super funny. These make a great addition to a Halloween party platter.
puff pastry voodoo dolls – Here's a great puff pastry Halloween recipe for those of us who like things a little bit scarier. Love Is In My Tummy shares how to make these puff pastry voodoo dolls…don't forget the toothpicks.
puff pastry baked cheese mummy monsters – If your kids love these little mini-cheeses then they are going to really love the wrapped up and baked version from Home Made Interest.
puff pastry hot dog mummies – I've seen a whole lotta puff pastry hot dogs out there, but these ones from Pillsbury are my favourite. I love the little legs and arms! Wrap 'em up tightly or they might try and run away!
puff pastry coffins – Oh My Veggies shares how to make these morbidly delicious pumpkin pie-filled puff pastry coffin hand pies. Hope there isn't a vampire inside there!
puff pastry ghosts – Celebrations at Home shares how to transform puff pastry into floating puff pastry ghosts. How cool would these look, floating around your Halloween party table?
puff pastry pumpkin pie mummies – Another take on the Halloween puff pastry hand pie. The Sweet Balance shares the recipe for these pumpkin pie mummy tarts. Gotta love those eyes peeking through.
puff pastry witch's broomstick – What witchy holiday would be complete without the witch's broom? An Italian in My Kitchen shares the complete tutorial for making these puff pastry broomsticks…witch not included.
puff pastry Halloween horns – I'd never heard of a Halloween horn before…but it certainly looks amazing. Maria's Mixing Bowl shares how to make puff pastry horns and how you can creatively decorate and fill them.
puff pastry pumpkin tart – Julia's Album shares this super creative Halloween pumpkin tart. Get creative decorating your pumpkin pie tart with all kinds of creepy crawlies.
puff pastry mummy pizzas – You can always find something fun over at Eats Amazing! These mummy wrapped puff pastry pizzas are packed with flavour and would be a great addition to the kid's school lunchbox.
There are so many ways to get creative with puff pastry at Halloween. Which one will you make for Halloween this year?
---
More Halloween Recipes
Turn your ordinary gingerbread men into chocolate sugar cookie Vampires for Halloween.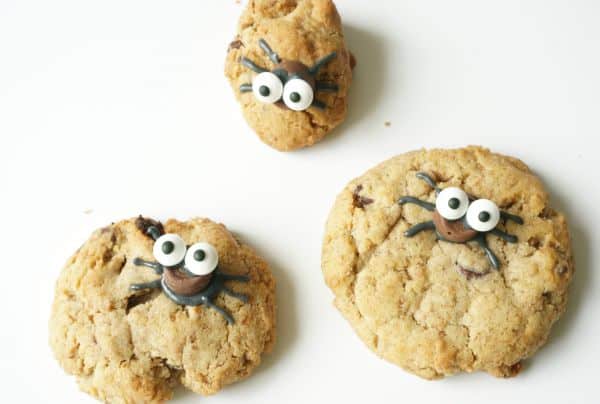 Hey! Look out there's a spider on your cookie! Bake these easy spider chocolate chip cookies
---
Make sure you are following along…
SUBSCRIBE TO KITCHEN COUNTER CHRONICLES TO HAVE OUR DELICIOUS RECIPES, FUN CRAFTS & ACTIVITIES DELIVERED DIRECTLY TO YOUR INBOX.
FOLLOW KITCHEN COUNTER CHRONICLES ON