If you know me, you know I love Santa's reindeer and specifically reindeer crafts. I've shared all kinds of creative reindeer crafts – felt reindeer ornaments, salt dough reindeer, and even toilet paper roll reindeer. This reindeer cup craft is perfect for kids to make and share.
Disclosure: There are Amazon Affiliate links in this article which means, at no additional cost to you, we could receive compensation for our recommendations. You can read our full disclosure policy on our Disclosure Page for more details.
Some of the Christmas craft projects I share are a little more complicated and more appropriate for tweens, teens, and adults to make. But, this paper cup reindeer craft is perfect for kids of all ages to make. With a few simple steps and supplies, you can make an endless collection of Santa's reindeer.
How to Make Reindeer Cup Craft
8 oz brown paper cups
brown construction paper
clear tape
chocolate kisses – red and other colours
googly eyes
glue gun
Okay, let's get started. First up you will want to find brown paper cups. I was able to find small cups, but you could work with larger coffee cups too. If by some chance you can't find any brown paper cups, not to worry. All you need to do is cut a piece of brown construction paper that is the same height as your cup. Wrap the construction paper around the cup and tape it in place. Ta-da, you have a brown paper cup.
Now that your cup is ready to go, it's time to make the reindeer antlers. I freehanded these antlers. I actually drew 1 antler on a piece of cardstock, then cut it out and used it as a template. All I had to do was trace the one antler and then cut them all out. 2 antlers for each reindeer, but you knew that. Yep, it was simple. Have your child draw an antler and then cut them out.
Use the tape to adhere the antlers in place. The antlers are taped to the inside of the cup. Make sure you don't position the antlers where the seam of the cup is. You want a nice flat surface for the reindeer face.
And, now it's time to add Rudolph's nose. These aren't any ol'reindeer cups – they are Rudolph cups. Use a dot of hot glue to adhere a red chocolate kiss to the "nose" area of the cup. Chocolate kisses work best because they have the point – like the snout of a deer. However, you could use any red foil covered candy.
Finish your reindeer cup by adding the eyes. A dot of hot glue will secure the eyes to the reindeer's face. If you don't have any googly eyes on hand, make eyes using construction paper. Paper eyes would look great too.
Now the reindeer cups are complete and it's time to fill them up. These Christmas treat cups can be filled with more chocolate kisses, little candy canes, gummy candies or whatever candies you like.
I plan to place our little reindeer cups on the Christmas table. Each placesetting will have a reindeer cup filled with treats. They would also be great for a classroom party. If you are transporting the cups you could wrap them with clear wrapping and a ribbon. Speaking of classroom, these would be a great teacher gift – filled with chocolates and maybe a coffee shop gift card tucked inside. How will you use your cute reindeer cups?
---
More amazing reindeer crafts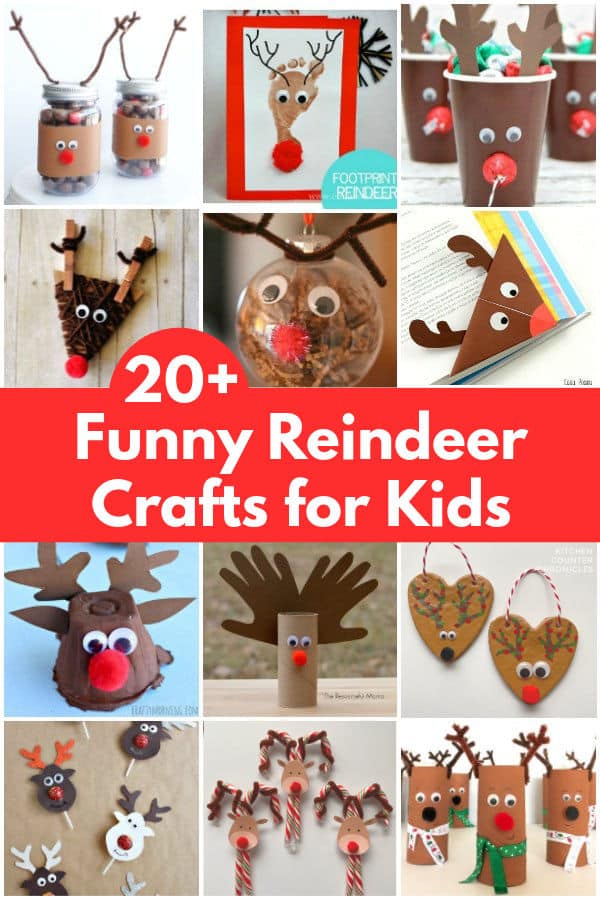 Check out our complete collection of creative reindeer crafts
---
Make sure you are following along…
SUBSCRIBE TO KITCHEN COUNTER CHRONICLES TO HAVE OUR DELICIOUS RECIPES, FUN CRAFTS & ACTIVITIES DELIVERED DIRECTLY TO YOUR INBOX.
FOLLOW KITCHEN COUNTER CHRONICLES ON