What I truly love about outdoor play is how simple it is. I mean really, all you have to do is go…out…side. Sometimes we get stuck thinking that some toys and items around the house are only meant for indoor play…why would we ever take them outside?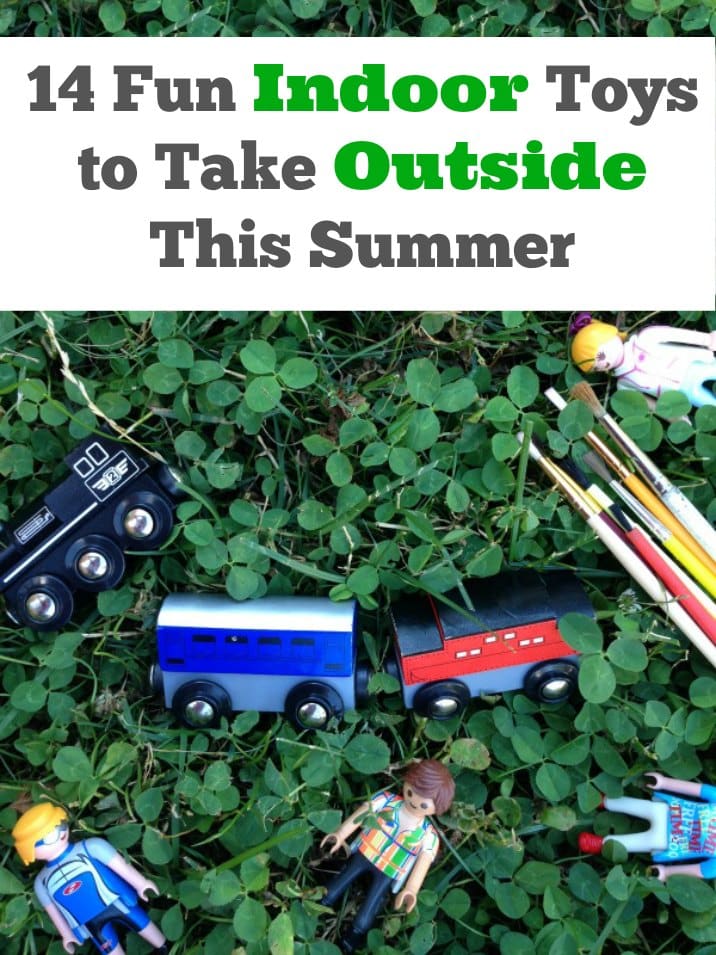 I think these are the exact things we should take outside and watch the way that our children play with the toys changes, expands and opens their imaginations. Let me start with this short list of 14 indoor toys to take outside and play with this summer…see the same old toys in a whole new light.
14 Indoor Toys to Take Outside this Summer
Pretend Play
Dress-up Clothing: We often keep the dress-up clothes confined to the indoors, but how much fun is it to dress up like an exploring astronaut and search for alien life in the backyard?!
Train Set: Imagine how much fun it will be to drive a train along its wooden track, through the "forest" of grass.
Doll House: We love bringing our doll houses outside into the sunshine. Turn your yard into a miniature neighbourhood.
Building Blocks: Expand typical building block play by moving them outside. Build bridges between the garden beds and construct structures that can withstand the warm summer breeze.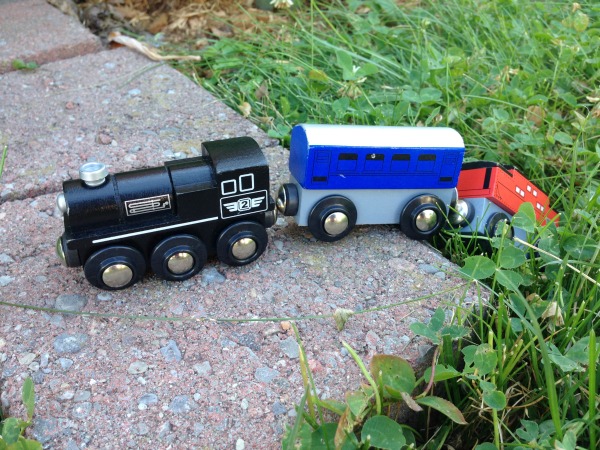 Water Fun
Pots and Pans: Fill up a few pots with water and watch the kids turn those vessels into doll swimming pools or places to dip their own toes.
Make a Water Squirter: Did you know you can turn your turkey baster into a water squirter? Or, try using a clean spray bottle.
All the Kitchen Tools: Bring the measuring cups, ladles and spoons outside to play in the pots that are filled with water…instant outdoor kitchen and instant water park.
Creative Play
Art Easel: The summertime is the best time to explore art outdoors. Pick up the art easel and take it into nature for some true inspiration.
Paint Brushes: Let your young Picasso paint anywhere and everywhere with a few paintbrushes and a bowl full of water…I mean paint.
Lego: Okay, this one might be controversial. I say grab a blanket and a bucket filled with Lego pieces. Watch the kids build whatever they like on the comfort of the blanket. The outdoors will spark their imagination and will impact their construction.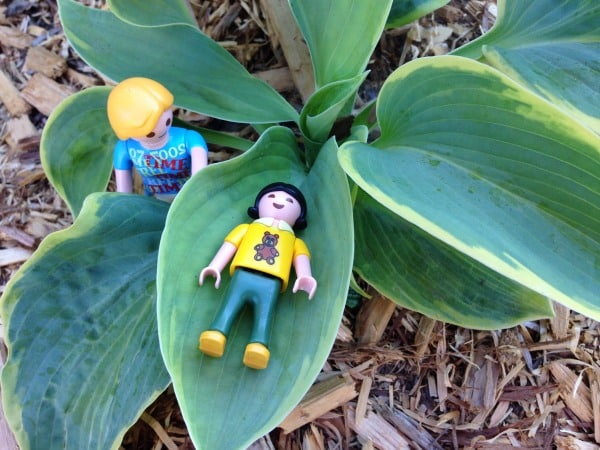 Older Kid Play
Board Games: Yep, it's okay to take board games outside. I wouldn't advise leaving them outside in the rain, but a game of Battleship while sitting in lawn chairs is a lot of fun.
Deck of Cards: Learn a new card trick, discover magic, build a tower or play a hand of solitaire…a deck of cards is one of the most versatile toys for kids, why not take them outside?
The Laptop: I know that getting outside should be about unplugging, but sometimes with older kids getting them outside with the plug in is a great first step. Download apps from World Wildlife Federation and National Geographic. Research local plants and animals. Expand the outdoor experience with the help of the laptop.
Books: Books are not only wonderful to take outdoors for older kids, they are perfect for kids of all ages. We often fear taking books outside, they might get wet, dirty or weathered. I cannot tell you how many times I have brought a book to a playground and watched the kids gather around me, just to sit and listen to the story. Children love a good book, no matter where you read it.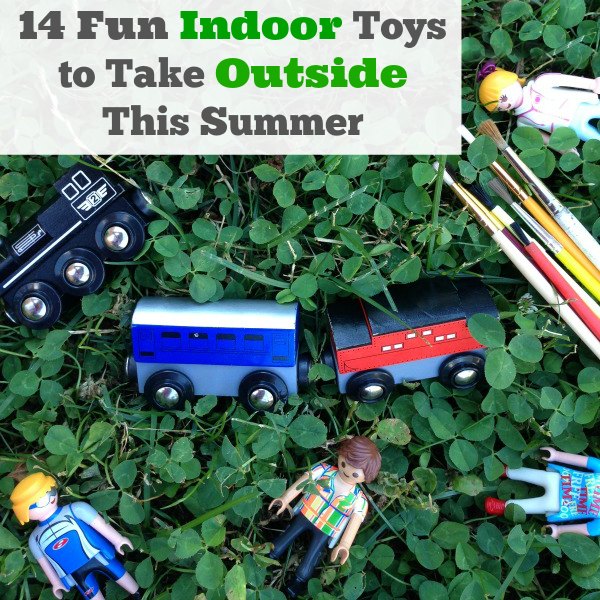 ---
Related Posts
Have fun playing water squirter math outside
Free printable outdoor play activities in a jar
---
BE SURE TO SUBSCRIBE TO KITCHEN COUNTER CHRONICLETO HAVE OUR DELICIOUS RECIPES, FUN CRAFTS & ACTIVITIES DELIVERED DIRECTLY TO YOUR INBOX.
---