Every year I love finding our elves inside our bin of Christmas decorations – their cheery faces are a delight to uncover. We have incorporated our elves into our Christmas advent activities. Each morning our daughters run down the stairs and search around for their elf. Once they find their elf they find tucked inside a silly Christmas joke and a festive
Would You Rather?
question.
Gather up your felt supplies and a few toilet paper rolls and make a whole team of Christmas elves for your children to play with all holiday long. Here is how we made our toilet paper jokey holiday elves.
How to Make a Toilet Paper Roll Christmas Elf Craft
toilet paper roll
green, black, yellow and red felt
white pom-pom
coordinating thread
black marker
2. Cut a piece of black felt 5 3/4″ by 1/4″…this piece will be the elf's belt.
3. Cut a small square of yellow felt…cut two small slits…this will be the elf's belt buckle.
4. Feed the black belt through the yellow buckle.
5. Cut a piece of yellow felt 5 3/4 " by 3/4″, in the middle of the strip, cut a small "v"…this will be the elf's suit collar.
6. Cut a piece of red felt 5 3/4″ by 1″, in the middle of the strip cut out the elf's hairline.
7. Stitch red "x" down the centre of the elf suit…creating elf buttons.
9. Wrap and sew the belt, the collar and the hair around the tube.
10. Use the marker to draw a face on the elf.
How to Make a Toilet Paper Roll Elf Hat
1. Cut a piece of green felt 3 1/2″by 3 1/2″ on two sides and an arc between the two end points…creating a quarter of a circle.
2. Roll the piece into a cone and pin closed…stitch the cone closed.
3. Stitch the pompom on top of the hat. Alternately, you could glue the pompom in place.
4. Cut a crescent shaped piece of yellow felt and pin to the hat.
5. Finally, using red thread, stitch stars along the yellow felt, this fastens the trim to the hat and gives it a nice festive edge too.
Okay, this might not seem like the easiest thing to make. It might seem like a lot of work, but these are going to be special keepsakes. I hope to be celebrating many Christmases with these silly little guys. Now, if you aren't into sewing outfits for your toilet paper rolls, you could always simply paint the clothing onto the elf. Either way they are pretty cute little fellas.
---
Related Posts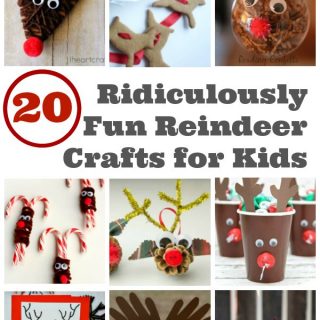 ---
check out all of these silly Christmas elf crafts
---
Make sure you are following along…
FOLLOW KITCHEN COUNTER CHRONICLES ON
SUBSCRIBE TO KITCHEN COUNTER CHRONICLES TO HAVE OUR DELICIOUS RECIPES, FUN CRAFTS & ACTIVITIES DELIVERED DIRECTLY TO YOUR INBOX.