Is there anything more delicious than seasonal fruit? We are so fortunate in southern Ontario to have some of the most spectacular peach farms.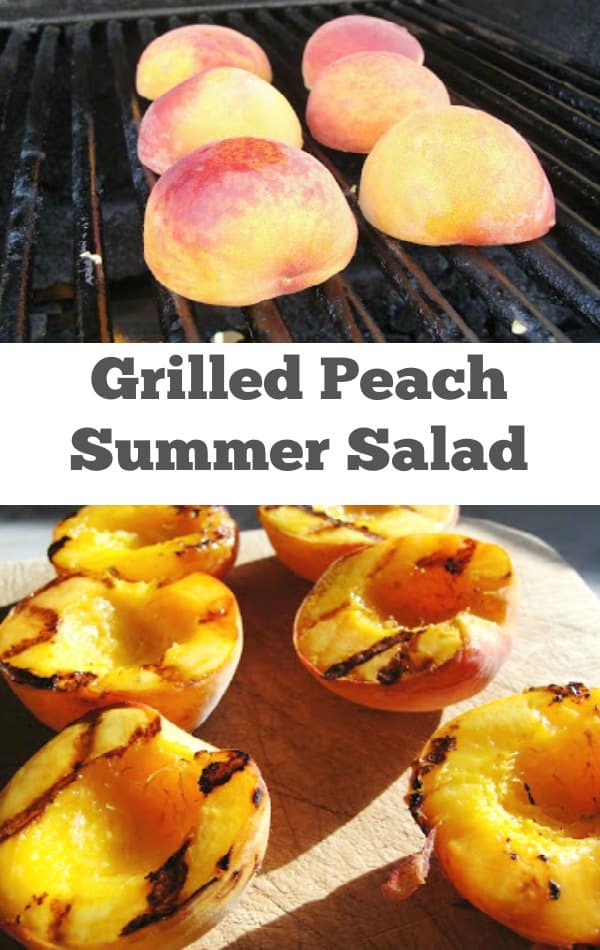 You know it is August…or, in the case of this weird growing season almost August…when Ontario peaches hit the grocery store. There is truly no more flavourful peach than one which is freshly picked and ripe. So, the idea of using peaches seemed logical.
Grilling peaches is a simple way to pull extra sweetness out of peaches. Combined with goat cheese and candied pecans this salad has now become a family favourite. Here is how we made it.
Summer Salad with grilled peaches & candied pecans
bunch of arugula
3 ripe peaches
2 tbsp fresh goat cheese
3 tbsp pecans, roughly chopped
2 tbsp brown sugar
2 tbsp olive oil
1 tbsp honey
1 tbsp red wine vinegar
1/2 clove garlic, minced
1 tsp dijon mustard
salt and pepper to taste
1. Wash arugula and set aside in a large bowl.
2. Slice peaches in half and pop into two halves.
3. If the pit is not loose, remove the pit by scooping it out with a spoon.
4. Place the peaches, cut side down on an oiled grill.
5. Grill peaches for 2 minutes, then rotate 90 degrees and grill for another 2 minutes.
6. Remove from the grill, place on a cutting board and slice thinly.
7. Meanwhile, place pecans in a small skillet and roast over medium heat until toasted.
8. Add brown sugar to the pecans and toss until pecans are coated with melted sugar.
9. Remove pecans from the heat and spread on parchment lined plate…let cool.
10. In a small bowl, whisk together olive oil, honey, vinegar, garlic, mustard, salt and pepper.
11. Add peach slices and goat cheese to arugula.
12. Pour vinaigrette over arugula, peaches and cheese…toss until coated.
13. Sprinkle pecans over salad and serve.
We served our salad with a steak. My girls find arugula to be too spicy a green, so I made them the exact same salad but with romaine lettuce from our garden. This simple substitution meant that the girls loved this salad. My eldest wasn't too sure about eating warm fruit, but in the end she ate every last piece. We really enjoy adding fruit to our salads in the summertime. We could easily use strawberries, blueberries, plums or raspberries.
Do you like to add fruit to your salads? What is your favourite fruit to add to a salad?
---
Looking for more great ways to connect with your kids, why not follow Kitchen Counter Chronicles on Facebook, Twitter, Google+ or Pinterest.
---