Okay, let's have some fun with fall words. I love playing word games and I love creating word games for kids to play. We've made all kinds of free printable games for kids and families to play. Be sure to check out out Halloween printable word games. Do you like playing word games too? Whether you are a homeschooler, a teacher in a school, or a parent looking for educational resources for your kids, this set of fall word games is perfect for you.
Why are word games great for kids?
Word games are great for kids because they help kids focus on sounds and letters, and develop skills they need for reading and writing. They are a fun way to introduce kids to simple vocabulary words, in this case, words we commonly associate with fall.
Printable Fall Word Games for Kids
our printable fall word search game
our printable fall word jumble game
our printable fall crossword puzzle
It is best to start with the word search game. This game will introduce the fall words to the child and searching for the words will give the child the opportunity to discover all the letters in the words and sound them out as they search. We also have a printable fall word search answer key.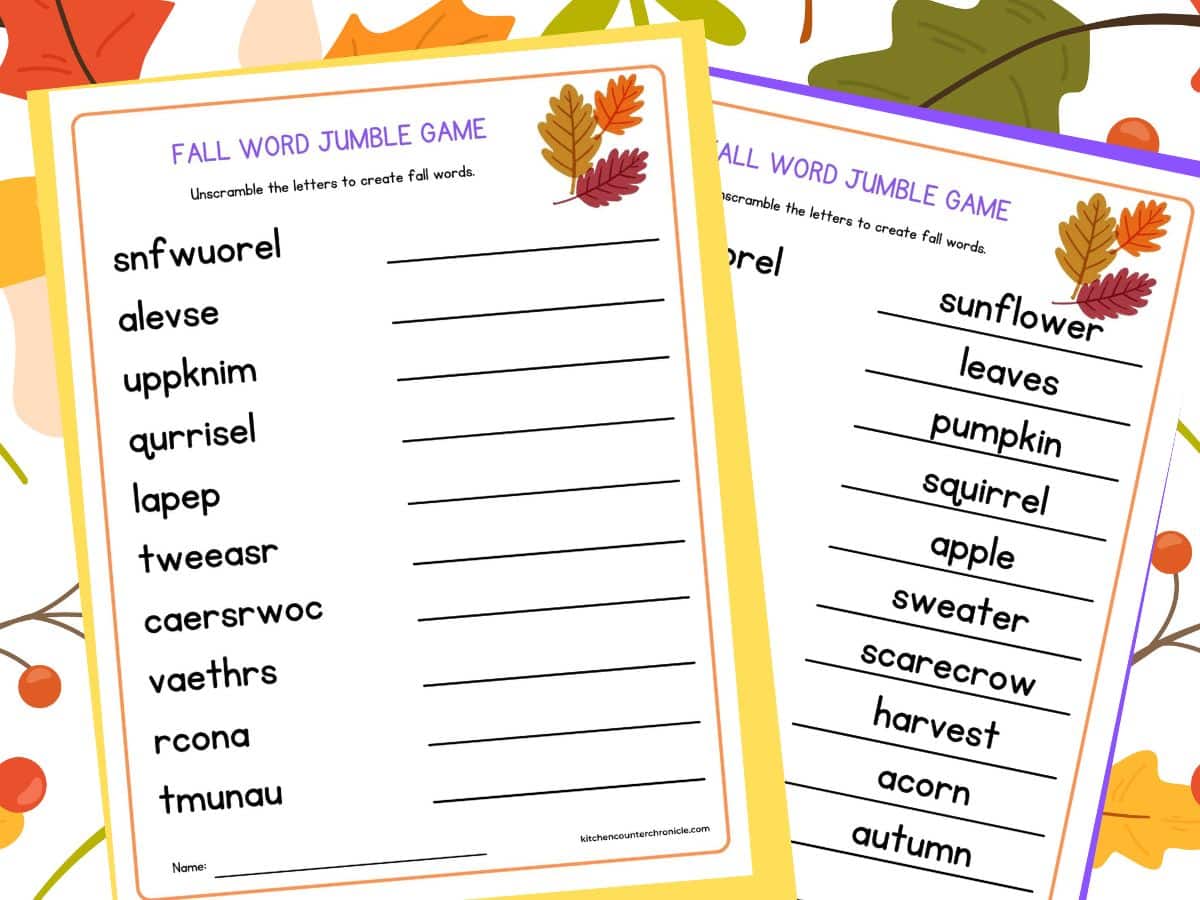 Next up is the fall word jumble or word scramble game. This game is a little more challenging than the word search. Kids will have to unscramble the fall words and write the words on the line provided. This game reinforces the spelling of the words. Again, we have a printable fall word jumble answer worksheet, if you need it.
Finally, my favorite, is our fall crossword puzzle. I love a good crossword puzzle. Our fall crossword puzzle has questions for kids and the answers are the words they need to complete the puzzle. I've also included images of most of the words, to help a little. And, these are the same words they've been working with in the other games, so we are using repetition to reinforce the learning. Again, we have a printable fall crossword puzzle answer key.
---
Looking for more fall games? Check out our fall would you rather questions for kids
---
Make sure you are following along…
FOLLOW KITCHEN COUNTER CHRONICLES ON
SUBSCRIBE TO KITCHEN COUNTER CHRONICLES TO HAVE OUR DELICIOUS RECIPES, FUN CRAFTS & ACTIVITIES DELIVERED DIRECTLY TO YOUR INBOX.