Spring has arrived and we've come up with a fun kid sewing project! Despite the snow and ice on the ground, spring has officially arrived. I am so tired of wearing my winter coat, my winter hat, my winter scarf and my mittens. My kids are tired of it all too. So, last week my daughters and I picked out some light-weight, spring cotton and sat down to create this simple kid sewing project.
This was a great opportunity to get my girls working on the sewing machine. Last summer I taught my daughters how to use the sewing machine. When I suggested we sew spring infinity scarves they were super excited. Wondering what an infinity scarf is? An infinity scarf is the kind of scarf that is one continuous loop of fabric…no end and no beginning. The scarf can be wrapped around your neck two or three times. When it's time to put the wool scarf away, it is nice to have a soft, light alternative. This kid sewing project took us about 30 minutes to make. I had my girls do all the measuring, cutting, pinning and sewing. Here's how we made our infinity scarves.
Kid Sewing Project : Spring Infinity Scarf
Begin by cutting a piece of lightweight fabric to 145cm x 36cm (57″ x 14″).
Fold the fabric, right sides together. Fold along the long edge…now your fabric will measure 145cm x 18cm. Pin and sew the long edge, with a 1cm (1/2″) seam allowance.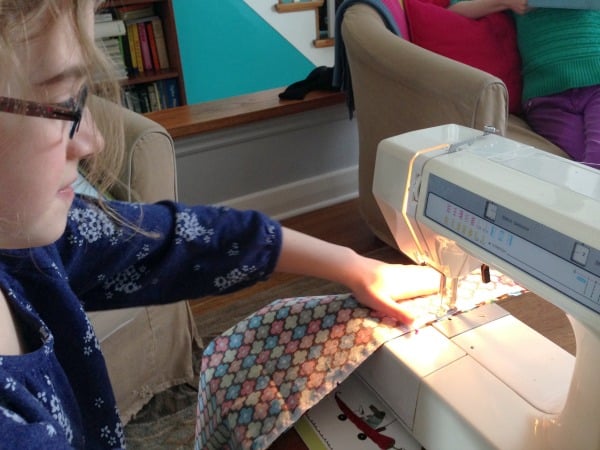 Turn the scarf right way around. You can simply finger press the long edge flat or use an iron to press the scarf.
Now to create the loop. Tuck one end of the scarf into the other end of the scarf…creating a loop…be certain you have not twisted the scarf.
Tuck the raw edge of the outside piece of the scarf under, about 2cm (1″). Pin this edge. Sew along the pinned seam.
The infinity scarf is done.
My daughters were very proud of their handy work. This was such a simple project to make. When we were done they were ready to make another. They were so happy with their scarves they have not wanted to take them off. Now, if we could just get mother nature to cooperate and give us some spring-like weather so we can enjoy our new spring infinity scarves.
PS we also love using our kid-sewn infinity scarves in the fall. It's a fun fall activity for kids.
---
If you liked this kid sewing project be sure to check out our hand sewn easter pillow post.
---
BE SURE TO SUBSCRIBE TO KITCHEN COUNTER CHRONICLES TO HAVE OUR DELICIOUS RECIPES, FUN CRAFTS & ACTIVITIES DELIVERED DIRECTLY TO YOUR INBOX.
---