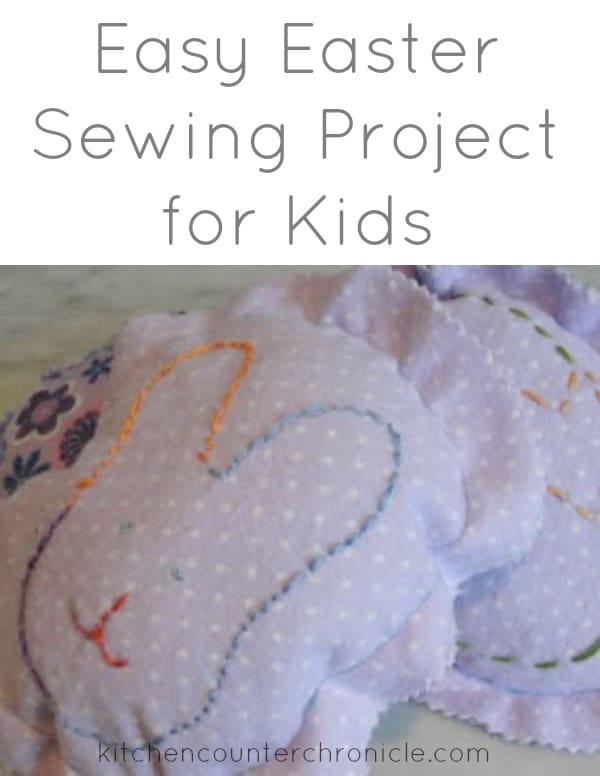 Easter is fast approaching…in fact there are only 6 days to go! Around here we are busy finishing up the decorating, planning the dinner menu and baking cookies. Yum! If you are still looking for a simple craft for the kids to make, I think this might be it. In a
previous post
I introduced my daughters to the art of sewing. This craft takes the sewing skill and takes the next step.
Easy Easter Sewing Project for Kids
pencil
small embroidery hoop
embroidery needle
embroidery thread
2 coordinated fabrics
pinking shears (or regular scissors)
fibre fill (recycled polyester)
1. with a pencil, draw an egg shape on the first piece of fabric
2. place the piece of fabric in the embroidery hoop
3. put embroidery thread onto needle
4. using a simple hand stitch, follow along the drawing of the egg
5. once the entire egg has been stitched, remove the fabric from the loop
6. with wrong sides together, place the stitched fabric on top of the coordinating fabric
7. pin the pieces of fabric together
8. with the pinking shears (or regular scissors) cut around the egg pattern, about 1″ from the stitching
9. once you have removed the excess fabric, hand sew or machine sew, the pieces of fabric together, 1/2″ from the stitching * leave a 1″ opening
10. push fibre filling through the 1″ opening, until the cushion reaches your desired puffiness
11. once stuffed, pin the opening closed, stitch the opening closed
My girls helped with almost every step of this project. The only part I did was machine stitch the fabric together. They loved picking out the different thread colours and watching their eggs take shape. My eldest daughter got creative and made an adorable easter bunny cushion. You really could use any festive motif. We can't wait to give these out as special gifts this Easter weekend.