Halloween is all about the candy and costume…right? (Well, it's also about the Halloween crafts for the kids) As I walk the aisles at my local grocery store, I feel a little overwhelmed by the great wall of candy, the shelves of disposable decorations and the racks and of costumes and accessories. It feels like it would be impossible to have an eco-friendly Halloween.
Halloween has quickly become one of the biggest holidays of the entire year. Is it possible for a holiday that has such a huge emphasis on consumption to really become eco-friendly? What is the environmental impact of Halloween and what choices can we make to help lessen the garbage this holiday produces?
We've gathered together some tips and really simple ways that families can have a fun Halloween and have a green Halloween.
How to Have a Green Halloween
The Decorations Try and think about the long term, when it comes to purchasing Halloween decorations. Pick up a large storage bin and store your Halloween decorations clean and organized – this way they will last for many years. At our house, we bring out the same skeletons, ghosts, ceramic jack o'lanterns and scarecrows every fall.
By decorating with reusable decor items not only is this cutting down on the number of disposable Halloween items, it also creates fun traditions for your family. When I was a little girl I remember my mom bringing out the same haunted house candle every year…she never burned it…it was our little tradition.
DIY Decor
If you are not particularly "crafty" then Halloween is the holiday for you. The worse a decoration looks – the better – it just looks scarier. Put aside the single-use decorations and get crafty. Make a
spooky ghost garland
from old drop cloths, some fibre fill and linen string…easy and so basic that anyone can make it. What about making a big batch of bats from black bristol board…they can fly onto the walls for years to come.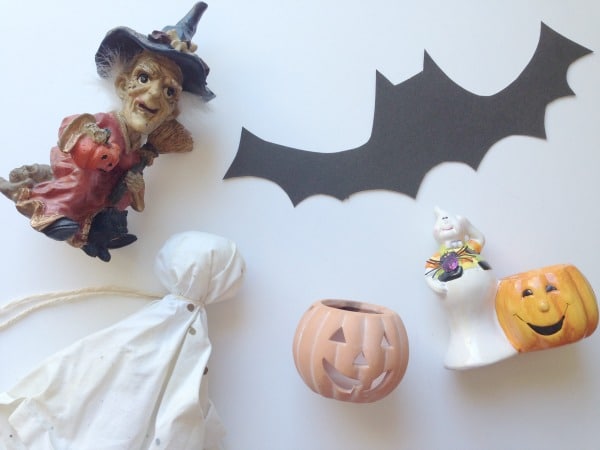 Kid Made Fun Children love getting creative for Halloween. With a few sheets of construction paper and some crayons kids can make all sorts of fabulous Halloween pieces of art for the walls and windows of your home. When Halloween is over, store the kid's art in a large resealable bag and pop them in the Halloween storage bin. Gather up some sticks from the yard and craft a silly spider from natural materials and recyclables. We love pulling out the girls' Halloween artwork. The ghost at the bottom of the picture was made by my eldest daughter in 2006..she was 3 years old! Priceless.
Know When Enough is Enough Yes, it is fun filling up endless bags with candies on Halloween night. However, there is no prize for the kid who comes home with the most candy. Determine what a reasonable amount of candy is before you head out. If your kids are older and are heading out on their own, this is a tough one to control. Setting limits is okay. All the candy that comes into your house is more garbage (and more calories) for you. Enjoy being out with your kids on Halloween night, getting out and chatting with neighbours is all part of the magic.
One is Often Enough What you give out at the door is as important as what your kids' bring home. When handing out candy, one is often enough. You might see the odd frown, but seriously each kid does not need to receive three candies at every single door they knock on. Less candies going out means less garbage in the bin.
Re-think the Costume When the time comes to put together the costume, think before you head out and buy a plastic or low quality, single use costume from the store. Consider what you already own. Is there anything around the house that can be used? Consider swapping with a friend. Some communities and schools host large Halloween costume swaps. Second hand stores are another great place to shop for costumes. An old prom dress, makes the perfect princess gown. If you have to buy something, make sure it's reusable. Why purchase a smelly plastic mask when using scary face paint can be much more effective and safer?
Compost In our neighbourhood we can put pumpkins and jack-o-lanterns in the compost. Check and see if your town picks up pumpkins…or compost in your own home compost pile. If composting at home, cut it up first, to help it decompose faster. Don't forget to bake your pumpkin seeds! When you are cleaning out your pumpkin, keep the seeds. Check out this simple recipe for oven roasted pumpkin seeds.
Candy Alternatives I would love to suggest skipping the store bought candy and handing out homemade cookies or treats at the door, but I know that's not realistic. The days of handing out cookies is long gone. However, if we try and think about how much we are consuming then maybe we can spend a little less time throwing out candy wrappers and more time laughing with our kids. Don't be afraid to think outside the candy-box with what you hand out this Halloween. Things like pencils, LEGO, erasers, mini colouring books, stickers, hair clips, etc are popular with the kids too.
Does your family have any tips on ways to make Halloween a little greener?
As part of our Family Eco-Challenge, our family is planning on making choices that will help us have a green Halloween this year.
---
Related Posts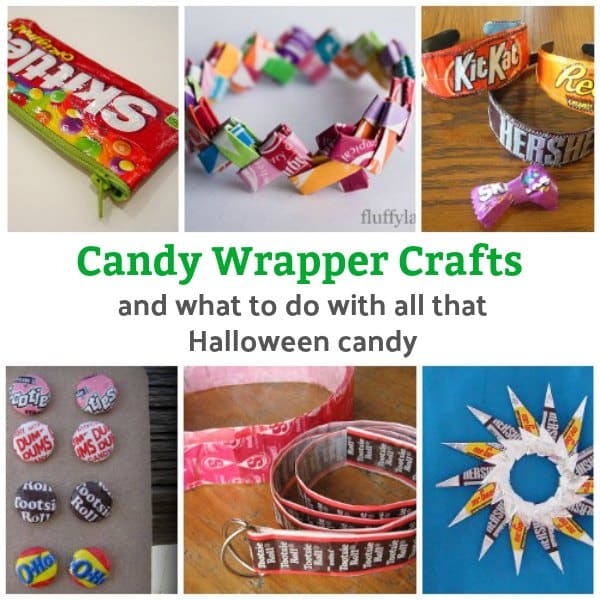 Transform all of those plastic candy wrappers into creative craft pieces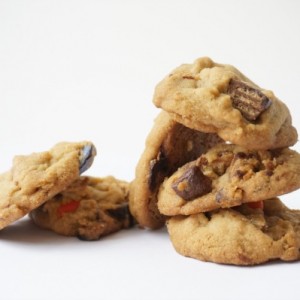 Use up the Halloween chocolate bars in these delicious candy bar cookies
---
Make sure you are following along…
SUBSCRIBE TO KITCHEN COUNTER CHRONICLES TO HAVE OUR DELICIOUS RECIPES, FUN CRAFTS & ACTIVITIES DELIVERED DIRECTLY TO YOUR INBOX.
FOLLOW KITCHEN COUNTER CHRONICLES ON