The holiday season is filled with lots of awesomeness…right? Gathering with family that you only see once a year is a blast. Grandparents admiring how much the kids have grown is wonderful. What isn't wonderful is holiday travel. Particularly, if your travel involves mass transit.
Planes, trains and automobiles can be hot, crowded and overwhelming spaces for kids and adults. In fact, 1 in 5 Canadian parents surveyed said one of their main concerns when travelling is keeping the kids entertained.
So, this is why I've gathered up all of our favourite downloadable Netflix holiday programs and movies on Netflix. Yep, download these festive faves before you hit the road and the kids can chill while you stand in line at the airport, they can laugh while you pass the miles on the road. Then, when you get to your destination the entire family can watch a show together.
Fave Downloadable Holiday Programs and Movies on Netflix
Elf – Yep, this has become a favourite in our house…and I'm sure in your house too. Buddy has more than enough Chrsitmas spirit to save Santa.
Shrek the Halls – OMG! I think my kids have watched this holiday fave over 100 times. They never get tired of Shrek, Donkey and Fiona.
How the Grinch Stole Christmas – It took a couple of viewings for the Jim Carey version to grow on me, but now we watch this expanded Grinch tale every year.
Arthur Christmas – Here's another film that is on repeat in our house. This story about Arthur's undying Christmas spirit is delightfully funny and perfect for kids of all ages.
Legend of Frosty the Snowman – You may remember the original Frosty the Snowman movie, this one picks up where the last one left off. Will the pesky magician take back his hat? Will the kids save their beloved snowman?
Beethoven's Christmas Adventure – Okay, any movie involving Beethoven, the giant saint bernard, is bound to be an adventure. Can Beethoven return Santa's sleigh before Christmas Eve?
Casper's Haunted Christmas – So, did you know that even ghosts celebrate Christmas. Of course the friendliest ghost, Casper, certainly does. Will Casper really be able to scare someone in the lovely town Kriss, before Christmas?
Christmas is Here Again – An adventure filled holiday musical movie. Little Sophianna has to locate Santa's missing magical toy sack….with the help of the friends she meets along the way.
Dreamworks Holiday Classics – Download this one and then play it on repeat. Packed with all the favourite characters from Dreamworks – Madagascar, Penguins, Shrek and Donkey, Toothless and Hiccup and more. A quick series of silly stories kids will love.
Bob's Broken Sleigh – Is there anything worse than an elf who doesn't have any magical powers? Poor little Bob is a magic-less elf – he's the "reindeer-dropping specialist"…cue the kids laughing. Bob is whisked into a crazy adventure and he has to use his figure his way out of his predicament without any magic.
Santa Claws – Okay, I couldn't mention a dog movie and not have a cat movie on the list. As hard as this is to believe, after a series of unfortunate events a pack of kittens must save Christmas!?! You gotta see it, to believe it.
A Christmas Prince – This one is for the tweens out there. A regular girl finds herself falling in love with a prince…and he's falling in love with her too. All set with the background of the holiday season.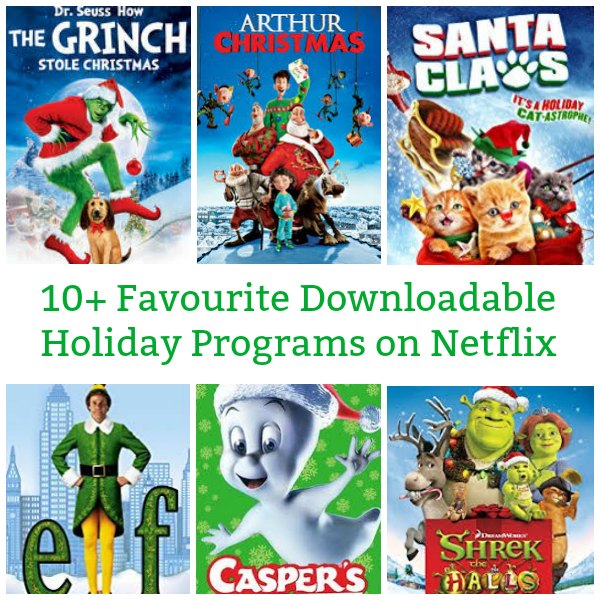 Don't forget you can also download your favourite holiday episodes from these classic tv shows.
Friends – The One With Phoebe's Dad (season 2: episode 9), The One Where Rachel Quits (season 3: episode 10), The One with the Girl From Poughkeepsie (season 4: episode 10), The Holiday Armadillo (season 7: episode 10)
Brooklyn 99 – Christmas (season 1: episode 11), Yippee Kayak (season 3: episode 10), Captain Latvia (season 4: episode 10)
Okay, what will you be downloading to help ease the holiday travel stress?
DISCLOSURE: I AM PART OF THE NETFLIX STREAM TEAM AND HAVE BEEN COMPENSATED FOR THIS ARTICLE, HOWEVER THE OPINIONS ARE MY OWN.
---
---
BE SURE TO SUBSCRIBE TO KITCHEN COUNTER CHRONICLES TO HAVE OUR DELICIOUS RECIPES, FUN CRAFTS & ACTIVITIES DELIVERED DIRECTLY TO YOUR INBOX.
---