Our love of Santa's reindeer and reindeer crafts, knows no bounds. We even love those cute reindeer noses! We've shared many reindeer crafts for Christmas – toilet roll reindeer, gingerbread reindeer, roll a reindeer game and more. This time around we've created a fun reindeer noses mason jar – yep, a reindeer mason jar filled with noses!
Disclosure: There are Amazon Affiliate links in this article which means, at no additional cost to you, we could receive compensation for our recommendations. You can read our full disclosure policy on our Disclosure Page for more details.
These reindeer jars filled with noses makes a fantastic Christmas teacher gift or gift for the kids' classmates. I'm always looking for creative ways to use mason jars, they are an inexpensive container to use and the best part is they are reusable. So, when the chocolate reindeer noses are all eaten, the jar can be used again and again.
How to Make a Reindeer Jar filled with Reindeer Noses
mason jar
brown acrylic paint
googly eyes
brown pipe cleaners
tape
red pom pom
chocolate malt balls (or chocolate covered blueberries, cranberries, or other round chocolate)
red gum balls
The first step in making a reindeer jar is to clean your jar. I used plastic mason jars, but you could use any jar that has a clear, smooth surface. Once the jar is clean it is time to paint a brown stripe around the jar. It will take 2 or three coats of paint to get the thickness of paint you like. Let the paint dry between each layer of paint.
While the paint is drying, work on making the pipe cleaner reindeer antlers. Depending on the width of your jar, lay the pipe cleaner across the lid. Bend the pipe cleaners upwards, to make two antlers. Trim 1 inch off each end of the pipe cleaner. Wrap those 1 inch pieces around the ends of the pipe cleaner making the antler points. You can use the tape to secure the antlers to the lid, but you may have to adjust them, depending on which direction they are facing with the lid is on the jar.
Okay, now that the paint is dry it is time to add the reindeer's face. Use the glue gun to add the googly eyes and the pom pom nose. We decided that our reindeer jars would be Rudolph (with his red nose), but use a black pom pom and you have any other reindeer on Santa's team.
When the reindeer face is complete, it's time to add the candy. Mix the red gum balls with the chocolates in a bowl and scoop them into the jar. I used round chocolate malt balls, but you could use any round chocolate you can find. Or, I guess you could use brown gum balls…although I don't think I've ever seen a brown gum ball? Have you?
Screw on the lid and adjust the antlers as you need. Your reindeer mason jar is filled with reindeer noses and ready to share.
Now, who will you share your reindeer noses with? Ours will be going to my youngest daughter's teachers.
---
More Christmas Crafts to Make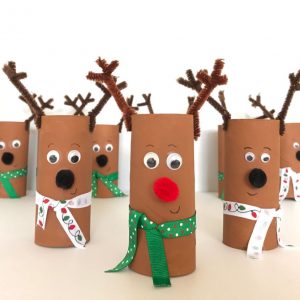 Looking for more reindeer crafts for the kids? Check out our toilet roll paper reindeer – they are super cute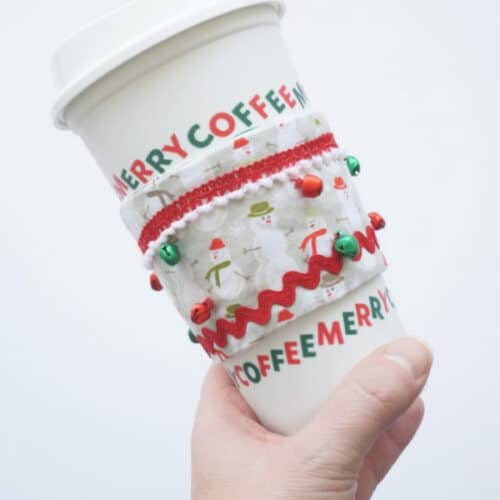 Make a Christmas coffee cup sleeve to gift this Christmas – another great teacher gift to make and give
---
Make sure you are following along…
SUBSCRIBE TO KITCHEN COUNTER CHRONICLES TO HAVE OUR DELICIOUS RECIPES, FUN CRAFTS & ACTIVITIES DELIVERED DIRECTLY TO YOUR INBOX.
FOLLOW KITCHEN COUNTER CHRONICLES ON