Does the Halloween Candy Witch come to your house? The trick or treating is done. The
Halloween crafting
is done. You think that Halloween is over and done. The first time I saw a giant pile of candy on my living room floor, I knew I need some backup. The Halloween candy consumption was not done, it was just beginning. How the heck was I going to get rid of all of this candy – without eating my way through the pile?How was I going to convince my kids not to eat the entire pile? Enter the Halloween Candy Witch.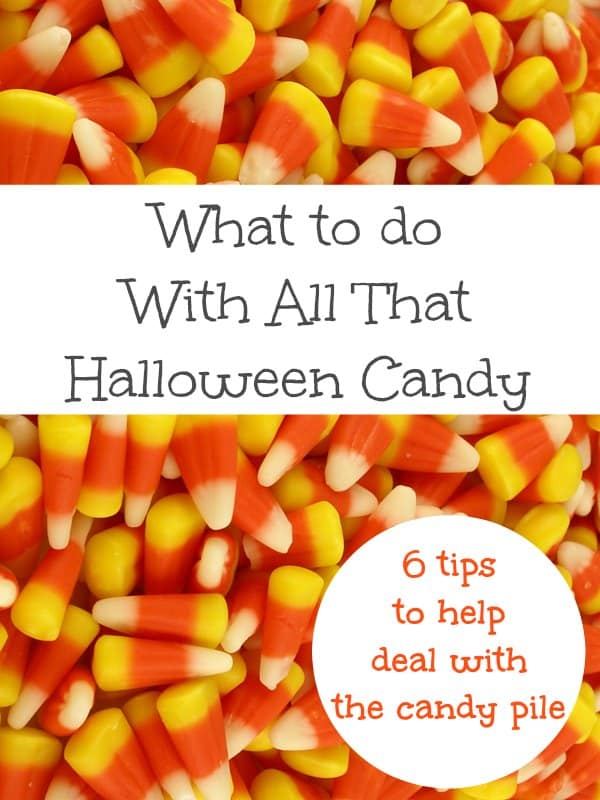 The wicked Halloween Candy Witch visits our house one week after Halloween and takes all the candy that hasn't been eaten! That gives the kids one week of insane treat eating and then – done. Are my kids buying this folk tale I've been telling them for the last few years? Well, not anymore…they are tweens now. However, I must say the Halloween Candy Witch worked for years. Pouf, the candy would simply disappear.
Let's face it we do bring home too much candy. I would love to hate to add up the calories and sugar content of all these treats. Not to mention the trash – all those little wrappers. Looking at our mountain of chocolate, chips, licorice, gummies, etc, etc I just want it all to go away. But how?
What to Do With Halloween Candy
Chocolate for chocolate's sake
The first thing I do when the Halloween candy is dumped out is to sort out all plain chocolate bars. Place them in a freezer bag and pop them in the freezer. These little chocolate bars can be used in holiday baking. Melt it down to drizzle on top of cookies or chop it up and add it to a cookie. Chocolate bars of any type can be frozen and used for baking. We made delicious
Halloween chocolate bar cookies
last year – the best – and it used up a pile of chocolate bars.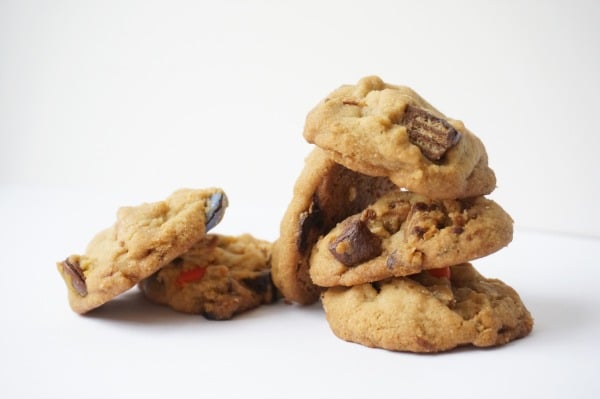 Gummies in the freezer too Pack gummy candies in the freezer too. They actually freeze well and the fact that they are frozen will slow down your (I mean your kid's) ability to eat them quickly. Freeze them and pull them out for special occasions.
Set limits Kid are great with limits, right? Sometimes. When it comes to Halloween candy, limits are needed. In our house, the girls can eat as much candy as they want for the first couple of days. After that candy is reserved for "dessert" for about a week and then it's gone. Over the years (post Halloween Candy Witch) the girls have come to understand the limits and respect the limits. Let's face it we all think candy is the greatest thing – until we eat it and feel sick and tired after. The ultimate lesson learned.
Take a treat to work Grab a bag full of treats and a bowl and head to the office. Place a bowl of treats in a central location and share away. A little bit in everyone's belly is better than all of it in your belly!
Trash to treasure
Keep those wrappers and reuse them to create amazing crafts. Check out this remarkable
collection of crafts made from wrappers
.
Throw it out Okay, I hate to say this, but sometimes you have to throw that crappy candy straight into the garbage. In our house, the super "low quality" candy goes straight in the trash. While I don't mind the kids eating candy for a few days, I would prefer it wasn't filled with artificial colouring and questionable fructose, corn syrupy ingredients. I know it's hard to tell what is "good" candy and what is "bad" – but if you are looking at it and thinking "this looks disgusting" don't be afraid to throw it out.
---
Make sure you are following along…
SUBSCRIBE TO KITCHEN COUNTER CHRONICLES TO HAVE OUR DELICIOUS RECIPES, FUN CRAFTS & ACTIVITIES DELIVERED DIRECTLY TO YOUR INBOX.
FOLLOW KITCHEN COUNTER CHRONICLES ON