We have all kinds of fun with games during the holidays. Christmas is a great time for playing Would You Rather Games, playing reindeer games and all kinds of fun printable games with the kiddos. This year we thought it would be awesome to create a printable Christmas quiz for the kids.
You really cannot beat playing games with the family – whether your house is a video game house or a board game house. This year has re-introduced us all to the joys of tackling a jigsaw puzzle together. I consider a jigsaw puzzle a game..do you? Every year we bring out a big pile of board games that we plan to play during the kids' winter break from school. We always play Clue, Life, Sorry, Pay Day and UNO. What are the favourite board games at your house?
Printable Christmas Quiz for Kids
Aside from the traditional board games, we also love printing off a big pile of easy Christmas games to play. Our Christmas Quiz for Kids is going to test your kid's Christmas knowledge.
20 silly Christmas questions about Santa, the reindeer and everything Christmastime. Some are a little more challenging than others…but I bet you and your kids will know all the answers. Good news – I've you can also print off our Christmas Quiz for Kids Answer Sheet in case you need a little help coming up with the answers.
We've got True and False questions,
Santa lives at the South Pole. True or False
We've got multiple choice questions,
What other names do people use for Santa Claus?

Ronald McChristmas
SpongeBob Santa Pants
Kris Kringle
And, we've got straight-up trivia questions,
Who steals all the presents from Who-Ville on Christmas Eve?
Simply print off our free Christmas Quiz for Kids (and Christmas Quiz for Kids Answer Sheet) and have some Christmas trivia fun.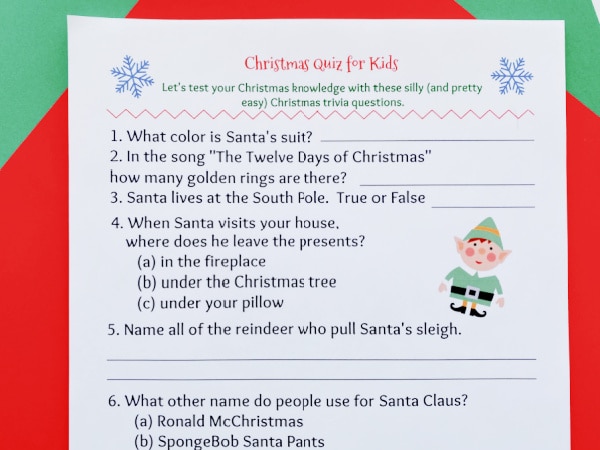 When to play your Christmas quiz for kids?
I love pulling out this quiz when all the kids are gathered on Christmas Eve. This year it's going to be a Zoom Christmas Eve and this quiz will be fun to play online with all the nieces and nephews answering. This is also a great activity for when you go on a Christmas light drive. Do you drive around checking out all the Christmas lights in your neighbourhood? Bring along the quiz and ask questions as you drive along. Another great time to play this game is in the classroom. If you're a teacher print off a copy for each kid and have some fun in the classroom. Maybe divide the class into small groups to bring everyone together. No matter how you choose to play the game, the kids are bound to have a good time.
---
Related posts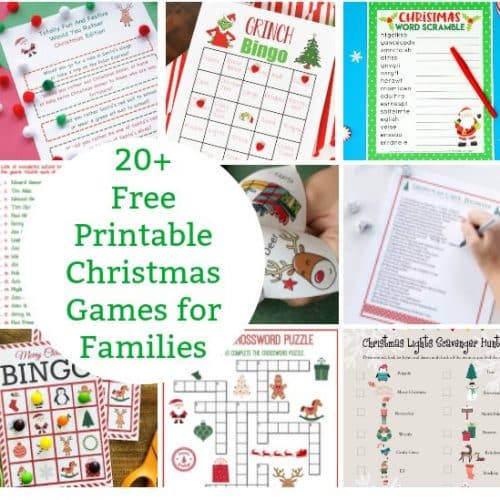 Check out all of these awesome free printable Christmas games for families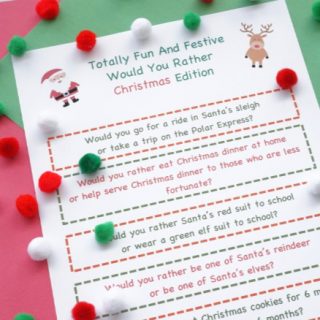 Don't forget to grab a copy of our Christmas Would You Rather Questions for Kids
---
Make sure you are following along…
SUBSCRIBE TO KITCHEN COUNTER CHRONICLES TO HAVE OUR DELICIOUS RECIPES, FUN CRAFTS & ACTIVITIES DELIVERED DIRECTLY TO YOUR INBOX.
FOLLOW KITCHEN COUNTER CHRONICLES ON