It's time to start coming up with cool Father's Day crafts for Dad. Yes, it's nice to buy Dad a new tie, but making him something personalized is an even better way to show your love. We are always looking for awesome ways to celebrate Father's Day, in our house is all about baking delicious Father's Day cupcakes and cookies and fun kid-made Father's Day crafts.
Disclosure: There are Amazon Affiliate links in this article which means, at no additional cost to you, we could receive compensation for our recommendations. You can read our full disclosure policy on our Disclosure Page for more details.
We've made many fun crafts that dad would love over the years, but now that my kids are older I am always looking for cool crafts for tweens and crafts for teens to make. These keychains are perfect. They can be personalized with fun catchphrases. "Best Dad Ever" is pretty classic, but let your kid's imagination run wild and think of silly things that they say to Dad.
I was totally inspired when I found this big container of letter beads at the craft store. There are so many crafts I want to make with these beads…like 80's inspired friendship pins…right?! For today, it is all about Dad.
Father's Day Craft – Father's Day Keychain
waxed linen thread
beads of assorted colours
square letter beads
keychain loop
The length of your keychain will depend on the words you want to write and the size of your beads. So, planning out what you want to say is an important first step. Brainstorm a "Dad" related saying that works for you. Do you call the Dad in your life "Dad", "Pop", "Father", or some other term of endearment? Be sure to use words that work for you and your Dad.
Once you know what you want to say, search through the letter beads and lay out the phrase. You can even layout the beads you want to use. Think of Dad's favourite colours and use those colours.
When you have everything planned out, it is time to make the keychain. For our keychain, we cut a piece of waxed linen that was 18 inches long. That gave us enough for the thread to be folded in half and then the length of the words/beads and the knots that we have to make…plus it is always best to cut your thread longer than you think you will need, you can always trim it off.
I love using waxed lined for bead projects. The waxed coating makes the thread stiff (easier to put the beads on) and when you make knots the wax makes the knots a little stronger.
One final note about the length of the keychain. Remember that Dad is going to use the keychain – don't make it too long.
Okay, feed the first bead onto the thread. Knot the bead in the middle of the thread. Bring the two pieces of thread together and feed the rest of the colourful beads and the letter beads onto the waxed linen.
When the beads are all in place, tie a knot at the top of the beads…securing the beads in place.
Now, tie the keychain to the metal loop. Tie at least two knots, tightly. Another benefit of the wax is that the keychain will slide along the loop more easily. Trim off the excess thread. You're done.
I love how these keychains turned out. The bright colours are perfectly cheerful. What a fun Father's Day craft for kids to make. In fact, this would make a great birthday gift or teacher appreciation gift too.
Okay, what will your Father's Day keychain say?
---
What if I don't have waxed linen, you ask? I would find the strongest thing thread that you can find. There are many hemp threads available. I wouldn't use the elastic (stretchy) threads, they are too weak for this kind of project. Remember Dad is going to be pulling this keychain in and out of his pocket bag.
---
Related Posts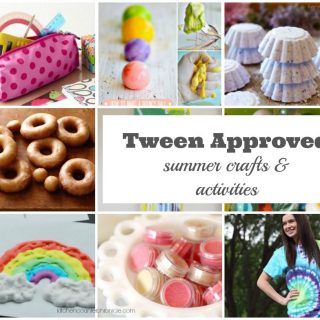 Check out all of these awesome summer crafts for tweens to make
Be sure to check out all of our BEST Father's Day Ideas for Kids
---
Make sure you are following along…
SUBSCRIBE TO KITCHEN COUNTER CHRONICLES TO HAVE OUR DELICIOUS RECIPES, FUN CRAFTS & ACTIVITIES DELIVERED DIRECTLY TO YOUR INBOX.
FOLLOW KITCHEN COUNTER CHRONICLES ON