We have shared all kinds of cool Halloween crafts for tweens to make. One of our most popular Halloween craft projects is our doodle pumpkins – where we decorated pumpkins with markers. So, when I picked up a white chalk marker the other day I knew exactly what I wanted to try…making chalk marker pumpkins.
Disclosure: There are Amazon Affiliate links in this article which means, at no additional cost to you, we could receive compensation for our recommendations. You can read our full disclosure policy on our Disclosure Page for more details.
What is a chalk marker?
Chalk markers are a much cleaner and more crisp alternative to traditional chalk. They use chalk instead of ink, inside a marker. So, you can draw clear letters and designs with chalk and still get the look or chalk and the removability of chalk. I love the look of chalk. I like the slightly smudgy effect of using chalk, that's why I wanted to use these chalk markers on the pumpkins.
Do you need to use a chalkboard or chalkboard paint?
The best surface for the chalk marker is a chalkboard or chalkboard painted surface, however, they can be used on most surfaces. I found the chalk marker worked well on my painted pumpkins and I used a basic black acrylic paint to prepare my pumpkin's surface.
DIY Chalk Marker Pumpkins
chalk marker – fine tip and broad tip
reusable small pumpkins and gourds
black acrylic paint
pencil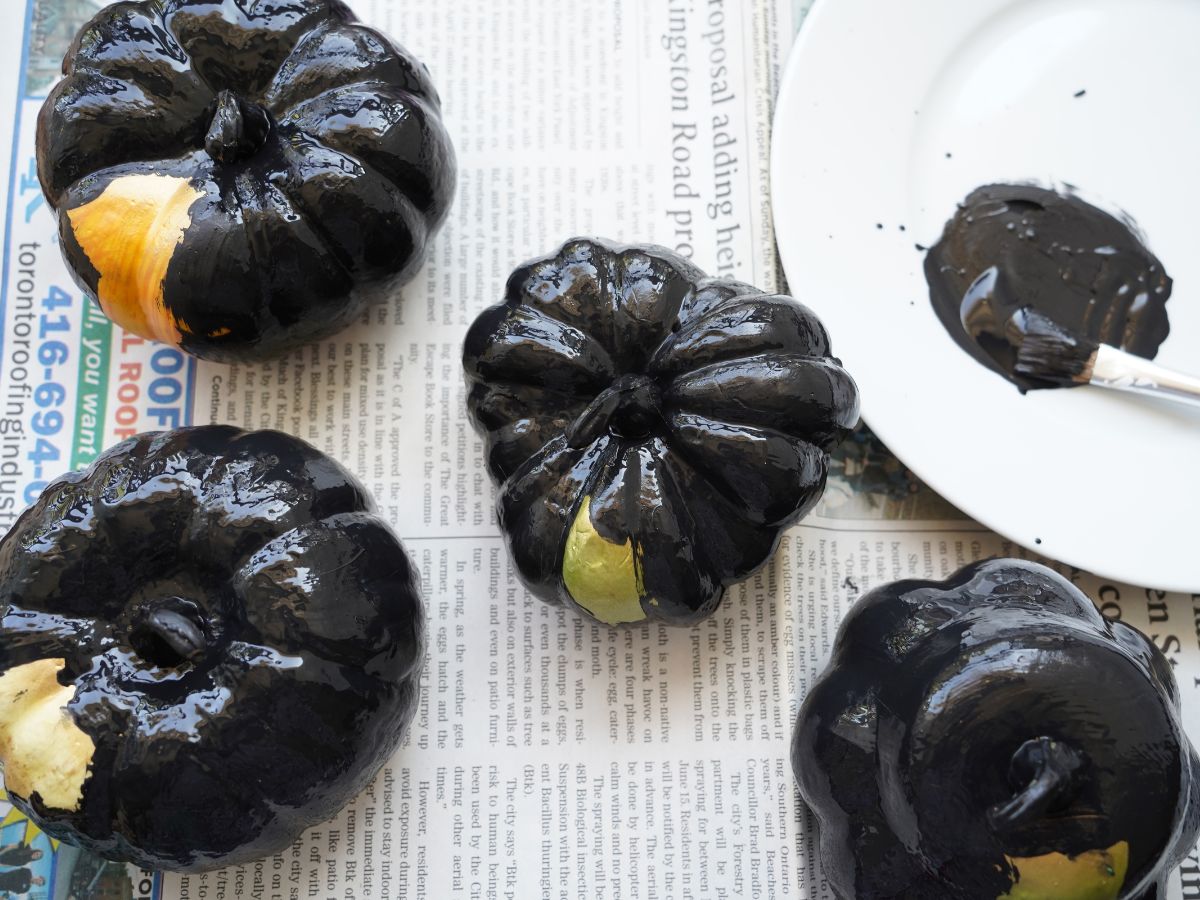 First up is preparing the pumpkins. I have had these little pumpkins and gourd for a few years now. I've never really known what to do with them. They are made from some sort of foam, they have a slightly rough surface. I've shared a link to what I think is closest to the pumpkins I have. Look for pumpkins that don't have any bumps or glitter on the surface – this will make drawing very challenging. Paint the pumpkins with black paint. I used regular acrylic paint, but you could totally use chalkboard paint.
Once the paint has completely dried it is time to come up with the designs for your pumpkins. I've chosen 2 fall designs and 2 Halloween designs.
How to use a chalk marker
Okay, using a chalk marker takes a little prep. Shake the pen, vigorously. Then push the tip of the marker in and out. You don't want to dent or alter the shape of the marker tip. Finally, press the tip into a paper surface and the chalk "ink" will start to flow and you can start drawing. As you work with the marker you may need to give it a shake, from time to time, to keep the chalk flowing to the tip.
I love the look of the fall leaves scattered on the pumpkin. For this pumpkin design, I started by lightly sketching the leaves onto the pumpkin before drawing with my chalk marker.
Again, I used a pencil for the "BOO" pumpkin, with the floating ghosts. However, the pumpkin with the various doodle designs was done totally freehand. This pumpkin is most like my black marker pumpkin designs.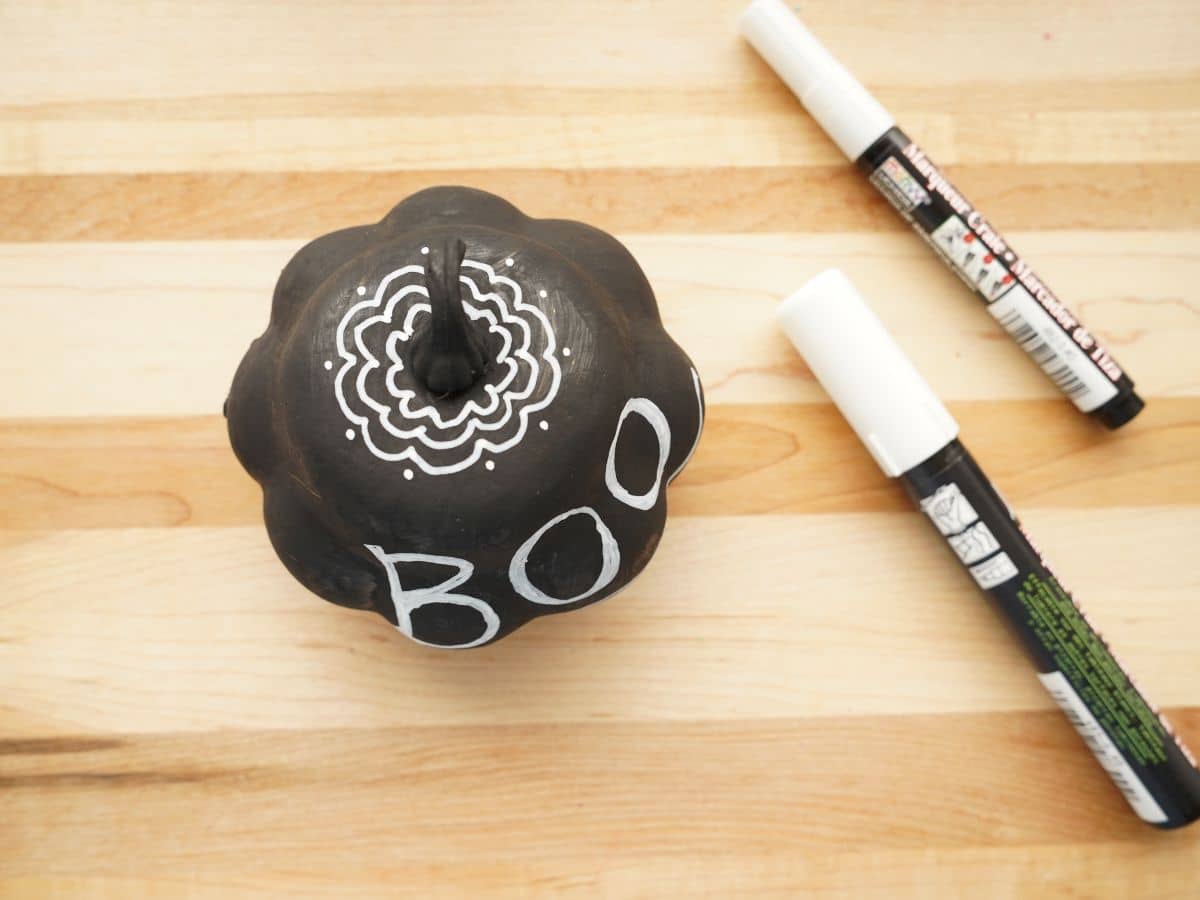 Have fun decorating the pumpkins. Don't forget to add designs to the top of the pumpkin and even the pumpkin stem. Once you get started it can be hard to stop drawing with the chalk marker.
As you are drawing your designs remember that you are working with chalk and thus the designs can smudge, if you rub them. I learned this when I pressed one of my pumpkins into my leg while drawing on the other side of the pumpkin. Yep, it smudged. But, I actually thought the smudge worked with my Halloween design. Just be careful.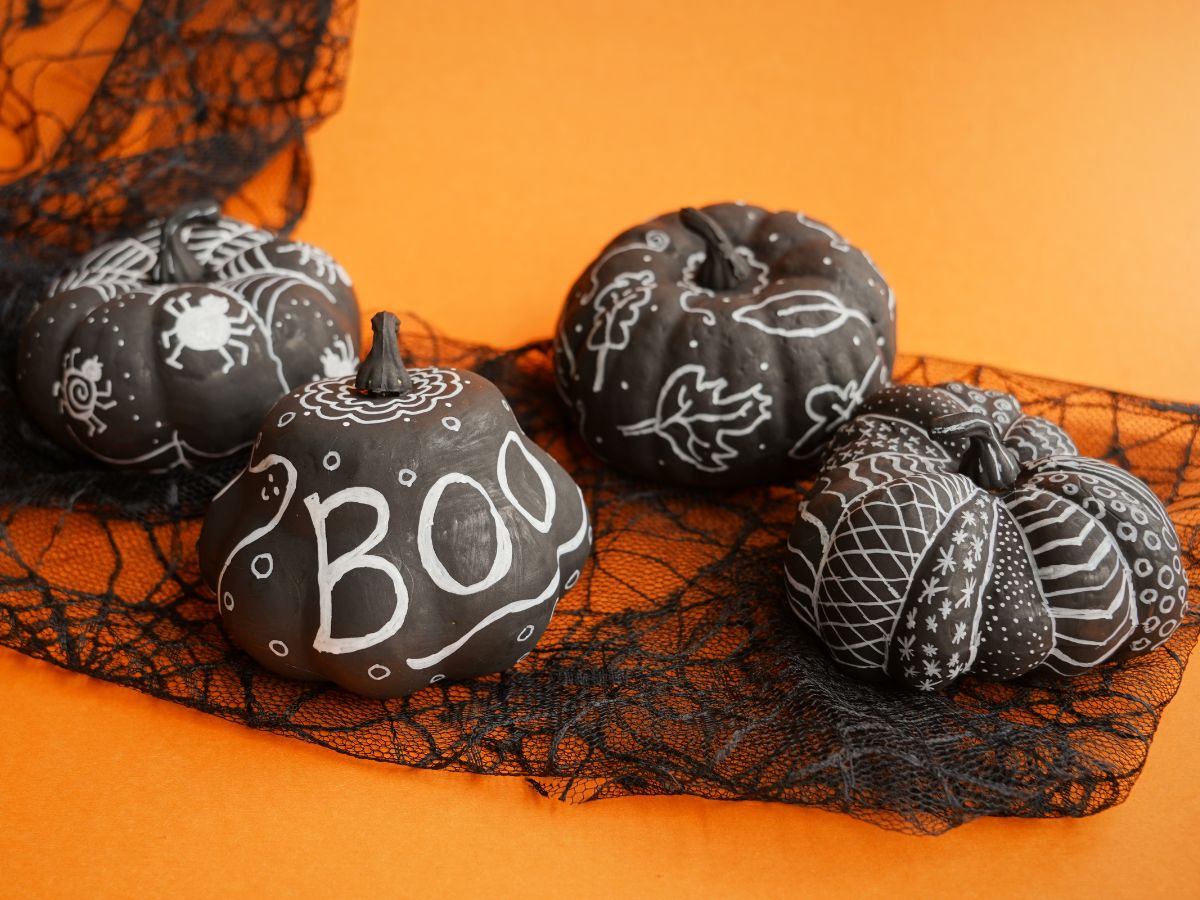 You actually cannot seal these pumpkins, as the chalk will simply smear. If you'd like to keep these designs for another year, wrap the pumpkins in tissue paper to store them. However, you can use a damp cloth to wipe off the designs and start all over again next year. If the surface doesn't come completely clean add another coat of black paint and off you go!
What type of design will you make? A Halloween design or Thanksgiving design or a simple fall design? Have fun with whatever design you choose.
---
More Pumpkin Crafts to Make
Learn how to design your own doodle marker pumpkins
Make these silly egg carton jack o'lantern candy boxes
---
Make sure you are following along…
FOLLOW KITCHEN COUNTER CHRONICLES ON
SUBSCRIBE TO KITCHEN COUNTER CHRONICLES TO HAVE OUR DELICIOUS RECIPES, FUN CRAFTS & ACTIVITIES DELIVERED DIRECTLY TO YOUR INBOX.