We love Christmas movies. There is something lovely about putting on your jammies, cuddling up under a blanket on the couch and watching a Christmas movie with the family. We've pulled together a list of all of our favourite family Christmas movies and I created a printable Family Christmas Movie Checklist.
Disclosure: There are Amazon Affiliate links in this article which means, at no additional cost to you, we could receive compensation for our recommendations. You can read our full disclosure policy on our Disclosure Page for more details.
We have watched a lot of Christmas movies over the years. What is your family's favourite Christmas movie? Do you have movies that you watch every year? We have pulled together 25 of the BEST Family Friendly Christmas movies so that you can watch a different Christmas movie a day…or jam a few more in on the weekends…whatever you like.
Don't forget to print off our Family Christmas Movie Checklist. Check off each movie as you watch it, so you don't miss even one. The best part about this list is that these movies can be found on regular cable channels, on Netflix or you can rent/buy them on whatever movie service you like.
25 Best Christmas Family Movies
1. Elf – It's funny how I think of Elf as a "new" movie when it's quickly becoming an older classic. If you aren't familiar (and who isn't?), Elf is the story of Buddy the Elf – who isn't an elf at all – and his adventure to New York City. One of the best Christmas movies set in New York, in fact. He's searching for his birth father and when they meet up it doesn't go according to Buddy's well-thought-out plan. A truly good-hearted Christmas movie.
2. National Lampoon's Christmas Vacation – Our family has been sharing our Christmas with the Griswold's for decades now. Each year we watch this one with my Dad, my sister, my brother and their families. Clark's desire to have the hap-hap-happiest Christmas is any family's holiday goals.
3. The Muppets A Christmas Carol – Yet again Kermit and the gang find a way to bring a smile to our faces and a tear to our eyes. With the addition of Michael Caine, The Muppets Christmas Carol is one of the best versions of the classic Scrooge tale.
4. Santa Claus is Coming to Town – This one is my faves. Yep, the story of Santa Claus as told through old school stop motion animation and the voices of classic movie actors – Mickey Rooney, Fred Astaire and more.
5. Die Hard – I'll debate anyone who says Die Hard isn't a Christmas movie. A fun Christmas movie for the tweens and teen, Die Hard is filled with holiday references…it takes place on Christmas Eve! Get ready for lots of action and adventure and some one liners your kids are gonna love!
6. It's a Wonderful Life – Now for something completely different. It's a Wonderful Life is a slow moving, classic Christmas film. The story of George Bailey will break your heart at times, but the life lessons you learn will have you hugging your kids a little tighter in the end.
7. How the Grinch Stole Christmas – It's near impossible to get through the holidays without watching the Grinch. We aren't big fans of the newer, Jim Carey version, sorry/not sorry. The original animated film is all anyone needs to turn any grinchy frown upside down.
8. A Charlie Brown Christmas – Oh, boy – Charlie Brown is struggling yet again. Thank goodness he has his silly gang of friends and that fantastic soundtrack. It's funny how a little cartoon can teach us so much about consumerism and consumption during the holiday season.
9. White Christmas – Snow! All anyone wants is a white and snowy Christmas…right? Maybe all we really need are our friends and loved ones? This movie is going to fit right into everyone's 2020 Christmas plans. Get ready to sing and dance your way through this one.
10. Frosty the Snowman – Frosty is another one of those movies from my childhood that is hard to beat. It's amazing how old animation can still capture the imagination of young kids. Happy Birthday, Frosty!
11. Home Alone – Kevin McAllister didn't mean to end up home alone, but he sure does figure out how to manage a lot of craziness. As his mom feverishly searches for a way to get home, Kevin defends his home from a couple of crooked would-be thieves. The kids are gonna learn a lot from this one. Bonus, Home Alone 2 is pretty awesome too!
12. Rudolph the Red-Nosed Reindeer – The song, the legend, the reindeer that everyone learns to admire and love. Add in a funny little elf and some misfit toys and you have a true must-watch Christmas movie.
13. Arthur Christmas – Arthur is the black sheep of the Claus family. Can he save the day when a little girl's bike wish goes wrong? With the help of an elf, Arthur proves that he is more than worthy of his place in the Claus family.
14. The Santa Clause – Another movie that has quickly become a classic, The Santa Clause brings to life a totally unbelievable tale of a Dad becoming…Santa Clause! A family feel-good movie for sure.
15. Polar Express – Have you ever taken a ride on the Polar Express? This movie brings to life the award-winning children's book through incredibly magical animation…and Tom Hanks! Give the kids a bell to ring for watching this one.
16. A Christmas Prince (Netflix) – A new classic, A Christmas Prince has all the makings of a Hallmark Christmas movie, but for tweens. What happens when a girl from New York falls in love with an exotic prince?! A cheesy and fun movie to watch with the older kids.
17. Miracle on 34th Street – Do you believe in Santa Claus? What do you really think? Another fabulous Christmas movie in New York City…there's something about Christmas in New York! We love the 1994 version of the film – the black and white version is lovely too. Not to fear parents of little ones…Santa's secret identity is safe in this sweet story of a little girl and Santa Claus.
18. A Christmas Story – This film makes me want to turn on the leg lamp, gather round the big radio and listen to an episode of The Little Orphan Annie. Whatever you do, don't lick the icy flag pole! Will Raphie's Christmas wish come true?
19. Shrek the Halls – We love Shrek! My kids were BIG Shrek fans when they were little so, it only makes sense that we love this Christmas special starring Shrek, Donkey and all their friends. Shrek discovers the true meaning of Christmas and there are a lot of silly laughs along the way.
20. Mickey's Christmas Carol – Now, we definitely love The Muppet Christmas Carol the most, but Mickey's is a close second and is well worth the watch. The Disney characters bring to life the Dickensian story beautifully.
21. Holiday Inn – A holiday hotel, a couple of guys and a couple of gals and White Christmas singing through the rafters?! Sounds familiar, but who cares! It's fun and delightful to take in all the nostalgia at the Holiday Inn.
22. Frosty Returns – The follow up to the original Frosty the Snowman isn't as awesome as the first, in my opinion, but don't tell that to my kids. They love this little film as much as the original. A funny story with an eco-friendly message.
23. Daddy's Home 2 – Here's another one for the older kids to enjoy. All is well between this Dad and Step-Dad duo, but when their Dad's show up, suddenly the holidays start to bring out their competitive sides again. Hilarity ensues in this new Christmas comedy classic starring Will Farrel and Mark Wahlberg.
24. The Princess Switch (Netflix) – Yep, there's another Princess movie on our list. This one is a princess and the pauper-style story. A princess who longs to be ordinary and an ordinary girl who could do with a little princess pampering. They make the switch and the confusion begins! Funny, sweetly romantic Christmas movie for tweens and teens.
25. Jingle Jangle: A Christmas Journey (Netflix) – And finally, the newest addition to the Christmas movies for families. Jingle Jangle is a fantastical Christmas movie about family and creativity and the power of imagination. The singing and dancing scenes are incredible and will have you singing along in no time.
Well, what are you waiting for…get checking your way throughout list!
---
Related Posts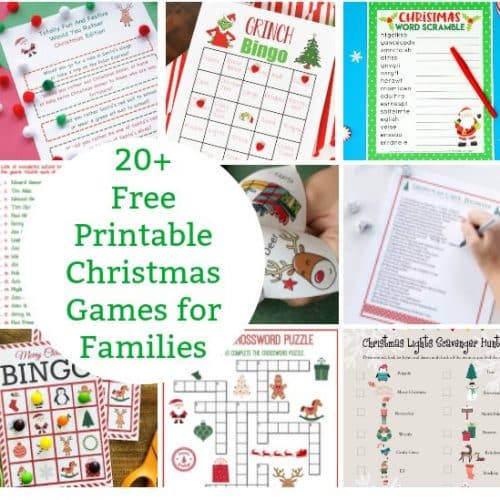 Check out all of these fun printable Christmas games for families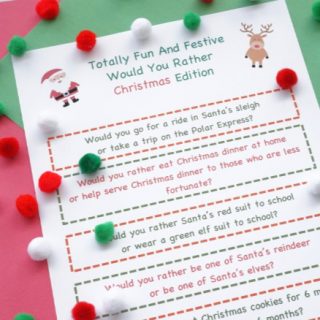 Don't forget to print off our Christmas Would You Rather Questions for Kids
---
Make sure you are following along…
SUBSCRIBE TO KITCHEN COUNTER CHRONICLES TO HAVE OUR DELICIOUS RECIPES, FUN CRAFTS & ACTIVITIES DELIVERED DIRECTLY TO YOUR INBOX.
FOLLOW KITCHEN COUNTER CHRONICLES ON