Whether you are vegetarian, vegan or just looking for a little meatless Monday inspiration. This collection of kid-friendly meatless recipes will help make meal planning easy. Be sure to check out all of our other meatless meals for kids recipes too…we've got quite a few awesome kid-friendly vegetarian recipes.
for your convenience, this post contains affiliate links
Like many of you, we have been overwhelmed by the information about eating less meat. Recently, the Canadian government released the updated Canadian Health Guide, in which they recommend eating less meat and more protein alternatives. But…they used to say that meat was healthy? What are we supposed to do?
Well, as confusing as the mix of information might be we are moving ahead with what I have always believed – eating a balanced diet. What this means to us is adding more vegetable and protein alternative meals into our recipe repertoire.
Eating less meat is a healthy break for our bodies and an opportunity to discover new dishes. Let's face it, the first thought I had when I was thinking of taking on this change was "how am I going to convince my kids to eat more veggies?" Yes, our kids are great eaters, they don't shy away from very many meals, but adding more vegetable-based dishes might be too much for me to handle.
So, what do you do when you have a challenge ahead? We plan the heck out of that challenge. I've been super busy preparing for our new meat-less lifestyle. I've done a lot of research and have gathered together a collection of delicious, kid-friendly meatless meals.
We don't want to just "get by"…we want to enjoy each and every meatless meal we eat.
20 Kid-Friendly Meatless Recipes
20+ Kid Friendly Meatless Recipes
A collection of over 20 delicious kid-friendly vegetarian recipes that are easy to make and delicious.
---
A Few Common Questions About Being Vegetarian
What does "vegetarian" mean?
A vegetarian is a person who does not eat meat and meat products. While vegetarians do not eat meat, they often eat eggs and dairy products. People may be vegetarian for moral, religious, social or health related reasons.
What does "vegan" mean?
Vegan is a word that people are less familiar with – but that has become much more popular in the last decade. A vegan is a person who does not eat meat and meat products – including any dairy products or eggs. Vegans eat nothing that is an animal by product – even honey.
What does "pescatarian" mean?
A pescatarian is another branch of vegetarianism. A pescatarian does not eat meat, but they do eat fish and seafood. While their diet is largely plant-based, they do eat seafood.
---
Using a spiralizer or slicing the vegetables thinly can help your vegetarian dishes be more fun and more palatable for kids. This spiralizer is very well-rated and is affordable.
---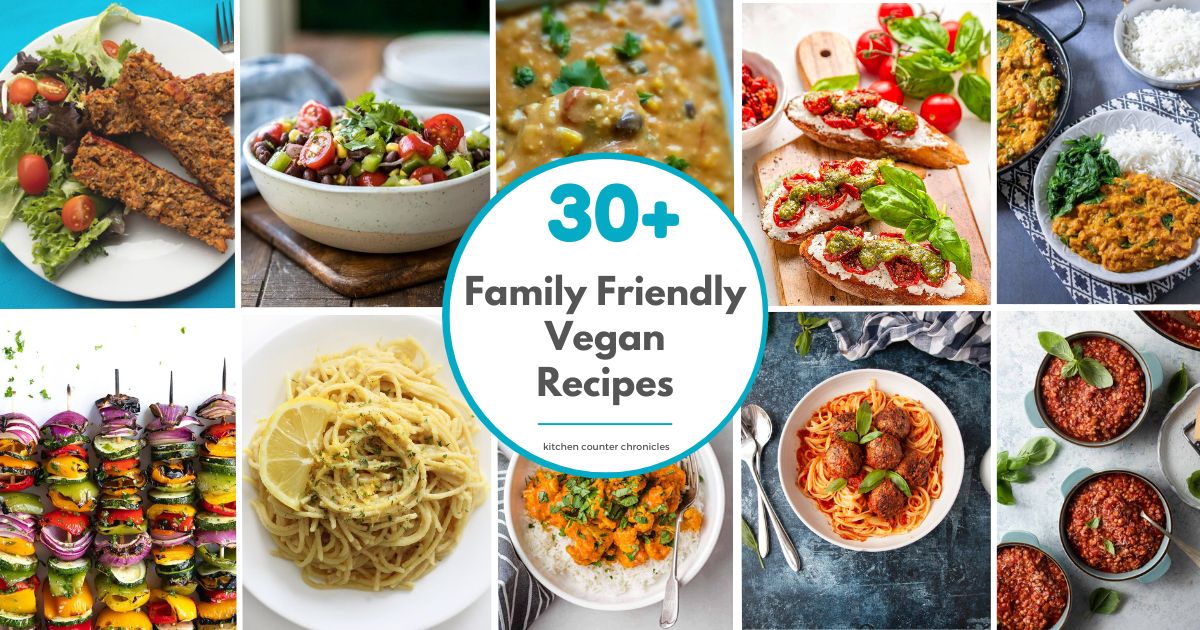 Check out our collection of family friendly vegan recipes too!
---
Make sure you are following along…
FOLLOW KITCHEN COUNTER CHRONICLES ON
SUBSCRIBE TO KITCHEN COUNTER CHRONICLES TO HAVE OUR DELICIOUS RECIPES, FUN CRAFTS & ACTIVITIES DELIVERED DIRECTLY TO YOUR INBOX.