I love public art. In fact, I think it might be my favourite type of art. I love how accessible, thoughtful and dynamic public art is. I love how public art transforms the space it is in and how the art is changed by its surrounding environment. Our neighbourhood has been fortunate this winter, to be the home to an awesome public art installation…right on our beach. Yes, it is snowy…in fact this has been the coldest February in recorded history…but our beach is pretty active in the winter. People walk their dogs, cross country ski, walk and play on the beach in the winter months.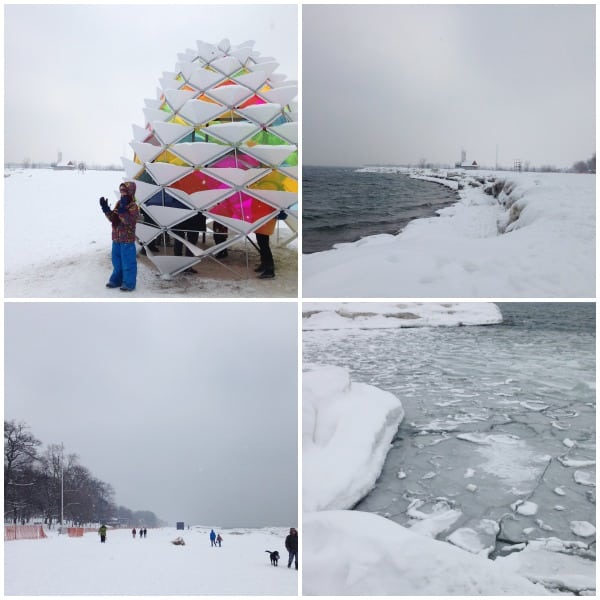 The art installations were designed as winter warming stations, places to take shelter from the cold. The 4 structures were chosen from an international competition and will only be on our beach for a few more weeks. While they are here they are attracting quite the crowds. What an amazing way to get people outside and exploring in the winter. These are a few shots from our visit.
Each warming station took a completely different approach to the "warming station" challenge. Our favourite was the "Snowcone". My girls loved the colours of the pinecone-like building and it really was quite cozy inside. Do you have a favourite piece of public art in your city or town? What do you love about it?
Now it's time for this week's Outdoor Play Party. We would appreciate it if you included a link back to this post (either in your post or sidebar) to help us spread the word about the importance (and fun!) of outdoor play! In return, we'll gladly further share your post on Pinterest. Please feel free to grab the Outdoor Play Party button from my sidebar and/or include a text link back. Please note, that by contributing you are giving permission for an image and link to your post to be republished if featured. Share your ideas for outdoor play activities with us every other week.
This week's featured posts
I loved my co-host Rain or Shine Mama's post about taking her daughter skiing…hilarious and heart warming.
Growing Hearts 123 post about making pebble art is a celebration of public art and how kids interpret it.