I had a completely different post planned for today, but it will have to wait. This morning we woke up to a foot of freshly fallen snow and a fierce wind chill. Winter this year hasn't accumulated very much snow, it has been cold, but in general it has been an easy winter. To a tween this is fantastic…no snow pants required. As the parent of a tween…I beg to differ.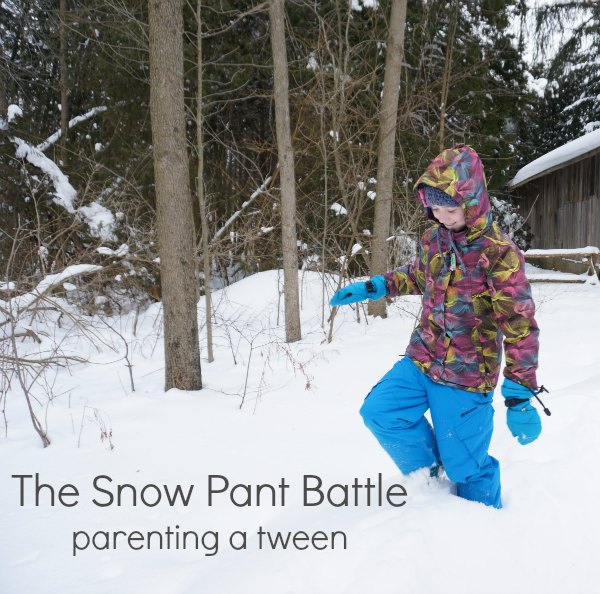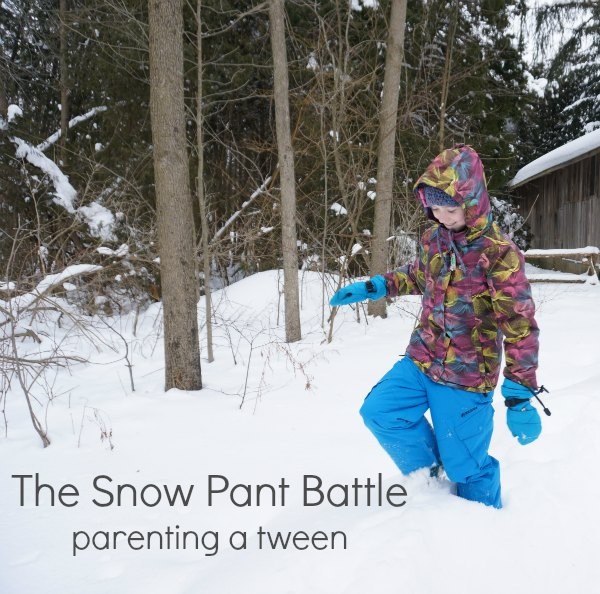 With a cold weather alert in effect and high winds, today is a snow pant day. I have never had an issue getting my children to wear warm clothing in the winter. They understand why they need to stay warm and they know the clothing that will keep them warm. Unfortunately, we have entered the phase when wearing snow pants is not "cool". My tween daughter will only wear snow pants in a handful of situations; skiing, sledding, skating, after a MAJOR snowfall and when her friends aren't around. Not on a school day morning…even though it is frigid outside.
What is a mama to do? Let her go off and freeze? Allow her this opportunity to stretch her independence? Let her learn for herself? Bribe her? None of these work, sadly.
My husband phoned before we left for school and asked to speak to my tween. "I'm not wearing my snow pants, Dad." Obviously, he and I are on the same page – a totally different page from our daughter.
So, off we went to school. A snow pantless tween and an 8 year old bundled up to the max. I convinced my tween to bring her snow pants to school – minor battle won. I could see that her thin yoga pants really weren't keeping her warm enough. There would be no admission from my tween.
When we arrived at school she went straight inside, out of the cold, into the comfort of the warm school and the company of her snow pantless friends. I have a hard time with these disagreements. I know, she knows that she needs to be wearing snow pants – but she can't admit it. I know she is cold. I know I probably did the exact same thing at her age. I know she is going to be fine. I know that sometimes parenting isn't about winning and losing – it is about planting the seed of an idea and waiting patiently for it to grow. She has the pants, she knows what I think and now it's up to her. And, snow pant battle continues…
Do you have a tween or pre-tween? Have you ever faced a snow pant battle?
How did you work it out?
Now it's time for the Outdoor Play Party and time to see what has been happening in warmer climates…
The Boy and Me had fun creating beach art.
Mother Natured built nature boats and explored a creek.
It's time to party! We would appreciate it if you included a link back to this post (either in your post or sidebar) to help us spread the word about the importance (and fun!) of outdoor play! In return, we'll gladly further share your post on Pinterest. Please feel free to grab the Outdoor Play Party button from my sidebar and/or include a text link back. Please note, that by contributing you are giving permission for an image and link to your post to be republished if featured. Share your ideas for outdoor play activities with us every other week.