My eldest daughter loves white chocolate. I love white chocolate. There really aren't a lot of white chocolate Valentine treats. So, why not make our own heart shaped white chocolates? They're so simple to make and are yet another one of our easy Valentine's Day dessert recipes.
Now, you may think this is going to be difficult – it is not. These took me about 15 minutes to make, from start to finish. And, they are so pretty…and they taste so good. The crispy sprinkles add a delicious little crunch to eat heart.
I cannot wait to share these with my daughters this Valentine's Day…assuming I don't eat them all! Do you make Valentine treats for your kids? I will gladly take any excuse to share some love and positivity.
Homemade Heart Shaped Chocolates
1 cup white chocolate chips or wafers
1/2 cup pink chocolate wafers
Valentine sprinkles
2 resealable plastic bags or piping bags
parchment paper
Valentine tins/boxes
The first step is melting the chocolate. Now, I don't have a microwave – if you do it's easy to pop the chocolate wafers into a bowl and heat them for 15 seconds, stir and heat again until they are melted. If you are like me, and you don't have a microwave melt the chocolate over a double boiler on the stove top. A double boiler is easy to make and use. Place a large pot, with about 2 inches of water inside, over medium heat. When the water comes to a boil, place a metal bowl over the pot, with the chocolate chips inside. My number 1 tip is to wear an oven mitt when you are holding the bowl. The metal bowl is going to get HOT…thus melting the chocolate. Once the chocolate is melted, remove the bowl from the heat. Let it cool for a minute and then pour it into the resealable bag. Repeat the process with the pink chocolate.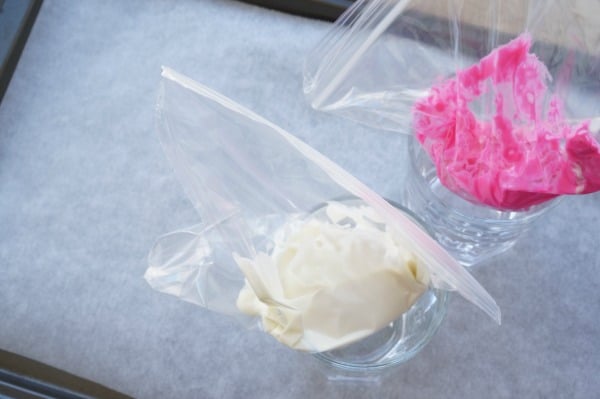 Line a baking sheet with parchment paper. Snip a small hole in the corner of the bag – this is your piping bag. Use the white chocolate to pipe hearts onto the parchment paper. You are going to want to move quickly – the chocolate is warm and flowing. Don't worry if the hearts look messy…they are handmade.
Once the white chocolate hearts are done it is time to add the pink accents. Use the pink chocolate to pipe lines onto the white chocolate. I made squiggles and also piped on hearts…whatever you like.
Once the hearts are done, sprinkle the sprinkles (makes sense) all over the hearts while they are still warm.
Pop the baking sheets into the fridge or freezer until the hearts are solid.
Then peel the hearts off the parchment paper and place them inside your decorative tin or box.
Share them with your Valentine…again, assuming you don't eat them all first.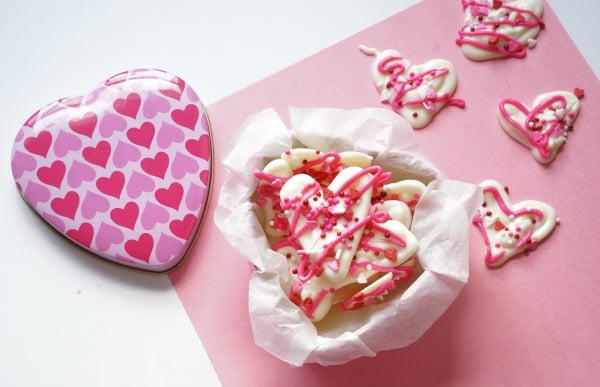 What are you baking or cooking for Valentine's Day this year?
---
Related Posts
Bake up Valentine pop tarts
share the love with heart shaped ravioli
---
BE SURE TO SUBSCRIBE TO KITCHEN COUNTER CHRONICLES TO HAVE OUR DELICIOUS RECIPES, FUN CRAFTS & ACTIVITIES DELIVERED DIRECTLY TO YOUR INBOX.
---