There is a pretty good chance that the number one food being eaten on Valentine's Day is some sort of pasta. There is something lovely about pasta. Perhaps it is the time and love that goes into making the sauce or perhaps it is comforting and cozy it is to eat. Whatever the reason, one of the easiest ways to show your family that you love them is to make them a delicious meal on Valentine's day. Around here our family's favourite homemade dish is pasta. This year transform boring old ravioli into Valentine heart shaped ravioli. Start with our favourite ravioli recipe and make things a little more lovely with the help of a simple heart shaped cookie cutter.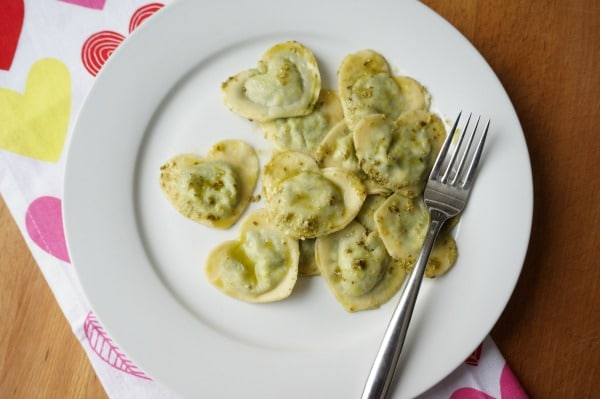 Heart Shaped Ravioli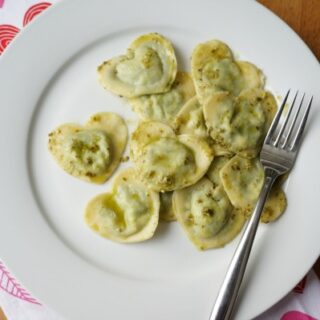 Heart Shaped Ravioli
Heart shaped ravioli, stuffed with ricotta and spinach filling
Prep Time
1
hour
30
minutes
Ingredients
For the pasta
4

large eggs

3 1/2

cups

all purpose flour

1/2

tsp

olive oil

extra virgin

flour for dusting
For the filling
475

g

traditional ricotta cheese

5

oz

spinach

salt and pepper
Instructions
For the pasta
Mound the flour on a clean surface, like a volcano. Dig a "well" in the middle of the flour

Crack the eggs into the well. Add the oil.

Use a fork to beat the eggs and begin pulling flour into the eggs. Continue mixing together the flour and eggs.

Once the dough comes together, knead until it forms a silky and smooth dough...about 10 minutes.

Wrap in plastic wrap and let rest at room temperature for 30 minutes to an hour.

Once rested, divide dough in 4 portions and use pasta machine to form sheets of pasta for the ravioli.

Feed pasta into machine starting with the smallest number setting (the largest opening size), gradually moving to about a number 6 (smaller opening size)...it should be thin enough to see your hand through the pasta sheets.
For the filling
Finely chop spinach in a food processor and add to ricotta cheese, salt and pepper in a medium sized bowl.

Set aside to be used in pasta.

Instructions for how to create the pasta is below...
The recipe is simple to make, the challenging part is making the ravioli. However, after a little practice creating the little pockets of pasta it becomes much easier. Here's how we make our ravioli. Start with a sheet of pasta, I usually stop at a number 6 thickness (I use the pasta attachment on my KitchenAide stand mixer).
(1) Lay out the sheet of pasta and cut out an even number of hearts…you will need one for the top and one for the bottom of each ravioli.
(2) Next, scoop 1/2 tsp of filling in the centre of each heart.
(2) Using a pastry brush (or your fingers) paint water around the edge of pasta that has the filling.
(3) Place the second heart over the bottom heart and gently (but don't be afraid of ripping the pasta, it's strong) press the sides together. Press around the filling, you don't want any air bubbles around the filling. At this point, I pick up the ravioli and pinch it between my fingers and thumb…completing the seal.
(4) Finally, my daughter used the rounded side of a smaller heart shaped cookie cutter (or a small circle cookie cutter) to gently press around the filling…further sealing the filling inside the pasta and completing the heart shape.
(5) Now the pasta can be set aside to dry, frozen or boiled and eaten right away.
(6) To dry or freeze, place in a single layer on a piece of parchment paper and place in a freezer or a cool dry spot. Be careful with the filled pasta…you don't want to leave it out of refrigeration too long or the cheese will turn bad.
To sauce the pasta, I made a light basil pesto. This pasta would taste great with a light butter and garlic sauce too. Once you figure out how to make ravioli it can be a lot of fun. Experiment with meat fillings and even sweet ravioli. I'm thinking about trying a marscapone stuffed ravioli with a maple syrup and strawberry sauce…breakfast pasta! What is your favourite ravioli filling?
---
Love this recipe, you will want to check out our other Valentine's Day recipes and crafts…
Make a delicious strawberry raspberry fool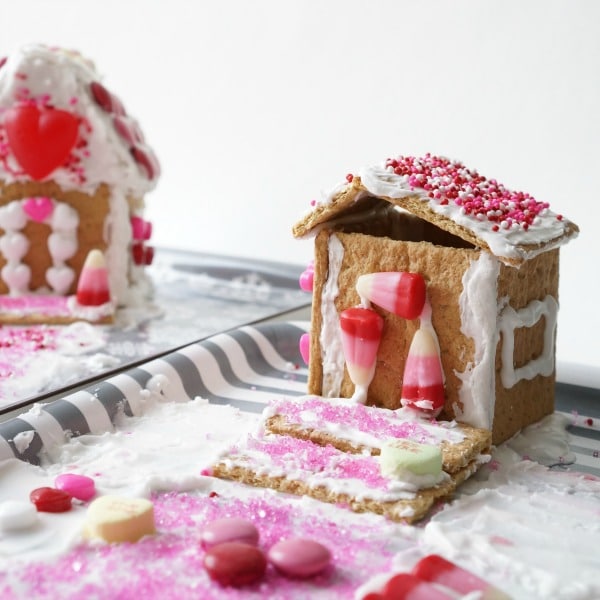 Have fun building a graham cracker love shack with the kids
Check out our full day of Valentine's Day recipes; breakfast, lunch & dinner
---
Looking for more ways to connect with your kids?
Come join Kitchen Counter Chronicles on Facebook and Pinterest.
Be sure to subscribe to receive our ideas delivered to your inbox.
---