A few years ago I created a round-up of great first day of school photo ideas. Then I got to thinking that maybe I could make things super easy for you and make a free printable first day of school sign for photos!
Disclosure: There are Amazon Affiliate links in this article which means, at no additional cost to you, we could receive compensation for our recommendations. You can read our full disclosure policy on our Disclosure Page for more details.
My kids are old enough to be of the generation that was pre-epic first day of school photoshoots. Every year I took a picture of my girls sitting on our front steps. And, I usually took a couple of pictures of them walking to school. That's it…no props, no chalkboards, no nothing.
Which is totally fine. Seriously, that was all I could organize myself to pull together. But I totally understand the cuteness and the value of these fun first day of school photos and I wanted to make it easy for you to take memorable pics with your kids.
Printable First Day of School Signs
So, I set about creating this collection of printable back to school signs. These are inspired by the chalkboard signs you've seen, but minus the chalk. I have tried to cover all the important topics in our signs…
favorite toy
age of child
teacher's name
what they want to be when they grow up
favorite things to do (think sports, playing, music, etc)
and, the date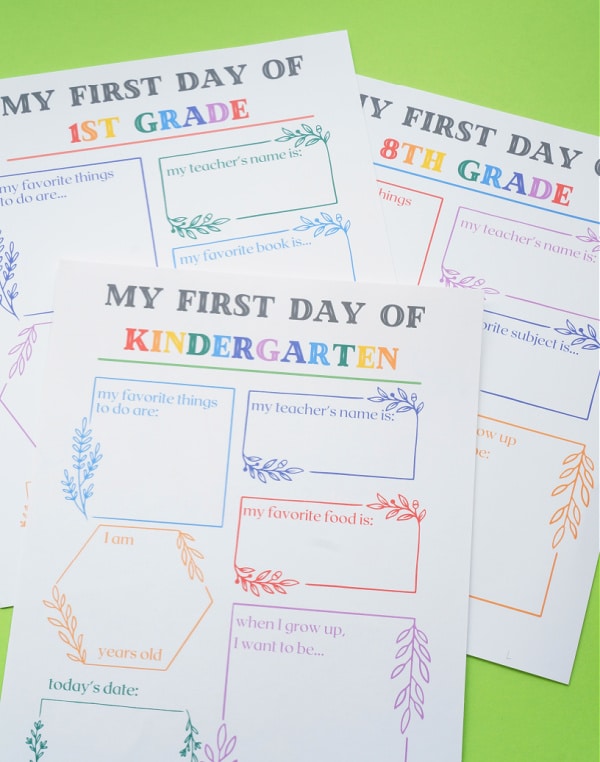 I also wanted to have a printable for every year available for you. I mean we all know that the first do of kindergarten is special, but so is the first day of grade 5! It needs a sign too. You can print off a sign for each of the years, keep them in a file and you will have them on hand for the first day of school. Easy.
My first day of kindergarten printable photo sign
My first day of first grade photo sign
My first day of second grade printable photo sign
My first day of third grade photo prop sign
My first day of fourth grade photo sign
My first day of fifth grade printable photo prop sign
My first day of sixth grade photo sign
My first day of seventh grade printable photo sign
My first day of eigth grade printable photo sign
They have a totally gender-neutral vibe…because what are "girl" colours and "boy" colours anyway?!
The first thing is first, start by printing off our first day of school photo signs (see the links above). We printed ours on white card stock. I always find that printing on heavy stock paper produces the brightest ink colours…even when we are using our basic home printer.
Then it's time for your kids, or you, to fill in the boxes. If your child is too young to write letters, maybe they can just fill in the number, for their age. Bigger kids can totally fill the signs in for themselves.
Once the paperwork is done, we popped our signs inside a picture frame…but I removed the glass. The frame gives the paper more presence in the picture and removing the glass means there won't be a glare in the picture you take. You can totally find inexpensive picture frames at the dollar store or online.
Now, it's time to say "cheese"! A great tip for taking your first day of school photo is to try and always take a picture of the kids posing in the same spot. When you look back over the years you will see your kids grow in relation to their surroundings. I love seeing how tiny my kids looked in kindergarten sitting on our front steps compared to how big they look now.
No matter where you take your picture this super simple sign will help you collect all those precious memories in one spot.
---
Related posts
Check out all the fun first day of school photo ideas we've collected
---
Make sure you are following along…
SUBSCRIBE TO KITCHEN COUNTER CHRONICLES TO HAVE OUR DELICIOUS RECIPES, FUN CRAFTS & ACTIVITIES DELIVERED DIRECTLY TO YOUR INBOX.
FOLLOW KITCHEN COUNTER CHRONICLES ON