Okay, these pumpkin scones are delicious. There, I said it. I love baking and making food using pumpkin in the fall. There is nothing quite like pumpkin. In the middle of the afternoon, when I need a little pick-me-up these beautifully soft scones are the perfect fall treat. I took the elements of my favourite scones and added some fall spices to the mix. The result is a moist and delicious pumpkin scone with cinnamon glaze.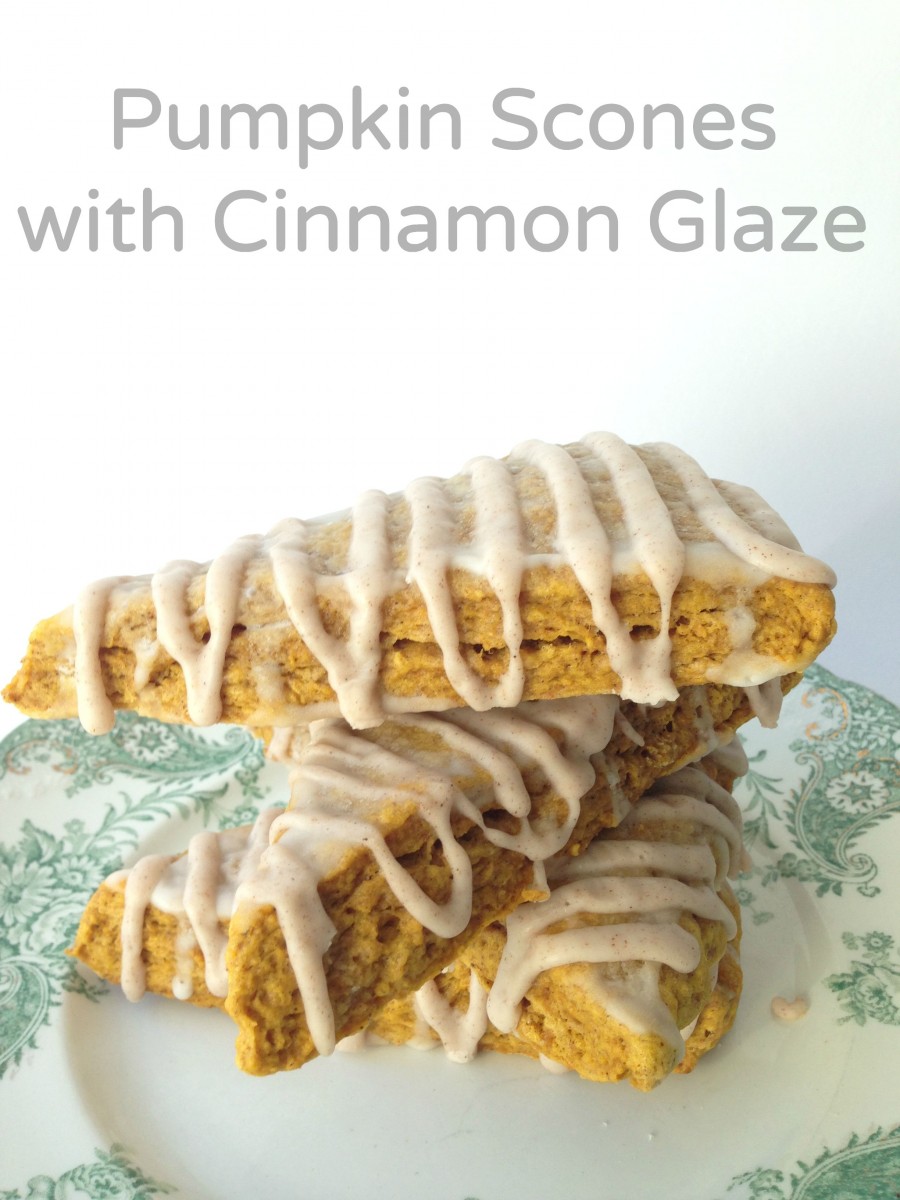 Pumpkin Scones with Cinnamon Glaze
yeilds 8 scones
2 cup all purpose flour
1 tsp baking powder
1/3 cup packed brown sugar
1/2 tsp baking soda
1/4 tsp salt
1 tsp cinnamon
1 tsp allspice
1/2 cup cold, unsalted butter
1/2 cup pumpkin puree
3 tbsp milk
1 large egg
2 tsp vanilla extract
For the glaze
1 cup icing sugar
2 tbsp milk
For the cinnamon glaze
1 cup icing sugar
1 tbsp meringue powder
1 tsp cinnamon
2 tbsp milk
For the scones:
1. Preheat the oven to 400F
2. Whisk together flour, sugar, baking soda, baking powder, salt, cinnamon and allspice in a large bowl.
3. Cut in butter with pastry cutter, or using your fingers, until resembles coarse crumbs.
4. In small bowl whisk together pumpkin puree, milk, egg and vanilla. Pour wet ingredients into dry ingredients. Stir until soft dough begins to form.
5. Knead dough on lightly floured surface, until dough comes together.
6. Using a rolling pin, roll the dough in to a rectangle, about 1 inch thick.
7. Cut rectangle in half, lengthwise. Cut in half, widthwise. Cut small squares into triangles…8 triangles.
8. Place scones on parchment paper lined baking sheets, bake for 12-14 minutes, until toothpick inserted comes out clean.
9. Set aside to cool completely before glazing.
For the glaze:
1. Mix together icing sugar and milk in a small bowl. Add more icing sugar if the glaze is too thin.
2. Coat the scones with this plain glaze. Let dry completely before adding Cinnamon glaze.
3. For the cinnamon glaze, combine icing sugar, cinnamon and meringue powder in a small bowl.
4. Transfer glaze to piping bag with a small hole tip. Pipe onto scones…or drizzle over scones using a fork.
5. Allow glaze to completely set up before serving.
These scones were child approved and husband approved. They used such a small amount of our large can of pumpkin puree that I can happily make more. In fact, my daughter has put in a request for a "double batch". I think these scones will make a lovely addition to our Thanksgiving weekend breakfast.