We were so excited to participate in the incredible Love Books Summer Book Exchange this summer. The Summer Book Exchange involves over 30 bloggers exchanging books and activities through the mail, all around the world. Our exchange partner was The Usual Mayhem…they sent us two fabulous ways to have fun with fireflies.
We love The Usual Mayhem – we are already Outdoor Play Party partners…we were really looking forward to our package's arrival. 
After ripping the large envelope open we discovered the fabulous book "When Lightning Comes in a Jar" by Patricia Polacco . This lovely book about an annual family reunion and the wisdom of an elderly grandmother, was new to us. When the girls finished reading the book we dove into the fun activites…making our very own fireflies and capturing lightning, or fireflies, in a jar.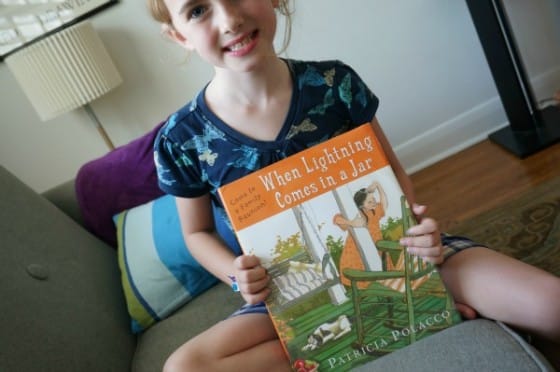 First, we followed the Usual Mayhem's detailed instructions and made our very own glow stick fireflies.
With our fireflies made, it was time to capture some fireflies in a jar. I gathered up a couple of large jars for the girls to use, the glow in the dark paint and a permanent marker.
Again, following the instructions provided in our package the girls got down to work. First, they dipped their fingers into the glow in the dark paint and dabbed paint spots (bug bodies) all over the jar. We actually applied 2 coats of paint…waiting for the paint to dry between coats.
When the paint was completely dry, the girls used the permanent marker to draw legs, faces, antenae, etc onto the fireflies. Our jars were complete.
My girls were so excited to see their fireflies glow. We grabbed the glow stick fireflies and our jars of fireflies and headed for the girls' dark bedrooms. The pictures aren't that amazing…but you get the idea. They worked! And they were so much fun!
Thanks to The Educators' Spin On It for creating and hosting this fabulous event and a super, special thanks to The Usual Mayhem for sharing these fantastic activities with my daughters. Be sure to check out the Summer Book Exchange Pinterest page to see all 30+ projects.