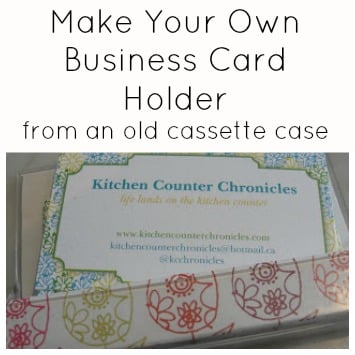 I've jumped out of my comfort zone today. I've taken a giant leap out from behind the computer screen and I'm hanging out at a social media/blogging conference. For the last 3 years I've been making the trek to Blissdom Canada. I always end up meeting lovely people and learning plenty about the ins and outs of blogging. I will be bringing along my pile of business cards…ready to swap with the new folks I meet. Luckily enough, I'll be carrying my card in my handmade business card holder. A few years ago I shared how to make a card holder from an old cassette case. I thought I'd pull the post out of the archives. My cards have changed, my site address has changed and life has changed in the last 2 years…but my business card holder still rocks on.
Handmade Business Card Holder
a tape case (you might remember these little plastic gems)
pliers
scissors
knife
decorative paper
1. empty your tape case (bye, bye Verve circa 1992)
2. use the tape case liner as a template and trace on the decorative paper
3. cut out the decorative paper and feed the paper into the empty tape case
4. use the knife to push and fold the corners snuggly in place
5. remove the "pegs" by clipping them off with the pliers
6. add your business cards
Making this card holder I had flashbacks of the hundreds of tape case liners I made in my youth. Customizing my favourite tapes…recorded from the original album! Remember those days. My daughter would never believe how hard it was to make a simple mixed tape.
---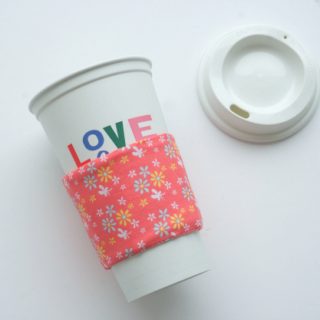 Get crafty making your own coffee cup cozy – keep your hands cool and your coffee hot
Learn how to sew a simple infinity scarf – a great craft project for kids and adults
---
Make sure you are following along…
SUBSCRIBE TO KITCHEN COUNTER CHRONICLES TO HAVE OUR DELICIOUS RECIPES, FUN CRAFTS & ACTIVITIES DELIVERED DIRECTLY TO YOUR INBOX.
FOLLOW KITCHEN COUNTER CHRONICLES ON