I am always on the hunt for healthy snacks that my girls will like. After a while veggies and dip can be a little boring. There are plenty of muffin recipes out there, but my girls aren't super huge fans of muffins. What they do love is carrot cake, but we can't have cake every day of the week…can we? In an attempt to make a healthier version of carrot cake we made a few changes to our traditional recipe. By swapping out processed sugars and using Silk® Original Creamy Cashew Beverage the recipe has fewer calories and has a deliciously, rich and creamy flavour that my kids totally love.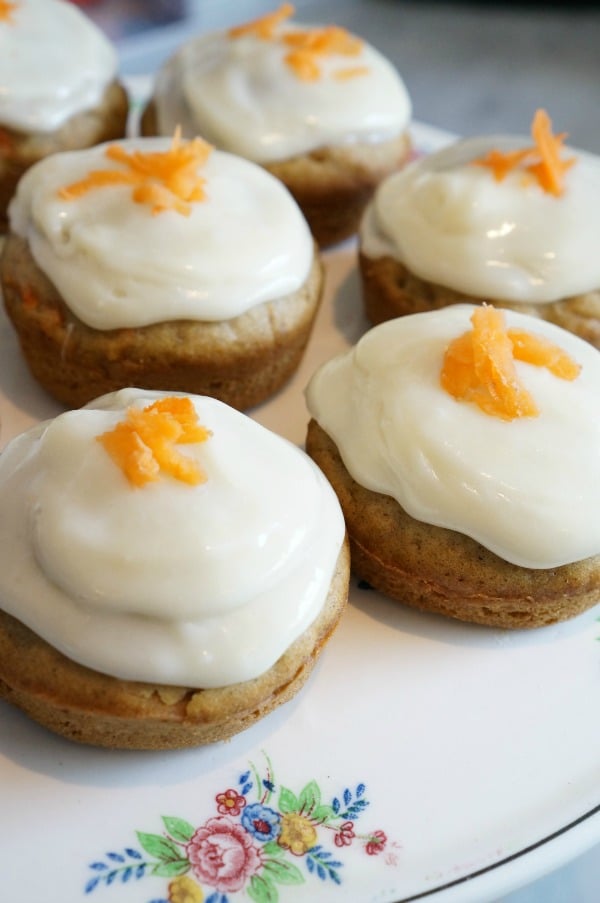 Kid Approved Carrot Cake Muffins
1 ½ cup all purpose flour
1 tsp baking soda
¼ tsp allspice
½ tsp cinnamon
½ cup maple syrup
¼ cup canola oil
1 egg
1 tsp vanilla
1 cup shredded carrot
½ cup Silk® Original Creamy Cashew Beverage
For the Frosting
½ cup vegan cream cheese, softened
¼ cup room temperature unsalted vegan butter or margarine
1 cup icing sugar (plus more to thicken icing)
1 tbsp Silk® Original Creamy Cashew Beverage
Whisk together flour, baking soda, allspice and cinnamon in a small bowl.
In a large bowl stir together carrots, maple syrup, oil, egg and vanilla.
Add dry ingredients to wet ingredient, and stir in Silk® Original Creamy Cashew Beverage, until combined.
Scoop batter into oiled muffin tin and bake in a 350°C oven for 15-18 minutes…until golden brown and tooth pick inserted comes out clean. Remove from muffin tin and cool on rack.
For the frosting: Blend together cream cheese and butter. Once creamed together, add icing sugar and Silk® Original Creamy Cashew Beverage. Add more icing sugar or cashew beverage until desired thickness is reached.
Once the muffins are completely cooled, spread with icing and top with a sprinkle of shredded carrot. Enjoy.
These muffins make a fabulous addition to the school lunch box and are pretty enough for Easter Sunday brunch. Because we skipped using any dairy products, these carrot cake muffins are vegan approved too. Silk® Original Creamy Cashew Beverage adds a rich flavor that is a lovely addition to baked goods, like muffins. My youngest daughter isn't a fan of dairy milk, so I am always happy when I can sneak calcium rich alternatives into her diet.
Be sure to visit Silk®'s website for more delicious recipe ideas.
This post was brought to you by Silk®, however the images and opinions are my own. For more information please visit http://www.drinksilk.ca/products/original-cashew-beverage
Be sure to subscribe to Kitchen Counter Chronicles to have our delicious recipes, fun crafts & activities delivered directly to your inbox.